5 Things We're Thankful For This Year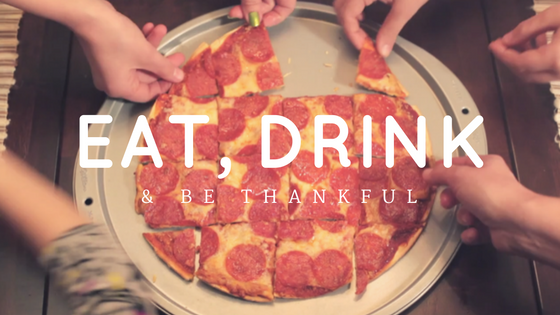 When actually forced to sit down and think about all the things we're grateful for, it's hard to make it a short list. 2016 has been an amazing year filled with so many blessings and good things, how could we even begin to list them all? But we're going to give it a shot! So, ladies and gentlemen, without further ado, here are the top four things that Dogtown Pizza is thankful for this year.
#1. Turning 10
This past October, we celebrated 10 years of being in business. 10 years! That's a decade of head-down, nose-to-the-grindstone hustle that's required countless sacrifices. But it's been unbelievably worth all of it – pursuing a dream of creating delicious frozen pizza that celebrates St. Louis pride has come true. In 10 years we've done that…and so much more. We've become a part of this community. We've built a family. And we've made thousands of people happy. For that, we are eternally grateful.
#2. Getting to Try New Things
This year was defined by going out on a lark and trying new things on behalf of our business. From the roaring successes of the Limited Edition Pepperoni Pepperoncini Pizza or the Oatmeal Raisin White Chocolate Chunk Cookies, to the unveiling of a brand-spanking-new website design, we got to push ourselves creatively, develop new products, and dazzle you with fun. We're so thankful that we get to try new things and have the support of the community in the process!
#3. New Technology
In May, we successfully installed a brand new, industrial-size flash freezer that has taken our production levels above and beyond. Seriously. We've seen a 2,250% improvement in efficiency, and it's all thanks to this new technology. This new flash freezer symbolizes our potential to grow as a business and to continue providing our customers with the tastiest and freshest frozen pizza possible.
#4. Awesome Collaborations
From day one, we've have strived to join efforts with local businesses to promote all of the amazing things that are happening in St. Louis. This is our inspiration behind collaborating with others, like Vinnie's Italian Beef & Gyros for the Limited Edition Pizza sandwich, Steve's Hot Dogs for the Hot Wing Pizza Dog, or serving up our pizza at the Moolah Theatre. Joining forces with other St. Louis businesses means that we are making a concerted effort to promote the businesses and other creative efforts that make St. Louis a one-of-a-kind city to live, work, and play in, and we consider ourselves lucky to be able to do that. We can't wait to see who we'll be collaborating with in 2017!
#5. You
Of course, we can't go a Thanksgiving without thinking of you, our loyal pizza lovers. Thank you for supporting Dogtown Pizza as we work hard to bring you a St. Louis-style frozen pizza you deserve. Everything we do, we do for you!
---
May you and your families have a wonderful Thanksgiving together. Let us know in the comments below what you're thankful for!