Dogtown Pizza 10th Anniversary: Here's to 10 Fresh Years!

This month, Dogtown Pizza hit a milestone: we turned 10 years old! It has been a whirlwind of a journey. We started with humble beginnings, making St. Louis-style pizzas for neighbors and friends in Rick and Meredith Schaper's kitchen. Today, we have over 30 employees making 3,000 pizzas a day by hand, and our pizzas can be found in every major grocery store in the city. It's such an honor to be here a decade later and to see how far we've come!
To celebrate the occasion, we threw a little shin-dig to commemorate the past 10 years, to honor the people who helped make Dogtown Pizza what it is today, and to, quite frankly, get down and boogey. It was an incredible party that will go down in Dogtown Pizza history forever. Here's what went down at our 10th Anniversary party.
The Food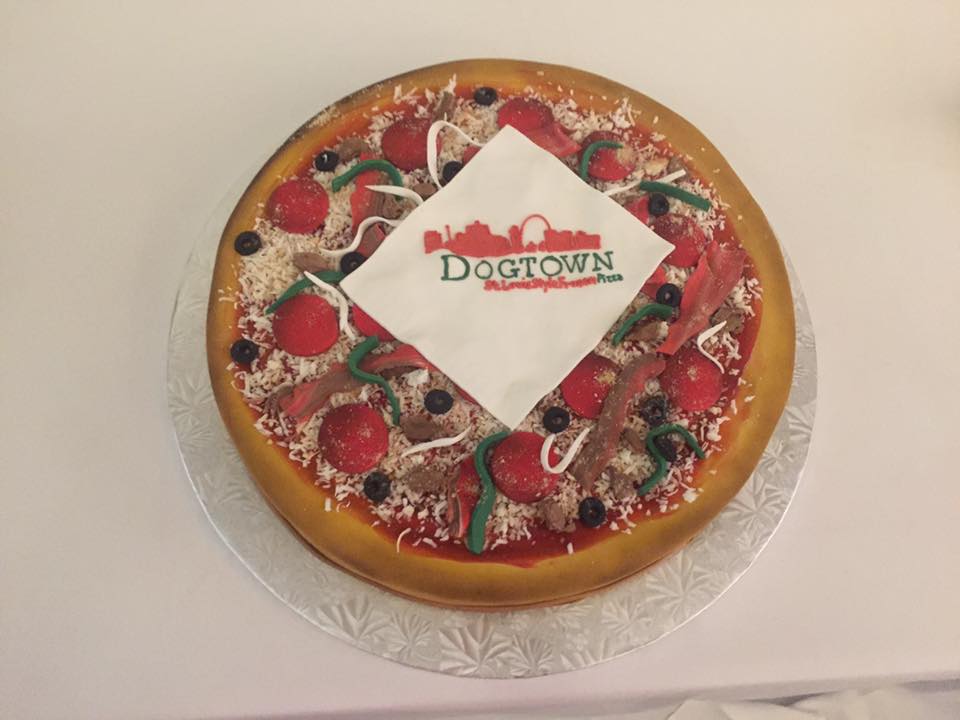 It's not a party without food, and we didn't pull any stops when it came to the eats at this party. We served delectable dogs from Steve's Hot Dogs, meatballs and bread from DiGregorio's Italian Market, and plenty of cheese and cured meat from Fox River Dairy. We even served up an original Dogtown Pizza, the exact kind that gave us our start in 2006. We also served our gourmet Chocolate Chip Cookies plus a new flavor that will be in stores by Thanksgiving. So keep an eye out for that!
The People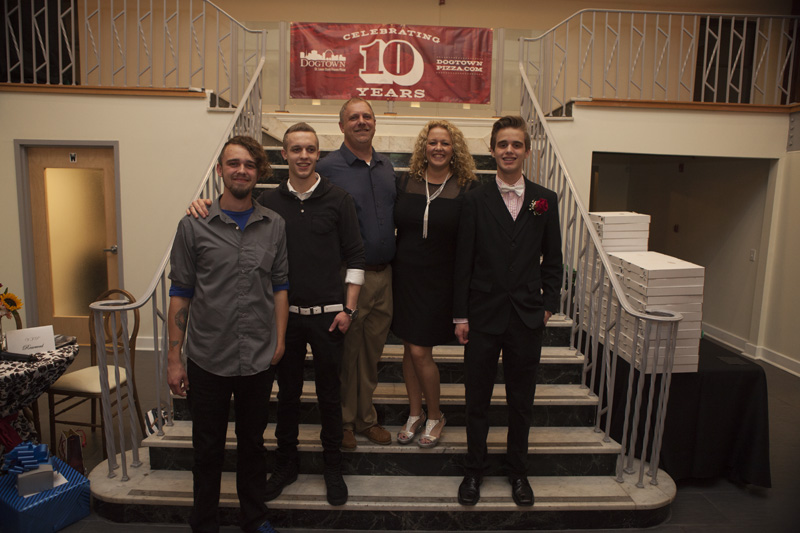 We had so many people come out to celebrate with us, including people who've supported us since the beginning as well as more recent friends, business associates, and extended family members.
Rick presented the wife and son of his first employer, Jim Parrott of Farotto's Restaurant, with a framed, original menu from the 50's. Rick worked at Farotto's from age 11 until he was 21 and credits Jim with giving him the knowledge, mentorship and support he needed to make authentic St. Louis-style pizzas. Jim passed away in 2013, but his memory lives on in our pizzas!
We also awarded key people in the DTP journey with a custom-engraved pizza peel:
The Schaper's neighbor Joe Lamacchia, who asked Rick to freeze him a pizza, therefore giving birth to the company.
DTP business partner Jeff Tottleben, for believing in the Schapers and guiding them through a corporate world they were unfamiliar with.
Dan Probst and Fox River Dairy. They have been friends and distributors of Dogtown Pizza from the beginning. They are responsible for delivering every pizza that has helped us reach this 10 year milestone.
Scott Schaper, Rick's brother, who is the DTP web designer and business colleague.
DTP's 2nd-ever employee, Kyle McNeil, our general manager who has provided us with 7 1/2 years of unflagging loyalty and hard work.
A Night to Remember
Surrounded by family and friends, our 10 year Anniversary event was incredible, and fun was had by all. We gave away door prizes of 10th Anniversary t-shirts and beverage bomber jackets. We spent the evening eating, drinking, and partying with the many amazing people who help make Dogtown Pizza the family-operated, St. Louis-owned company that it is. We couldn't have done any of it without the tireless help and creativity of our marketing team, Think Tank PR & Marketing!
We can't wait to see what the next 10 years will bring us. Here's to 10 fresh years and to so many more!