A Couple Words About Us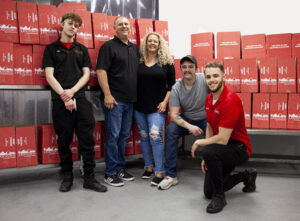 It's about family and friends – old neighbors and new neighbors alike. It's about block parties, cook-outs, camp-outs, and having fun. Smiles, jokes, laughter, enjoyment, good drinks, and great eats. We take pride in and are honored to provide your family with food we enjoy as a family, too. Great ingredients, well-prepared, and carefully assembled into a fun, quick, nutritious meal that you can take pride in baking for your family. That's what Dogtown Pizza is about.
So make an order and make it big. Keep some extra pizzas in the freezer and bake some up anytime.
From our family table to yours, thank you for your business. Enjoy!
– The Schaper Family
Our Team
Rick Schaper – Co-owner
Rick has been cooking pizza since he was 13-years-old. Rick was bitten by the pizza bug at an early age when he started making pizza for Farotto's Pizzeria in Rockhill. You could say St. Louis Style Pizza is in his blood.
Meredith Schaper – Co-owner
A St. Louis native and a long-time, active community member of Dogtown, Missouri, Meredith has been winning over old friends and making new ones with Dogtown Pizza's award-winning taste.
Jimmy Nagel – General Manager
Jimmy is from South St. Louis City and came to Dogtown Pizza with a passion for food. After years of owning a BBQ restaurant, he decided to make his move into the pizza world. We are happy to have Jimmy as a part of the Dogtown Pizza family!
Austin Schaper, General Manager, Crust Plant
Rick and Meredith's oldest oversees all crust manufacturing and quality just across town. Made by hand, baked daily and shipped warm to Dogtown Pizza.
Shane Schaper – Production Manager
As one of Rick and Meredith's sons, Shane Schaper definitely shares his parents' love for the St. Louis-style pizza business. He's grown up working alongside his folks and now acts as our production manager. Shane ensures that our high-quality standards of production remain the backbone of our operation.
Rick S. Schaper – Food Safety and Budgetary Manager
The most recent addition to the Dogtown Pizza management team, Rick grew up working alongside his parents and brothers on the pizza production line. Graduating from Saint Louis University at the end of 2020 with a degree in International Business, Rick is in charge of all ingredient and labor costs and is head of the safety team that specializes in USDA and FDA compliance.
Small-Batch, Hand-Made Quality
Dogtown Pizza's philosophy has its foundation in the Local Movement and how that helps us responsibly establish our business in our community. We strive to transform our customers' engagement by creating more choices and build loyalty with our reputation for honest food.
Community Involvement
How do we integrate the community into the philosophy of Dogtown Pizza?
By offering our community a newer, fresher, local choice. A choice between our standards of production and those of the out-of-state, multi-million dollar food conglomerates. Who really wants pizza shipped from across the country with a one-year shelf-life?
We work hard to support other companies in our neighborhood. After all, our neighborhood has been supporting us for years – with dedicated employees, fresh ingredients and word-of-mouth marketing. Dogtown builds loyaly by letting our customers know where their food comes from and what is in it. We feel that this honesty and transparency binds communities together with a common purpose.
Thank you for your support
-Rick & Meredith
Humble Beginnings
Rick and Meredith Schaper were known in their modest Dogtown neighborhood for their pizza parties. "We always were the ones who brought and baked pizza for block parties and other neighborhood events," says Rick.
In October 2006, the two launched Dogtown Pizza out of their home kitchen…giving some away and selling even more. The business started slowly: a couple of hundred pizzas a week…from there, it's grown slowly and steadly. Dogtown Pizza turns out nearly 65,000 pizzas monthly.
Dogtown Pizza started when some cracks started showing in the economic landscape. Undeterred, the Schaper's kept at it. Rick knew that there was a very real local movement – people demanding that the products they chose for their families supported their neighbors, their town, their state. Dogtown Pizza still strives to source as much of its raw ingredients from as many local families as possible.
Today, the pizzas can be found all over town at grocers large and small – the big-name chains and small specialty stores, as well.