The New Flash Freezer is Here!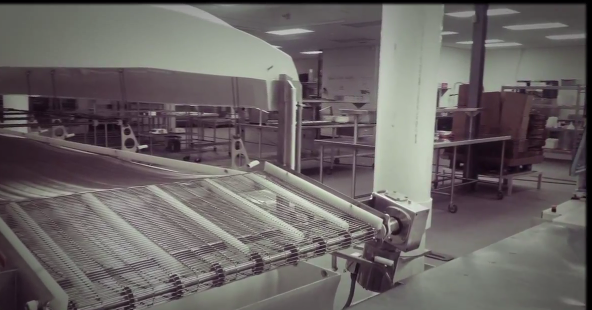 Drumroll, please….the new Dogtown Pizza flash freezer is OFFICIALLY installed and running! After eight months of planning, four days of installation, and a day's worth of testing, the moment we've all been waiting for has finally arrived. Leave it to frozen pizza makers to get ridiculously excited about a new freezer; but we're telling you, folks—this freezer is seriously cool.
Why a New Freezer?
Just as a refresher: we flash freeze our pizzas after they've been assembled so we can preserve the optimal flavor, nutrients and freshness Dogtown Pizzas are known for. Depending on the topping, our old flash freezer took 15 to 45 minutes to freeze a pizza. While the freezer was effective, it simply wasn't as efficient as we've needed it to be. Our new freezer, on the other hand, will blast freeze a pizza in just two minutes.
Whoa.
That's a 2,250% improvement in efficiency! It's like a dream come true. Check out the installation process to get a feel for just how momentous this is and to see how the freezer works!
What Does the New Freezer Mean for Dogtown Pizza?
With this improved tech in our hands, we're now able to produce more pizzas per day with the same crew. It has opened up an extra 200 sq. feet of space in our production facility, giving us a more open-concept feel and providing us with the opportunity for growth as a business. We now have the potential to go from making 3,000 pizzas per day to 12,000 pizzas per day. The potential seems limitless.
Not only does the new flash freezer improve our efficiency on so many levels, but quicker freezing also means fresher pizza for you. We can now lock in that freshness and flavor almost immediately—at 20x the previous rate. You can now enjoy fresher, more delicious DTP flavor than ever before. Thanks to our new flash freezer, we can make frozen pizza so fresh you can hardly believe it's been frozen at all.