The Life-Changing Importance of Family Meal Time (And How to Make It Happen)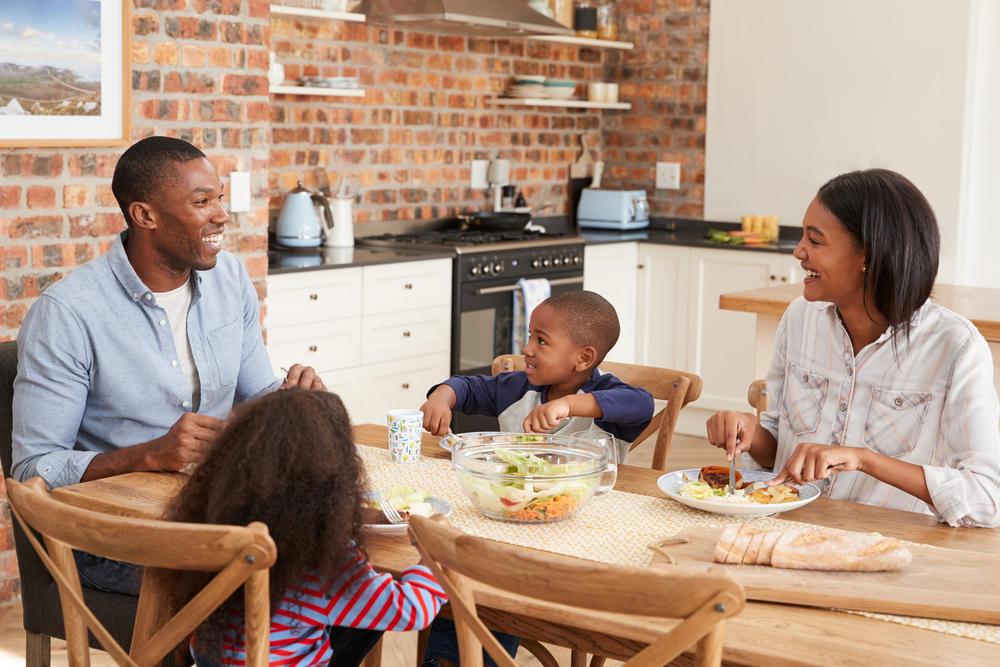 Life is busy. Between running around from your kids' after-school activities to just trying to make it home after sitting in rush hour traffic, things can get stressful quickly. To combat the stress and chaos of the daily grind, it's more important now than ever to sit down for a meal with our families. Why? Turns out, family meal time on a regular basis has a whole slew of life-changing benefits for everyone involved.
Families That Eat Together Grow Stronger Together
It might sound surprising, but eating meals as a family is an almost fool-proof way to strengthen that bond. It makes for happier, healthier, well-rounded children and deeper relationships.
According to a survey done by the National Center on Addiction and Substance Abuse at Columbia University, eating at home as a family is linked to kids who are not only happier and healthier but are also way less likely to get involved with risky behavior such as experimenting with alcohol and drugs later on in life.
The same survey also indicated that children who ate regular family dinners (5-7 times a week) reported a stronger relationship with their parents as well as getting better grades.
Powerful, right? But it makes sense.
If the car ride spent dashing between practices and classes is the only opportunity you have to chat with your kids, chances are you're not spending as much quality time with them as you could be.
Purposefully sitting down together as a family over a daily occurrence like dinner gives you the opportunity to go beyond "checking in". It allows you to unwind together, to sit face-to-face with loved ones, and to develop authentic, personal relationships by conversing, laughing, and taking a deep interest in what's going on in everyone's lives. Family meal time could be the key to a happier family life overall.
How to Make Family Meal Time Happen
We get it—life is busy. Trying to make family meal time a priority is challenging, especially as families grow more and more mobile, and the day-to-day rush of life proves more and more stressful. Even if you understand the benefits of sitting down with your family for dinner, making it happen is another story entirely. But it IS possible to make it happen. Follow our tips for getting more family meal time into your life without losing your mind.
Pencil it in
Schedule in your family meal times like you would schedule anything else. If you're not ready to make family meal time an every night thing, then start small. Maybe Jack has soccer on Tuesdays and Jane has dance on Thursdays. So make a note that Mondays, Wednesdays, and Fridays will be your family meal days. If eating out is more your thing, schedule it for Friday night as a fun end-of-week treat.
Get everyone involved
Don't let the responsibility fall solely to one person (you) to make dinner happen. Involve your spouse and kiddos in meal planning. Designate responsibilities. Your kids can chop vegetables, turn on the oven, or set the table. This is another opportunity for you all to spend a little extra time together as well. And don't let anyone scamper off once the meal is done, either! Again, designate family members to clear the table, wash the dishes, dry them and put them away. Either way you slice it, find a routine that works for you and doesn't leave anyone hanging with the brunt of the work. You don't want family meal time to be more stressful than it needs to be.
Cut out the distractions
Turn off the TV. Ban the mobile devices. This is your time as a family and all the other stuff can wait.
Cut yourself some slack
Sitting down for a meal as a family doesn't require perfection. It just requires effort. You don't need to slave away over a 3-course home cooked meal complete with dessert. Now, if you have time for that, awesome! And, what time is dinner? (We're free at 7 pm)
Most of us struggle just to figure out what to eat that evening, hence why a spin through the drive-thru is so appealing. So give yourself a break. We have a few ideas on how you can make getting dinner on the table as easy and possible.
Put the crockpot to work. The beauty of the crockpot is that you can throw all of your ingredients in there before you leave for work, and you'll have a delicious, home cooked meal by the time you get home. Boom.
Keep frozen pizzas on hand. Did you know? Our Dogtown Pizza Naturals line meets the all-natural, clean-food standards established by Whole Foods. That means our Cheese, Tomato Basil Garlic, Veggie, and Sausage Pizzas are filler, preservative, HFC, and MSG-free. By having any of these stocked up in your freezer, you can guarantee that a nutritious, delicious family meal is never compromised by a busy day.
Frozen vegetables can be a lifesaver. Fun fact about your standard bag of frozen vegetables: they're flash frozen at the peak of freshness. Just like our pizzas, flash freezing locks in all of the taste and nutrients a vegetable has to offer. So ditch the canned stuff and stock up on your favorite frozen veggies and throw them into stir-fries, casseroles, and crockpot dishes in a jiffy.
Try breakfast for dinner. Pancakes, scrambled eggs, and bacon are beyond easy to whip up in a flash. And who doesn't love flipping a traditional breakfast meal on its head by eating it for dinner? Your kids will be delighted.
Switch it up. Maybe dinner just isn't feasible. So switch it up—make it a Saturday and/or Sunday morning brunch. Sit down for breakfast. Quality time is quality time.
Above All, Have Fun With It
When you shift your perspective from making mealtime just another an obligation to making it an opportunity to have regular quality time with your family, there's no reason not to have fun with it. Experiment with new recipes. Challenge your kids to make a meal all on their own. Have a weekly themed night, like a pizza party or Italian night. Make a game out of cleaning up the kitchen. You'll find that your family life, and the overall lives of everyone in it, will thrive because of it.
---
Keep up-to-date with the freshest deals, coupons, and news from Dogtown Pizza.