10 Dessert Pizza Recipes That Will Make Your Mouth Water!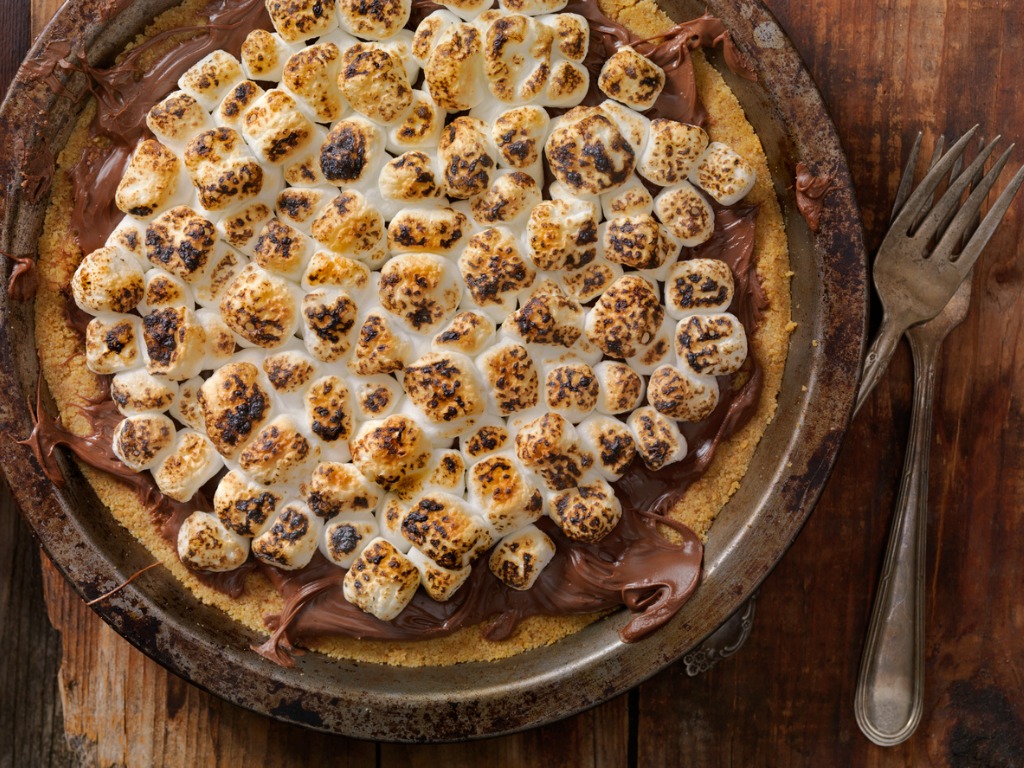 You just finished the last piece of your favorite Dogtown Pizza; all that crispy, savory, melty-cheesy goodness was exactly what you were craving, and now you're left asking one important question: "What's for dessert?"
Here at Dogtown Pizza, we're big fans of dessert, but sometimes, our sweet tooths (sweet teeth?) send us searching for something beyond the usual brownies and cookies. Fortunately, there are enough dessert pizza recipes available online to help us plan a pizza night that includes pizza at every course (all two of them). Here are 10 of our favorites!
Bananas Foster Dessert Pizza
Bananas Foster is a caramel-banana rum sauce usually served over ice cream. This recipe from Spicy Southern Kitchen spoons the decadent, nutty confection over a pizza crust covered in sweetened cream cheese! We had ours with a scoop of ice cream on top and 
Apple Crumble Flatbread
If you're looking for something with a similar vibe but a little more rustic, you won't regret trying this Apple Crumble Flatbread from Crème de la Crème. Apples, brown sugar, cinnamon, and spices are all mixed into a delicious butter sauce, baked on a flatbread, and topped with ice cream. It's all the flavor of apple pie, but so easy!
Caramel Apple Dessert Pizza
Take the caramel from the bananas foster, add the apples from the apple caramel flatbread, and allow us to recommend this Caramel Apple Dessert Pizza from Show Me the Yummy. And yummy it is, with a peanut butter cookie crust, fluffy caramel frosting, apples, Snickers candy, and a drizzle of caramel sauce.
Raspberry Brie Dessert Pizza with Rosemary and Candied Pecans
If you want a more elevated, slightly savory dessert, definitely try this recipe from Completely Delicious. A fresh-baked crust made with olive oil and honey, topped with creamy brie, two kinds of raspberry, pecans, fresh rosemary, then drizzled with honey. It's dessert, but it looks like a cheese plate, so it's good for you! (This one could also be served as a starter or with coffee for a quick breakfast.)
Cookie Cake
Dogtown Pizza is known for its ultra-thin and crispy cracker-like crust. Still, despite our loyalty to St. Louis-style pizza, we believe that deep-dish pizzas also belong in the pizza canon—especially when it's a deep-dish dessert pizza! This recipe from Delish is for a dummy thick chocolate chip cookie cake with sprinkles and vanilla buttercream. You can't tell us this isn't a dessert pizza!
Brownie Dessert Pizza
If the cookie cake sounds good, but you're looking for more chocolate, allow us to present this recipe from Deliciously Sprinkled with all the chocolate: a deep-dish fudgy brownie crust topped with Nutella, M&Ms, chopped candy bars, sprinkles, and marshmallow crème.
We used chocolate sprinkles instead of the rainbow sprinkles in the recipe, and if we could have found chocolate marshmallow crème, we would have used that too! For extra flavor, you could top it with your favorite candy. This is definitely the chocolatiest dessert pizza on the list.
Chocolate Raspberry Pizza
If you want your chocolatey dessert pizza with a thin-crust option, try this recipe from Dessert for Two. They top a chocolate sugar cookie with melted chocolate chips, raspberries, sliced almonds, and toasted coconut and finish it with a drizzle of white chocolate. Is it weird to describe a chocolate dessert with words like 'light' and 'refreshing'? Because if it is, we don't want to know!
Chocolate Stuffed Crust Pizza
Our final chocolate pizza option, this recipe from Stylist, doesn't disappoint. Chocolate crust? Check. Topped with cream, chocolate, and hazelnuts? Check. Chocolate ganache in the crust?! You better believe this was one of the best chocolate dessert recipes we tried in our entire day of tasting dessert pizzas—and it was also the only one with a stuffed crust.
Cinnamon Roll Dessert Pizza
Cinnamon roll dessert pizza has the flavor of cinnamon rolls with none of the fuss. This recipe from The Recipe Critic starts with quick and easy pizza dough (it's worth checking out this recipe for the dough alone if you like making your pizza).
The dough is topped with a simple buttery brown sugar and cinnamon spread with a cream cheese icing drizzle. The best thing about this dessert pizza is it goes great with coffee for an easy weekend breakfast—just as soon as you've finished your leftover pizza!
Fruit Pizza
How do you feel about pineapple on a pizza? We know it's a divisive topic, but this recipe from Sally's Baking Addiction makes it work. This pizza starts with a soft sugar cookie crust and a tangy cream cheese frosting, then layers on whatever fruits you have available locally. We used fresh and canned fruit in our version, and the trick is to make sure to drain and pat dry the canned fruit to maintain the crust's integrity.
Bonus Recipe: Makeover Fruit Pizza
We think that eating a more healthful and balanced diet overall is more important than removing all the fat and sugar from a delicious recipe and with it all of the joy. That's why we're so surprised to be recommending this recipe from Taste of Home!
They managed to cut out about half the calories from a traditional fruit pizza and used lower-sugar fruit options like berries to reduce the sugar as well—and it still tastes good enough to serve alongside all your pizza favorites!
What's your favorite kind of dessert pizza? Will any of our favorites be on the menu at your next pizza night? Let us know in the comments!