13 Picnic Finger Foods You Should Take to the Park!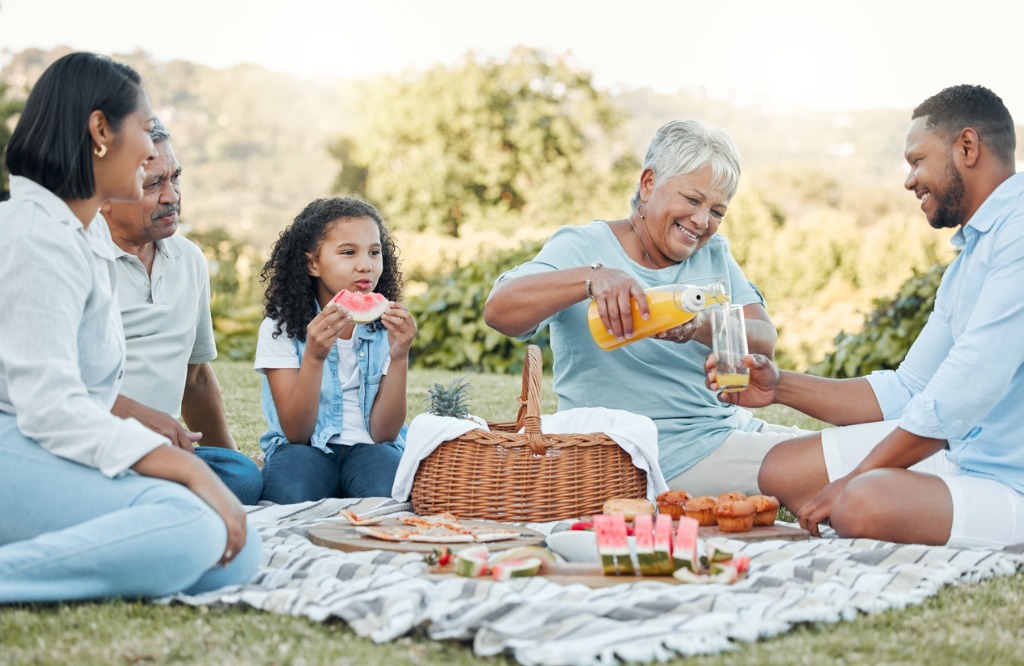 When you're planning to go to one of St. Louis's impressive selection of local parks, the first thing you need to decide is what you want to do. The second thing you need to decide is which park to go to. The third thing you need to decide—even though it might be the most important part of the whole day—is what to eat while appreciating nature!
Don't worry, you've got this! And by "this," we mean this list of our favorite picnic finger foods to take to the park. Each one was recommended, tasted, tested, and approved by the Dogtown Pizza family, so you know they're good!
1. Charcuterie Board
This first one is a trick answer, and we stand by it! Simply gather up all the best and most snackable foods—cured meats and sausages, soft and hard cheeses, pickles and olives, grapes and berries, nuts—and then arrange them on a large tray with crackers or sliced artisan breads. Add a jar of local honey from a farmers' market for a bit of contrasting sweetness.
2. Caprese Salad Kabobs
Mozzarella cheese, basil, tomatoes, and balsamic vinaigrette make for a light and refreshing salad. Stack mini moz balls, cherry tomatoes, and fresh basil leaves onto kabob skewers and either skip the vinaigrette or serve it on the side.
3. Fried Chicken
One of our favorite picnic finger foods is fried chicken wings and drumsticks—because they're just so easy. Just go to your favorite fried chicken fast food drive thru, pick up a bucket or two of the good stuff, and consider yourself a picnic-planning expert. Alternately, fried chicken tenders will get the same result, and you won't have to deal with collecting and discarding the bones.
4. Pigs In a Blanket
Instead of being tempted to go whole hog with full-sized franks, take advantage of the smaller form factor of cocktail wieners. Wrap them with puff pastry or crescent roll dough, then bake them until they're golden brown. Although typically served warm, pigs in a blanket are also good cold, and this versatility makes them a top choice for picnic finger foods.
5. Fresh Veg and Dip
When your favorite part of a party is hanging out by the veg platter, you can turn any picnic into a party by bringing along local seasonal veggies and the best dips. Make your own crudité and pack it up to go or pick up a veggie tray on the way to the park!
Tip: For ultra-smooth hummus, remove the skins from the chickpeas before blending. It's more work, but it's so worth it.
6. Pinwheel Sandwich
If you took a meat, cheese, and veggie wrap and cut it into eight to ten pieces, that's basically how you make pinwheel sandwiches! Popular combinations tend to involve brightly colored ingredients to take advantage of the cross-section presentation of this finger food. We highly recommend including less common additions for different flavor and texture experiences (think sunflower seeds, pimentos, alfalfa sprouts, or potato chips!).
7. Cucumber Finger Sandwiches
Turn your picnic into teatime with cucumber sandwiches! All you need is thinly sliced cucumbers, bread, and cream cheese or butter (or both). Fit the theme by cutting the sandwiches into four pieces so they can be eaten in a bite or two. Infinite variations are possible by using different types of bread, flavored cream cheese, compound butter, and even different types of cucumber.
8. Pull Apart Bread
Bread can be a finger food if you slice it, but why go to the trouble of slicing bread when you could have pull-apart bread (which is objectively the best thing since sliced bread)? Go savory with a cheesy garlic herb bread or go sweet with monkey bread; there are no wrong choices here: just delicious, delicious bread.
9. Seasonal Fruit
Whether you're opting for a healthful dessert option with natural sugar plus lots of vital minerals and vitamins, don't overlook seasonal fruit! Cherries and grapes, citrus and stone fruit, bananas and melons are all a good way to help get your five a day.
Tip: Make fruit more enticing by stacking bite-sized pieces onto kabob skewers! Sprinkle it with flavored sugar, coarse salt, or tajin for an added flavor boost.
10. Cookies
That's it. That's the whole thing: just cookies. Any cookies at a picnic are the best picnic finger food to take to the park because they're cookies, and cookies are a perfect food.
11. Fat Bombs
Whether you're doing keto, low carb, or just looking for an indulgent dessert without a lot of added sugar, fat bombs are your finger food match. Fat bombs start with a fatty base (butter, peanut butter, coconut cream, etc). Add almond flour or coconut flour to give them some structure, plus sweetener and mix-ins (cocoa powder, berries, nuts, etc). There are endless recipes online, including savory options if sweet isn't your thing.
12. Homemade Tortilla Chips
If you've never made your own tortilla chips, we highly recommend you give it a try. You can fry them or bake them, use corn or flour tortillas—or even get wild by using flavored wraps!—add salt or other seasonings, or go au natural. It's the versatility and ability to customize that makes homemade tortilla chips such a fun option to serve at a picnic.
13. Pizza
Is pizza a finger food? It is if you cut it right! When you take a pizza to the park, make sure it's cut in the party-cut style. It'll be bite-sized, even more portable than other styles of cuts, and will fit in nicely with the rest of your spread, whatever you choose to serve. Leftover pizza works great for this, and leftover Dogtown Pizza is obviously the best possible option. 
Tip: If you don't usually have leftover Dogtown Pizza, you can make leftovers happen on purpose by cooking an extra pizza the night before your park picnic!
Pick up your favorite Dogtown Pizza in the freezer aisle of your local grocery store—we'll see you there!