Our Guide to Throwing the Ultimate Pizza Party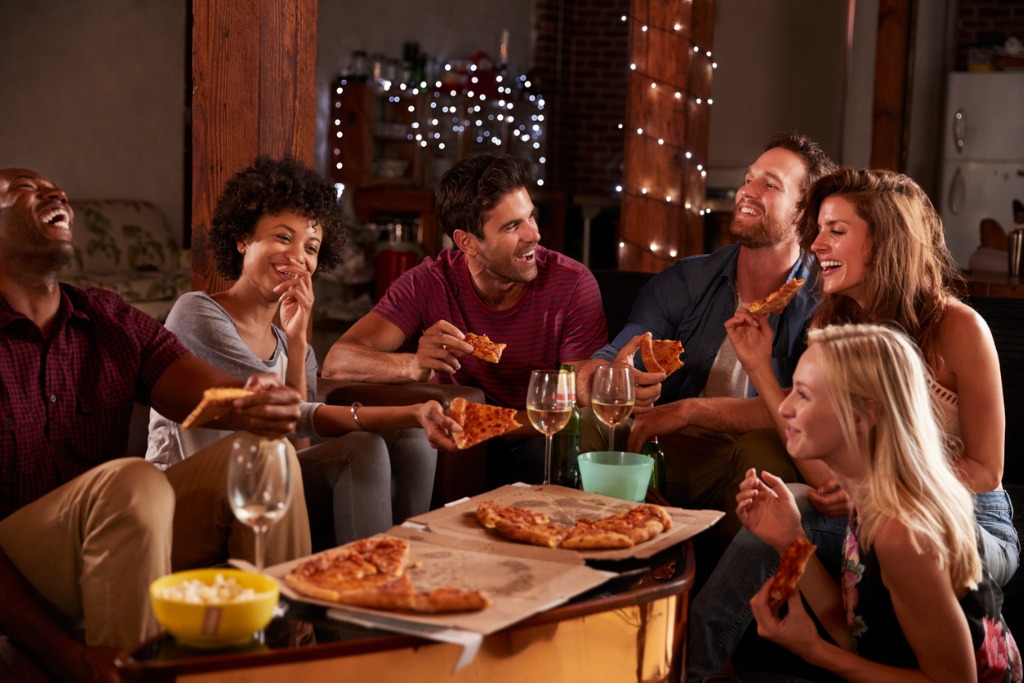 Here at Dogtown Pizza, the only thing we love more than a good pizza party is the ultimate pizza party. That's right. After many desperate requests (and possibly a few small bribes between friends), we've decided to release our guide to throwing the Ultimate Pizza Party!
Are you guys excited? We're excited…
Get a Babysitter
First thing's first. We love kids. They're what makes family fun nights both fun and family, but sometimes, adults need alone time with other adults… and pizza.
Text your favorite teen that the kids just love or earn some bonus points with your in-laws by scheduling them some grandbaby time. Then, call your friends and say, "come over, losers! I'm throwing the ultimate pizza party!"
Plan Your Menu
Drinks
You may be asking yourself, "what drinks go well with pizza?" but that's the wrong question. The right question is, "what drinks don't go well with pizza?" The answer to that question is none. There aren't any drinks that don't go well with pizza.
Our favorite drink to pair with pizza, like any sound-minded person, is local craft beer, and wine is a close second. If you're looking for a non-alcoholic option, soda is a fantastic choice.
Pizza
It's not fun to be stuck cooking in the kitchen when your friends are over, which is why Dogtown Pizza is the best choice for the Ultimate Pizza Party.
We lay out our distinctly Dogtown sauce, gooey cheese blend, and fresh, savory pizza toppings on a super-thin St. Louis cracker-style crust that cooks up to melty, crispy perfection in just 10-17 minutes. Try cooking the pizzas early and then keeping them warm in the oven on a lower setting for a few minutes while you wait for your guests to arrive!
Pro Tip! Turn up the AC while you're cooking the pizzas to avoid overheating the house before your guests arrive!
However, if you're in the mood for personal pizzas and want everybody to craft their own masterpieces, that's fine too! You won't hurt our feelings.
In that case, find an excellent dough recipe online or buy pre-made pizza dough or pizza crusts the day before the party. If you want to make your friends happy, we recommend you provide the following pizza toppings.
Cheese (

fresh mozzarella

, parmesan, and Monterey Jack)

Sausage

Red Peppers

Tomatoes

(sun-dried, anyone?)

Onions

Chicken

Black Olives

Spinach

Olive Oil
We realize that you probably don't have a wood-fired pizza oven in your house (if you do, we're jealous!), but you can elevate your pizza game with a high-quality pizza stone, which will ensure that your marvelous pies come out perfectly cooked. Who knew this guide would turn you and your pals into world-class pizza chefs?
Don't Forget the Sides!
Breadsticks are a must, as well as some kind of salad. Fresh greens or three beans, you make the call because it's mostly there to add color to the table! We also like to put out something sweet alongside the main course. Why wait for dessert?
Whether you choose something quick and easy, like Dogtown's bake-at-home cookies, or something more elaborate like a dessert pizza featuring fresh-sliced fruit on a shortbread crust, having something sweet on the table adds much-needed variety.
Variety Is the Spice of the Party of Life
Speaking of variety, make sure your guests have plenty of options. While it's tempting just to bake up four or five Dogtown Pepperoni Sausage pizzas and call it a night, the Ultimate Pizza Party should give your guests more.
The spicy kick of our Hot Wing pizza, the savory Bacon Bacon pizza, and our tribute to an Italian classic, the Tomato Basil Garlic, all have something different to offer. Each one enhances the flavors of everything else included in the meal.
Similarly, provide different dipping sauces for the breadsticks and lots of different vegetables in the salad. If you genuinely want to commit to variety in all things, we've never met a person alive that would turn down the chance to sample multiple desserts.
Choose Your Theme
Fancy Restaurant
Remember restaurants? Now, you can recreate the restaurant experience in your own home with your friends! Set the table with plates and flatware, lay out a nice white table cloth, light a candle, turn the lights down, and put on some music.
Bring the food out in courses, or just put it all in the center of the table and serve yourselves. Is that what happens in restaurants? We almost can't remember!
90s Nostalgia
We can probably all agree that 90s pizza parties were where we formed our basis for what makes the Ultimate Pizza Party, so you might as well go all in. Watch a classic 90s movie or tv show, play board games, and set up a playlist of the songs from the mix CD you listened to until it wore out! If you want to add an ultimate 90s touch to your Ultimate Pizza Party, use Rubik's Cubes as place-setting markers that double as party favors.
It's Your Birthday!
This theme works best if a) it's someone's birthday, or b) you want to catch up on missed birthdays with friends you haven't seen in a long time. Balloons and streamers and big birthday banners are the perfect decorations. Get out those party hats and put some birthday candles on the pizza because pizza is pretty much just a big savory cake, and we'd take a birthday pizza over a birthday cake any day!
Ask Guests to Bring Something
When you invite people to a dinner party, they usually ask, "what can I bring?" so it's a good idea to have that already planned out. People generally like to contribute. They'll especially want to contribute to something that will help bring everyone together, something bigger than themselves, something that's… ultimate. Remember to consider each person's strengths.
Do you have a friend with a dessert recipe that everybody loves? He should bring dessert! What about your friend that has the best taste in beer? Sounds like she's in charge of the drink menu!
Don't limit it to food. Think outside the box and think inside whatever will make the night easier for you. If you're planning a game night, have people bring their favorite games; if it's movie night, create a group chat where people can suggest what movies to watch.
There you have it, Dogtown Pizza's Ultimate Guide to Throwing the Ultimate Pizza Party! What are your favorite pizza party time tips (we'll add the best ones to our Ultimate Guide when we revisit this topic in the future!)? What's your favorite Dogtown Pizza to serve at a pizza party? Let us know in the comments!