The Absolute Best Pizza Topping Combos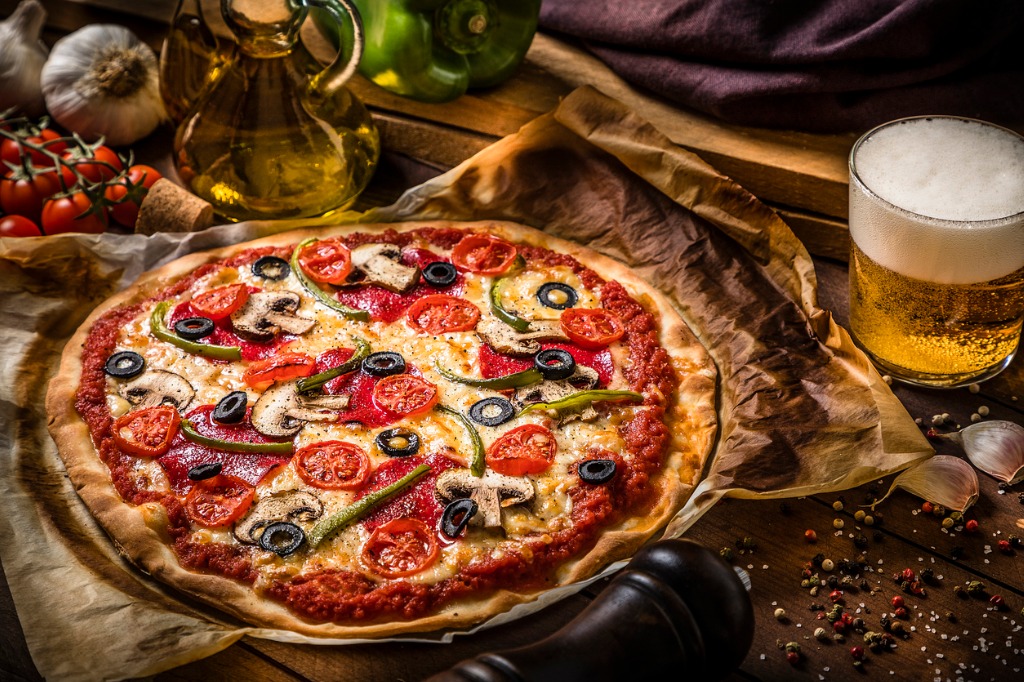 Looking for some inspiration for your next homemade pizza or build-your-own pie? This list of awesome pizza topping combinations is guaranteed to have at least one that tickles your fancy.
Tried-and-true combinations
These classic pizza topping combinations are both field-tested and battle-worn. It has been proven beyond a shadow of a doubt that the following combinations of flavors make for some incredibly delicious pizzas.
For the carnivorous folk… 
Pepperoni and sausage
There's no topping this healthy combination of cured meats (see what we did there?). Pepperoni and sausage is an absolute classic and makes for one of the most satisfying pies of them all.
Meat overload
A meat overload? You can never have enough meat on your pizza!
Taking it a step further than just a simple pepperoni and sausage pizza, other favorite meaty toppings of ours include ham, bacon, beef, salami, and salsiccia. You can't go wrong with any combination of these delectable meats.

For plant lovers… 
Classic Veggie
Just as with an overloaded meat pizza, except this time on the opposite side of the spectrum, a great veggie pizza can be cobbled together with anything of your liking!
We recommend a healthy mix of mushrooms, red onions, bell peppers, black olives, tomatoes, and spinach. If you want to get a little more experimental, perhaps try some sun-dried tomatoes and artichoke hearts as well!
A little bit (or a lot!) of both…
The SUPREME
Per the dictionary, the word 'supreme' is used to describe something "very great or intense." That seems like the perfect word to describe a giant pizza loaded up with both meats and vegetables!
Then again, 'supreme' is also defined as "involving death," but that definition doesn't seem like it fits as well in this particular scenario.
A supreme pizza should be awe-inspiring enough to rule over both the carnivores and the omnivores and, thus, should not be skimped on. Our favorite toppings for a supreme pizza include pepperoni, sausage, olives, mushrooms, tomatoes, peppers, and onions.
Whatever you decide to put on it, the only requirement is that you have a lot of it!
Recommended Read The Indisputable Top Ten Classic Pizza Varieties
Other classic combos… 
Hawaiian Pizza
Well, Hawaiian pizza is certainly a niche option. It is typically topped with pineapple, Canadian bacon, and mozzarella, but it sure is delicious. Fun fact, Hawaiian pizza was not created in Hawaii. It was actually conceptualized and invented in Ontario, Canada.
So really, it should be called Ontarian pizza.
For the simpler folk… 
Let's face the facts. Pizza is honestly just an excuse to spread tomato sauce onto a delicious crust, melt a combination of cheeses onto it, and put it into our faces. Sometimes, people want nothing more than that, and that's totally fine.
It doesn't mean you can't spruce up your selection of cheeses though! Classic choices like mozzarella and parmesan are a must, but you can also try other types like cheddar, gorgonzola, provolone, goat cheese, bleu cheese, ricotta, and Havarti. Get crazy with it!
Recommended Read A Brief History of Cheese
Less "classic" but still delicious
Tastes like chicken…
Hot wing pizza
We bet that a lot of you didn't even know there was such a thing. If you haven't tried or made a hot wing pizza, you're doing yourself a grave disservice. This pie that's perfect for both pizza and chicken wing lovers requires chicken (naturally), buffalo sauce, bacon, and bleu cheese.
Don't forget to serve it with ranch dressing, bleu cheese dressing, and celery sticks! If you want, you can also spice up your pizza with some onion as well.
BBQ chicken pizza
This sweet and savory pie replaces traditional pizza sauce with BBQ sauce. Top this pizza with a combination of chicken, bacon, red onions, and cheddar cheese. If you do it well, it'll taste just like a backyard barbecue!
On the beefier side…
Hamburger pizza
Pizza and hamburgers? What could possibly go wrong?
Now, this is one that you can really get creative with. I mean, how many different toppings can you put on a hamburger? Obviously, you need to start with ground beef, but then you can top it with bacon, mushrooms, onions, tomatoes, lettuce, and even pickles!
Heck, if you want to turn it into a CHEESEburger pizza, you just need to add some cheddar or pepper jack. Now, you're probably wondering what to do about the sauce… typical tomato sauce probably wouldn't be very good.
There are a number of different options, all of which depend solely on your personal preference. You could use barbecue sauce, mayonnaise, ketchup, mustard, or a combination of sauces. We recommend that you don't go too overboard with whatever you choose. Keep it fairly light.
Recommended Read 72 Pizza Trivia Questions for Your Next Game Night!
Taco pizza
Taco pizza is similar conceptually to a cheeseburger pizza, except this time you'll be adapting taco ingredients instead of burger ingredients.
For a good "sauce," we recommend spreading out refried beans and then topping it with tomatoes, lettuce, black olives, jalapenos, salsa, ground beef, and cheese. Other toppings include sour cream, tortilla strips, guacamole, and onions.
Slightly more unorthodox combinations…
Breakfast pizza
Pizza for breakfast? Yes, please.
However, there's no rule that says that you have to eat breakfast pizza at breakfast time. Load it up with any and all of your favorite breakfast foods. Eggs, sausage, bacon, hash browns, salsa, cheese, mushrooms, and onions are all great choices.
Margherita pizza
One could argue that Margherita pizza is a classic, but we feel that it is not as commonplace as other types of pizza. Named after Queen Margherita of Italy, a typical Margherita pizza contains a fresh combination of basil, mozzarella, and tomatoes, drizzled in olive oil.
BLT Pizza
Last but not least, we have BLT pizza. It's a BLT, except it's pizza. Spread mayonnaise onto your crust and top it with Monterey jack cheese, bacon, lettuce, and tomatoes! To shake things up a bit, you can add chicken, roasted turkey, or avocado and sprinkle it with black pepper.
Excellent pizza topping combos from Dogtown Pizza!
There you are! We're hoping you feel a little bit more inspired now. However, if you still don't feel like going to the trouble of purchasing ingredients and assembling your own pie, you can always head to the grocery store and pick up some Dogtown Pizza.
Dogtown Pizza is the best St. Louis-style pizza money can buy, conveniently frozen for your cooking pleasure. We have a great selection of different pizzas, including classics like Pepperoni and Cheese and more unique varieties like Hot Wing and Tomato Basil Garlic.