What We're Thankful for This Thanksgiving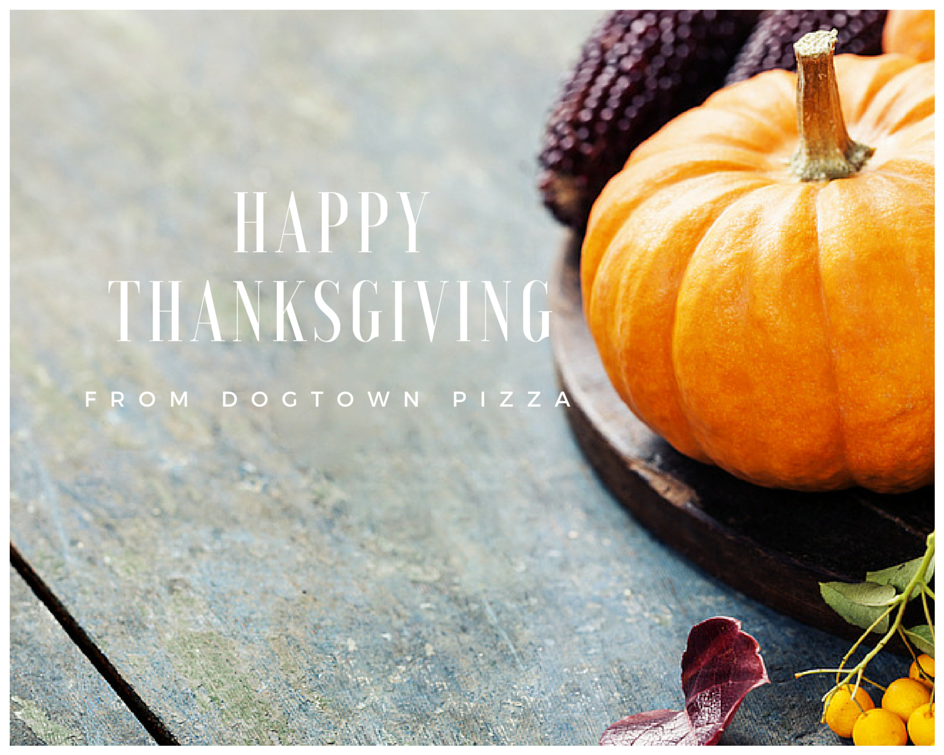 Thanksgiving gets the short end of the holiday stick every year. Everyone gets all pumped for Halloween and then —BAM!— it's Christmas. Thanksgiving tends to be overlooked in the general excitement of the season. But gratitude is as necessary as giving. Being grateful on a day like Thanksgiving compels us to step back and fully appreciate all of the blessings in our lives…and we here at Dogtown Pizza have many things to be grateful for. Read on to find out the things we're thankful for this Thanksgiving!
4. St. Louis
Where would we be without St. Louis and the amazing people who inhabit it? We are so proud to be from Dogtown, which is in itself a uniquely St. Louis neighborhood, as unique as the delicious pizza we're humbled to share with folks who can appreciate it. It's you, St. Louis, who makes what we do totally worth it. It's why we put on our aprons every morning and get to work baking you delicious St. Louis-style pizza from scratch. We're grateful for you and the outpouring of support you've had for us since Day One. We simply wouldn't exist if it weren't for you.
3. Delicious Food
From our local vendors who provide the fresh, nutritious and preservative-free ingredients to the skillful hands who craft the pizzas themselves, we're so thankful for the unmistakable deliciousness of St. Louis-style pizza. We are proud to create something so distinctly "St. Louis" and that we have one the best styles of pizza in the world. And we're so thankful we get to share that with you so you, too, can enjoy delicious pizza.
2. Our Employees
We are seriously indebted to the dedicated guys and gals who come in bright and early every morning to make the magic of Dogtown Pizza happen. Their passion, hard work and cheerfulness make them a true joy to be around. We are thankful to have such an amazing crew around who make work feel not like work.
1. Family
By far, we are most grateful for family. This includes our employees, who we consider an integral part to our Dogtown Pizza. But we especially want to thank our families who are our rocks and our steady foundations of support. We are so grateful for their love. We'd be nowhere without them and are so thankful for everything they do for us!
And One More Thing…
And one more thing we know you'll be grateful for are sales on Dogtown Pizza Varieties! Once you've snapped out of your turkey coma, stock up on DTP at the following grocery stores for sales you simply can't miss:
Nov. 17- Dec. 1: Dierbergs
Nov. 18 – Dec. 1: Shop 'n Save
Nov. 25 – Dec. 2: Schnucks
Happy Thanksgiving, everyone!