S'Lasagna (St. Louis-Style Lasagna)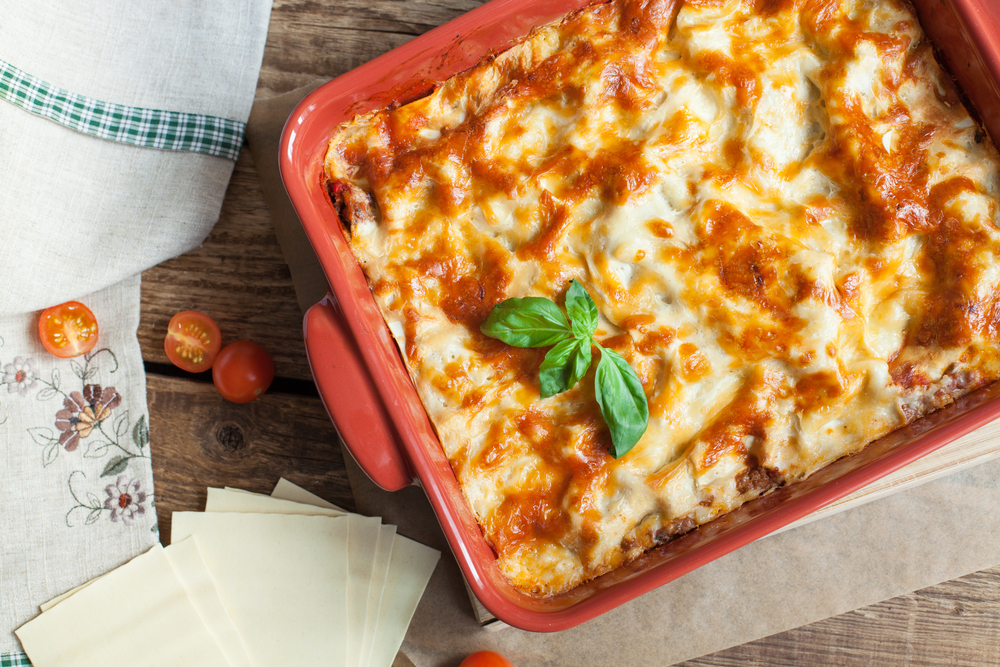 St. Louis has its own style of pizza that is, without a doubt, the best style of pizza in America. It stands to reason, then, that St. Louis should have its own take on lasagna, right? With our deep Italian roots, it's a wonder that this isn't a thing! Well, we're fixing that. Behold: St. Louis-style lasagna. S'Lasagna. In this recipe we'll show you how to make a truly one-of-a-kind spin on the beloved Italian dish…but with a single, St. Louis-style ingredient. Can you guess what it is?
What You Need
-1 Tomato Basil Garlic Pizza (TBG)
-Your mama's secret meat sauce
-15 oz. ricotta cheese
-1 beaten egg
-A package of mozzarella cheese
What to Do
Cook your Tomato Basil Garlic pizza according to directions (10-14 min at 425 degrees). Let stand for 2-3 min. Reduce oven heat 375 degrees.
While the TBG is cooking, make your meat sauce. If your mama won't give you her secret meat sauce, cook 1 lb. Italian sausage, 1 lb beef, 2 cloves garlic and a small diced onion together in a pan. Drain. Add in two 15 oz. cans of crush tomatoes, two 6 oz cans of tomato paste, 2/3 cup water, 2 tablespoons sugar, 3 tablespoons parsley, 2 teaspoons dried basil, a dash of fennel, and salt/pepper to taste. Bring to a boil, then reduce heat and let simmer for 30 min. Boom: S'Lasagna meat sauce. Your mama would be proud.
Now mix together the ricotta with the beaten egg and an additional dash of salt, pepper, and parsley.
Cut up your TBG to fit the bottom of a 13×9 in. baking dish. Spread a cup or two of sauce to cover the bottom of the pan, then layer slices of TBG over it. Add a generous layer of the ricotta mixture, and sprinkle mozzarella over that. Repeat this twice, adding sauce, TBG, ricotta, and mozzarella. Cover dish with foil. Bake at 375 degrees for 25 minutes covered. Remove foil and cook for another 25 minutes. Boom: S'Lasagna.
---
This is an epically cheesy and saucy dish, so be forewarned! But that's a good thing. Your tastebuds will likely explode from all this savory wonderment, so proceed with caution. Buon apetito!