Throw a 90's Inspired Dogtown Pizza Party!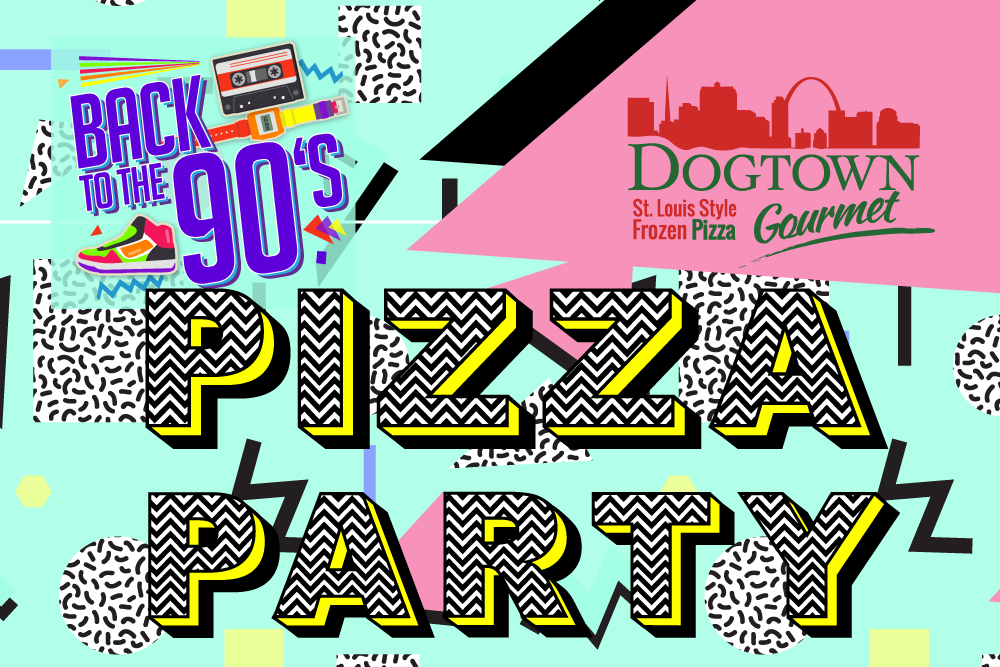 Hey dudes and dudettes, do you love the 90's? We do too, and there's nothing more nostalgic than a 90's-themed pizza party, so follow the Dogtown Pizza how-to for some nostalgic 90's fun!
Food for Your Radical 90's Party
We have all seen those articles stating, "If you remember these 15 foods, you were definitely 90's kid!" Well, we have a list, hold the clickbait, of some great treats you may remember from way back when that you absolutely need to have at your party!
Get Ready to Party with Dogtown Pizza
What is more 90's then sitting around with your friends, watching Teenage Mutant Ninja Turtles, and enjoying some slices of pizza? We all remember eating those dollar frozen pizzas when we were younger, but why not give party guests a frozen pizza they can enjoy and choose one of Dogtown Pizza's classic St. Louis style pies!
Dogtown Cheese Pizza: A Childhood Favorite
Our Dogtown Cheese Pizza is creamy and tangy in all the right ways. Our proprietary 3-cheese blend makes every bite gooey and delicious. If you have any meatless or picky guests coming to your party, make sure you pick up a couple of these-and save one for yourself!
The Classic Dogtown Pepperoni Pizza
Pepperoni pizza is a crowd favorite. Could you imagine a pizza party without pepperoni pizza? We can't. Each delicious pepperoni is placed by hand on every one of our pizzas! I think we can all agree that pepperoni pizza is a must at any pizza party.
Dogtown Deluxe Pizza: A Grown-Up Flavor Combo
Our Deluxe Pizza is made with mushrooms, yellow onion, salsiccia sausage and crispy bacon; a classic flavor combination straight out of the 90's. Not all of us were into all of these ingredients as kids, but we sure do love them now!
Don't Forget the Sweets
Is there anything more 90's than candy? Candy is a fun 90's treat that doubles as décor. Scatter the table with boxes of Gobstoppers, Nerds, Air Heads, Ring Pops, Warheads and Fruit Stripe gum to get your 90's pizza party started right!
If candy isn't really your thing, pick up some Dogtown Chocolate Chip Cookies! Bake them and decorate with your favorite 90's cartoon characters. If you are a little self-conscious about your artistic abilities, use bright icing and pipe some squiggles and triangles Saved by the Bell style!
Soda Punch
A classic 90's treat! Mix up some Kool-Aid fruit punch in a large pitcher (or 2: this should be a 50/50 mix) and add orange soda. Garnish with frozen fruit like strawberries, sliced watermelon, cherries and/or sliced oranges. If you want to do a little something special for your guests, freeze the fruit ahead of time and use it instead of ice cubes to keep the punch from getting watered down and add some extra fruit flavor!
Activities
Before iPhones and tablets, we found ways to have fun that didn't involve any screen time. Try some of these fun activities at your party and take your guests back to a simpler time!
Make Fortune Tellers
One of the quintessential sleepover party staples was making fortune tellers (with gel pens, duh). In case you have forgotten, click here for instructions on how to make a fortune teller. Remember to personalize the fortunes to fit your friend group for extra fun!
Play Board Games
Raid your board game closet or shelf and pull out a 90's classic like Sorry!, Monopoly, or Clue. If you want something really 90's, try to score a copy of Dream Phone-can you believe what phones used to look like? or Mall Madness (and if anyone reading this already owns Dream Phone or Mall Madness, we are so jealous of you!).
Watch Movies
There's nothing more nostalgic than sitting down with your friends to watch a movie from the past. Instead of driving to the video store, walking up and down the aisles looking for something that looks promising, you can now just stream your favorites on Netflix, Hulu or Amazon. Jurassic Park, Terminator (2), and Men in Black are classics from the 90s, with franchises that are still going strong today. If you want something "more 90's," pop in Clerks, Clueless, or binge watch Clarissa Explains it All.
With these ideas, your 90's pizza party will be a hit. For those who say otherwise, tell them to talk to the hand! Head out, grab some Dogtown Pizza and get ready to party on dudes!