The History of St. Louis' Famous Pizza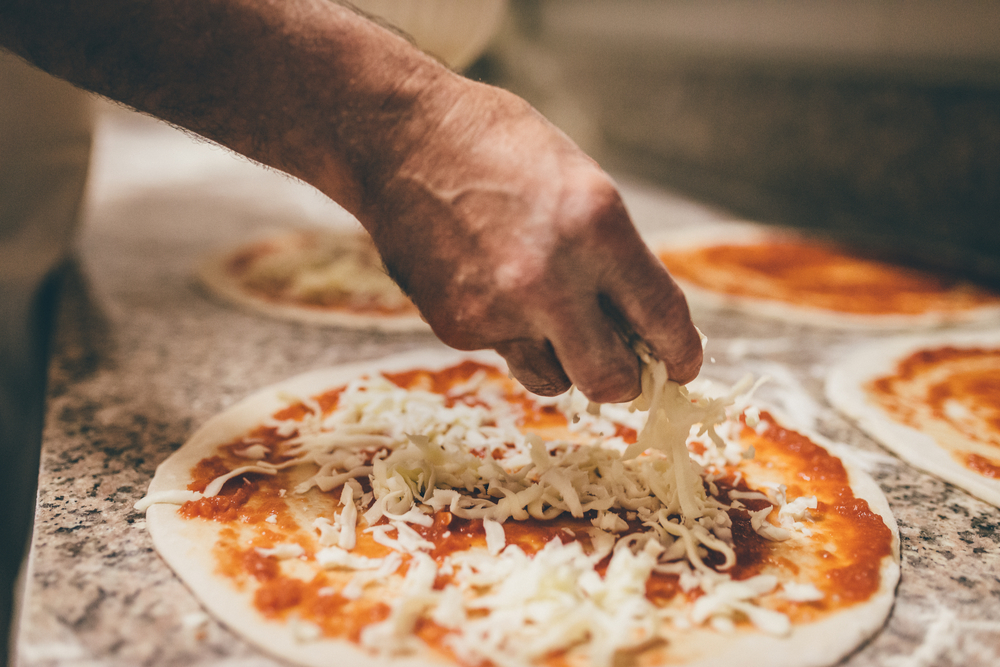 Compared to other iconic parts of St. Louis' identity—things like toasted ravioli, pork steaks, beer, and baseball—St. Louis-style pizza is the new kid on the block. This distinctive pizza has only been a part of the city since 1945! The story of how St. Louis pizza became popular is a fascinating one, and Dogtown Pizza is proud to be a part of this piece of pizza history.
The Delicious History of St. Louis-Style Pizza
It all started with a man named Amedeo Fiore who moved to Chicago in the 1930s with dreams of becoming a famous tenor. In 1945, after a successful singing career, he and his wife opened a small Italian restaurant near the Chase Park Plaza Hotel. When hotel guests were in the mood for Italian food, the Chase Park Plaza's maître d' would send them to Fiore's restaurant. Many of the hotel guests had tasted pizza while fighting in Italy during World War II, but at the time the dish was mostly unknown in the States.
In response to numerous requests, Fiore began making three versions of the original Neapolitan pizza he was familiar with: tomatoes and cheese, tomatoes and sausage, and tomatoes and anchovies. All three were made on the cracker-thin crust that's come to be famous in St. Louis, topped with provolone cheese. Eventually, the provolone was swapped out with the famous St. Louis-style cheese (a mixture of white cheddar and swiss). The pizza was then cut into squares with large shears and served on a napkin to be eaten by hand.
St. Louis-Style Pizza Gains Popularity
After just two years in business, Fiore sold his original restaurant space to two former employees so he could move his restaurant into a bigger building to help accommodate demand. Following Fiore's lead, pizzerias began popping up all over St. Louis and the vast popularity of St. Louis-style pizza was now set in stone. Over the years, as pizza has become part of the American landscape—and this type of pizza has an icon of St. Louis—the sauce has gotten sweeter and cheese is used more generously on the unique St. Louis-style cracker thin crust that has remained a crucial part of St. Louis' famed pizza to the present day.
Bringing St. Louis Pizza Into the Future
We've kept the original crispy, cracker-thin crust and oregano-spiced sauce, but the cheese is uniquely Dogtown; instead of just St. Louis-style cheese, we use a proprietary three cheese blend, featuring our secret to string-free gooey deliciousness-mozzarella. On top of all that, we pile on high-quality ingredients to create our combination of classic and original Dogtown Pizza favorites. If you want to learn more about DTP history, click here.
Classically Inspired Dogtown Pizza Originals
Want something spicy? Try our Hot Wing Pizza, with shredded chicken piled on top of wing sauce, gooey cheese and that St. Louis-style crust we all know and love. Looking for something more savory? Our Bacon Bacon Pizza is calling your name with a generous serving of juicy chunks of home-cooked, hand-torn bacon covered in our signature Dogtown cheese. Feeling sweet? Then our Sweet BBQ Chicken is for you, combining our tangy BBQ sauce, delicious shredded chicken, and gooey cheese, all on a cracker-thin crust.
Is St. Louis-style pizza the most iconic part of St. Louis? We certainly think so, and it even goes great with St. Louis' other famous traditions: baseball and beer! What toppings do you like on your STL pizza? Let us know in the comments below!