International Friendship Day with Dogtown Pizza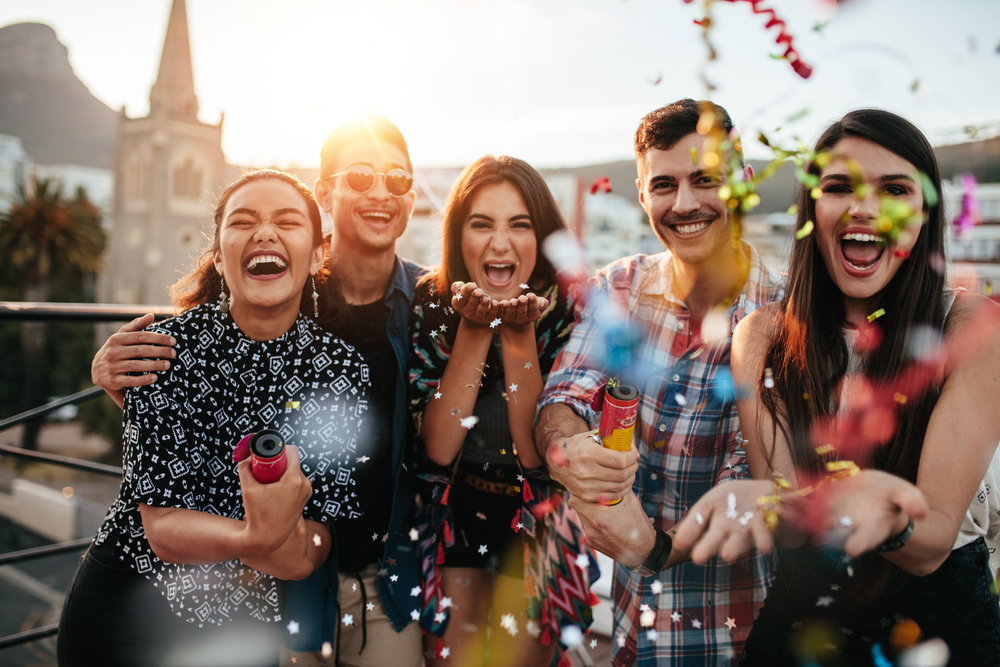 It's been over six months since last year's Friendsgiving and next year's Friendsgiving is nearly six months away! We were looking for a fun holiday to spend with our friends, and we discovered the perfect one: July 30 is International Friendship Day! We think this is the perfect time to get all of your friends together for one last big summer bash. Throw some Dogtown Pizza on the grill, grab a couple of St. Louis brews, and get ready to celebrate International Friendship Day!
The History of International Friendship Day
Initially created by the founder of Hallmark greeting cards in the 1930s, Friendship Day was established as the first Sunday in August and meant to be a day devoted to recognizing friendships. There was a large marketing push for nearly a decade, but by the 1940s the holiday had still failed to catch on in the US. Luckily, Asia and South America kept the spirit of the holiday alive, and in 2011, the UN General Assembly officially proclaimed July 30th as International Friendship Day.
Traditional Celebration
As you'd probably expect from a holiday that began in the 1930s when people had less disposable income and more obligations on their time, the traditional gifts emphasize thoughts over grand celebrations: a card, a friendship bracelet, just any little thing that lets your friends know that you're thinking about them and that you care.
Celebrating International Friendship Day Dogtown-Style
… or you could do it Dogtown-style! Focusing on the spirit of International Friendship Day is still the main focus, but when we think about how to express appreciation for our friends, our minds immediately turn to two of St Louis' favorite things: pizza and beer. (Didn't we tell you we'd be back soon with another list of pizza and beer pairings?)
Classic Pepperoni
Dogtown's Classic Pepperoni is a classic favorite, and 2nd Shift Brewing made the perfect beer to go with it: Brewcocky has a lot of personality, courtesy of lots and lots of hops. Trust us; this combo is delicious.
Hot Wing Pizza
4 Hands Brewery created Passion Fruit Prussia as a modern homage to the Berliner Weisse style: a golden passion fruit beer with a tart flavor is the perfect contrast to our Hot Wing Pizza.
Sweet BBQ Chicken
Another winner from 4 Hands is Super Flare. This IPA is brewed with mango and guava which gives it a tropical, citrusy bite that beautifully accentuates the spicy-sweet flavor of our Sweet BBQ Chicken pizza.
Deluxe
To find the perfect match for the Dogtown Deluxe, we're heading back to 2nd Shift Brewing for El Gato Grande—the beer, not the cat that lives at the brewery that the beer is named after. El Gato Grande is full of hops, but not bitter, and it goes just right with the salty, savory flavor of our Deluxe pizza. (Who says cats and dogs can't get along?)
Activities
Anything you want to do with friends is officially the correct way to celebrate International Friendship Day! Here are some of our favorites: have a cookout (as mentioned above), go to a St. Louis park and have a picnic, throw a 90s nostalgia-themed party with Dogtown pizza and movies! And for dessert, we're just going to leave this list of recipes using Dogtown gourmet cookies right here (we trust you to know what to do).
Is International Friendship Day new to you, or are we really the last ones to find out about it? How are you celebrating this year? Let us know in the comments!