Cool Down With Gourmet Cookies & Ice Cream – 9 Summer Recipes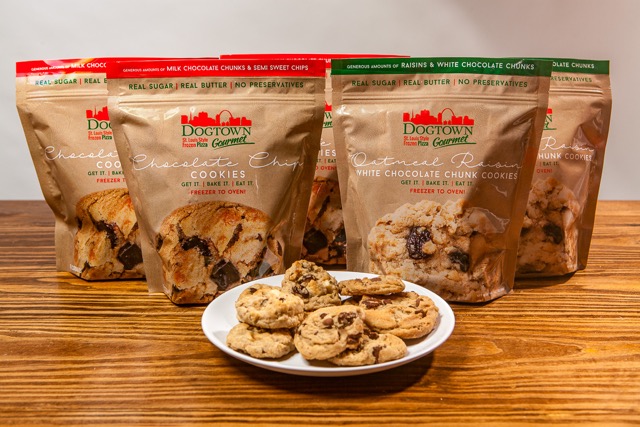 When the summer continues to heat up and temperatures keep rising, we think that cooling down with some ice cream and cookies is the only logical thing to do. Wait, cookies and ice cream? What is this madness?
Our DTP Gourmet Cookies are simply delicious all on their own and ice cream makes everything sweeter. So why not make things a whole lot cooler? Yeah, that's what we thought, too. These are 10 recipe ideas to upgrade your DTP Gourmet Chocolate Chip Cookies this summer.
#1. Chocolate Chip Cookie Ice Cream Sandwiches
Take your DTP frozen Gourmet Chocolate Chip Cookies and follow the baking instructions on the back of the package. Once cooked let the cookies fully cool. Choose your favorite ice cream flavor and place a few scoops in between two cookies. Put the ice cream sandwiches in the freezer to re-harden. Then just simply enjoy!
#2. Chocolate Chip Cookie S'mores
If you love s'mores then you know the drill…toast marshmallows until golden brown, place chocolate on graham cracker, place marshmallow on chocolate, place graham cracker on top to create a beautiful, tasty sandwich. We're taking it up a notch with our cookies! Replace your graham crackers with some freshly baked DTP cookies and fill them with some chocolate, toasted marshmallows, and even a layer of peanut butter (if you wanna get a little crazy)!
Ok, so this one doesn't have ice cream, but we can't help but love this cookie-fied twist on a summertime classic!
#3. Chocolate Chip Cookie Ice Cream Toppings
Take your baked cookies and place them in a plastic bag. Using your hands or a rolling pin, crush the cookies to your desired texture. Sprinkle over your ice cream along with all your other favorite toppings for a delicious cookie sundae!
#4. Chocolate Chip Cookie Cake
Our DTP cookies come in frozen pucks, but if you set them on the counter at room temperature for 20 min, they will soften up. Once they are malleable, combine some of the pucks with your hands. Roll them into a large ball. Use a rolling pin to flatten the dough into an even thickness until you have one large cookie. Bake until golden brown. Check if it is fully cooked by inserting a toothpick in the center and having it come out clean. Make your favorite buttercream frosting recipe and spread some on top once the cookie cake has fully cooled. Serve with your choice of ice cream. VOILA! There you have it. This dessert is perfect for birthdays, holidays or anytime you're needing a little fun.
#5. Chocolate Chip Cookie Flurry/Milkshake
Get out your blender and prepare to be wowed! Place 2 cups of vanilla or chocolate ice cream in your blender, then add three baked DTP Gourmet Chocolate Chip Cookies, and blend! You will have a tasty cookie flurry in no time! If you want something not quite as thick, you can trade in the spoon for a straw and make it a milkshake. Add some whole milk until it reaches your desired consistency.
#6. Chocolate Chip Cookie Pie Crust
Similarly to your cookie ice cream topping, place some baked cookies in a plastic bag. Using your hands or a rolling pin, crumble the cookies into a fine texture. Combine 1 3/4 cup of cookie crumbs, 6 tbsp of salted butter, and 2 tablespoon sugar. Take a pie pan and firmly press your crumbs to form a crust. Bake at 350 degrees for 10 min. Let your crust cool and fill your pie with anything you please! We love making a chocolate or peanut butter pie with this crust. You can even turn it into an ice cream pie. This is your opportunity to get creative!
#7. Chocolate Chip Cookie Dough Pops
These are one of our personal favorite treats; however, we still don't recommend you consume raw cookie dough. 😉
Let your frozen cookie dough soften by leaving it for 20 min at room temperature. Then, using your hands, roll your pucks into round balls. Insert lollipop sticks into the center of your dough balls. Put them in the refrigerator to re-harden. While you wait, take your favorite kind of chocolate (dark chocolate, milk chocolate, or white chocolate) and heat it (stirring consistently) until it has fully melted. Carefully dip your cookie dough balls into the chocolate until they are fully coated. Finally, put them back in the refrigerator to harden and dry. Keep them stored in the refrigerator.
#8. Chocolate Chip Cookie Dough Cupcakes
We know you love cupcakes and we know you love DTP Gourmet Oatmeal Raisin White Chocolate Chunk Cookies…so why don't you combine the two?! Prepare for a combination that is sure to blow your taste buds. Begin by making your favorite chocolate cake batter and fill your cupcakes liners 2/3rds of the way full. Then drop one DTP chocolate chip frozen puck in the center of each cupcake liner. Bake at 350 degrees for 20 min until a toothpick comes out clean from the cake. Let your cupcakes cool and frost with your favorite vanilla buttercream frosting and top it all off with some mini chocolate chips. Keep them stored in the refrigerator.
#9. Chocolate Chip Cookie Peanut Butter Fudge Parfait
Take your baked cookies and and place them in a plastic bag. Using your hands or a rolling pin, crush the cookies to your desired texture. Then in a large glass, layer cookies, chocolate ice cream or pudding and peanut butter. We like to start with a layer of chocolate pudding, then sprinkle a layer of cookies crumbs, and finish with a spread of peanut butter. Repeat this pattern until the glass is almost full. Finish it off with one last cookie layer, a handful of peanuts, and a drizzle of chocolate syrup. Place in the refrigerator to chill. YUM!
With so many delicious recipe ideas using DTP Gourmet Chocolate Chip Cookies, the only question is: which one will you make first? If you create any of these desserts, let us know and tell us what you thought! We would love to see your creations so make sure to tag us on Facebook, Instagram, and Twitter.