Forget Candy: Why Cookies are Scary Good for Halloween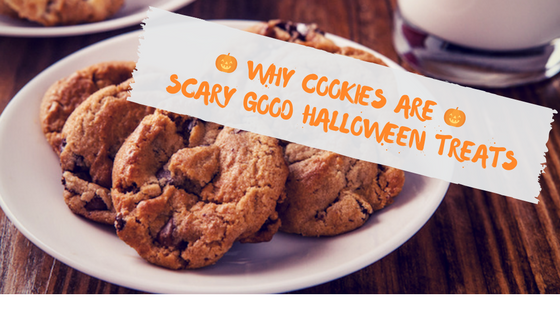 Don't scream—Halloween is lurking around the corner! The holiday dedicated to ghosts and ghouls doesn't have much to do with pizza, per se. But we'll tell you what DOES go with it: cookies! Dogtown Pizza Chocolate Chip Cookies are the perfect, albeit unexpected, Halloween treat. And we'll tell you why your Halloween is incomplete without them.
You Won't Be Haunted by Guilt
Candy bars are classic Halloween treats. We won't dispute that. But if you're looking for something different and (dare we say it, all-natural) to give out during a Halloween party, Dogtown Chocolate Chip Cookies are a quick-and-easy sweet treat that kids and adults alike will love.
Made with real butter and sugar, these cookies are preservative (and guilt)-free. Store-bought candy is generally filled with sugar additives, oils, and chemicals. With DTP chocolate chip cookies, you don't have to worry about artificial flavors, HFCS, MSG or anything of the sort. We load them up with delicious chunks of real milk chocolate and a whole lotta love. Plus, you won't have to deal with the frustration of unwrapping each individual candy. That way, you can eat a handful with no evidence trailing behind you.
You'll Be the Ultimate "Final Girl" (or Guy)
Anyone can buy a bag of candy and take it to a Halloween party at school, at the neighbor's or at your church's trunk-or-treat gathering. But not everyone will think to offer straight-from-the-oven, warm and gooey chocolate chip cookies. You'll be the cunning, resourceful Final Girl that everyone roots and cheers for 'til the end.
…unlike the guy in every horror movie who says, "Hey guys, let's split up!" Don't be that guy.
You'll Slash Your Decoration Competition
Want to add something adorably ghoulish to your Halloween decor? DTP Chocolate Chip Cookies can help with that, too! You could easily make these chocolate monster cookies:
With the cookies already made, all you have to do is prepare the ganache and edible googly eyes! Get the recipe here!
Or you could paint your pumpkin blue and transform it into this cute Cookie Monster centerpiece:
What a hoot, right? Get the how-to here!
You Deserve Treats, Not Tricks
Whether you need to nosh on something comforting after watching a horror movie or you've just spent the whole night trick-or-treating with the kids, you deserve to kick back and enjoy a treat. Leave the candy to the kids and throw a sheet of take-and-bake Dogtown Pizza Chocolate Chip Cookies into the oven. In less than 15 minutes, you'll have the treat you deserve. Dressing up in costume is encouraged but not required.
---
Find Dogtown Pizza Chocolate Chip Cookies in the frozen aisle of all major St. Louis grocery stores where Dogtown Pizza is sold!