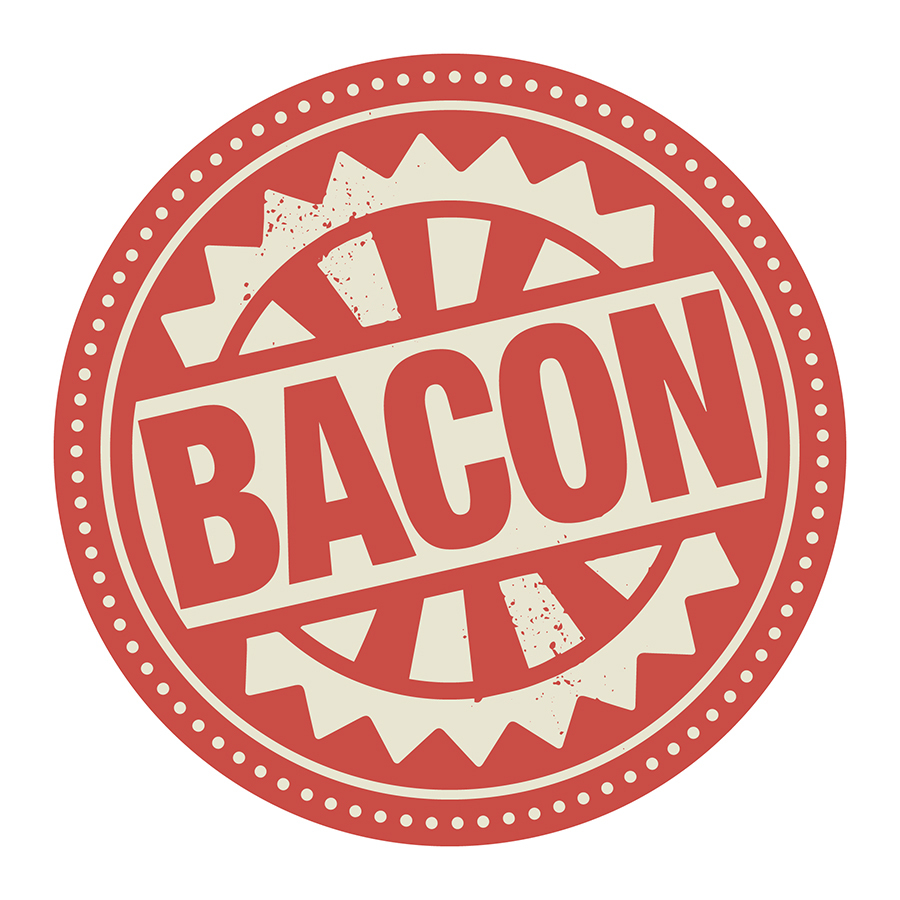 Bacon is having a real moment. It seems like you can get bacon-flavored anything these days, and it ranges from the delicious (mayonnaise, popcorn, mints, toothpaste) to the bizarre (candles, air fresheners, and soap). You can even get a bacon-themed board game or a piece of plush bacon for your kids to cuddle with! Bacon.is.everywhere. So when our customers demanded a bacon pizza, we knew that it had to be something special. Just any old bacon pizza wasn't going to (that's right) cut it.
So, after a lot of research, countless hours in our test kitchen making dozens of different pizzas, and looking for just the right blend of toppings and flavors, it is with great pride that we introduce to you our newest pizza variety: Bacon Bacon Pizza. Bacon Bacon is only our tenth pizza variety to date, and it joins an all-star lineup that includes Sausage & Pepperoni, Hot Wing, Tomato Basil Garlic, and the classics: Pepperoni and Cheese.
So What Is Bacon Bacon Pizza?
First things first: our pizza is only as good as the ingredients and the passionate process that goes into developing it. So, when we were first developing the Bacon Bacon, we quickly discovered that when bacon is the only ingredient on a pizza you have to go big or go home. With smaller pieces of bacon (like what you'd find on your typical Meat Lover's pizza), the drying effect during cooking meant that we lost too much of that delicious bacon flavor, and we could not, in good conscience, abide by that. With only one main ingredient to carry the day, the Bacon Bacon needed to have a real and distinct bacon flavor. So, we developed a completely different prep process for the bacon that goes onto this pizza than for what we use on one of our Four-Meat varieties.
For the finished product, we hand-tear our bacon into big, thick chunks and layer it on edge-to-scrumptious-edge. Biting down on a Bacon Bacon pizza is like eating a real slice of perfectly-cooked, moist, smoky bacon. And with twice the bacon found on our competitor's bacon pizza, the result is a bacon pizza experience like no other.
Out of all of the bacon-flavored-anythings out there right now, we can honestly say that this one is the best. Grab one today and see for yourself!