Small Business Week with The Dogtown Pizza Family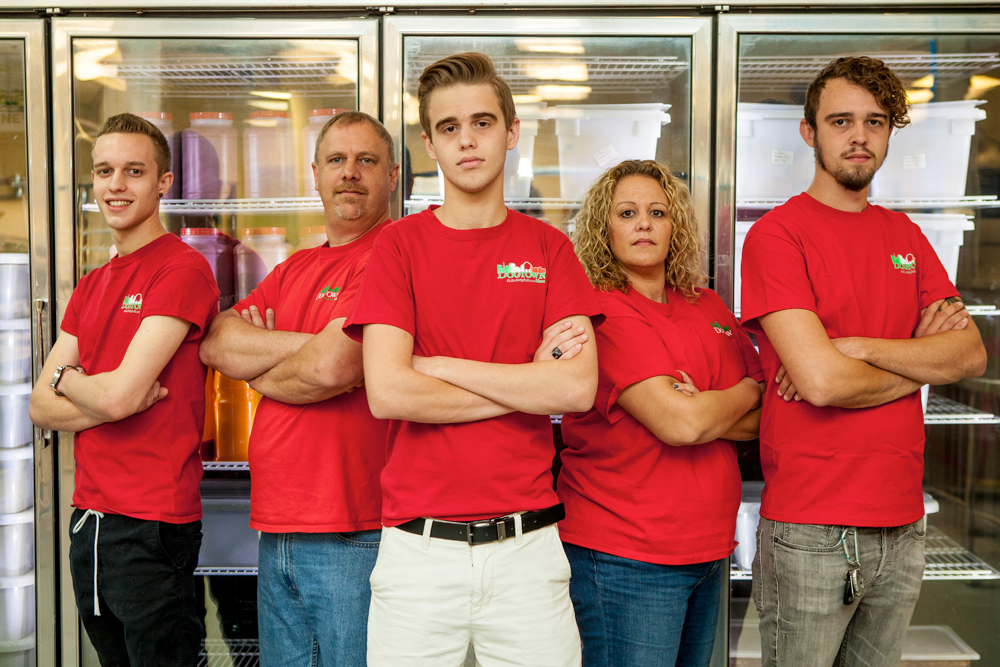 Last week was National Small Business Week, and we are proud to say that Dogtown Pizza has been family owned and family run since the owners, Rick and Meredith Schaper, pulled the first Dogtown pizza out of the oven in their kitchen. Even as we have grown and added employees, we still make sure to instill family values into every aspect of our business. We have said in the past that the Dogtown Pizza 101 philosophy is all about family and we mean that.
Delicious Pizza Starts With Family Support
Before Dogtown Pizza was even a thought, Rick and Meredith were known for bringing pizza to the Dogtown neighborhood block parties. The pizzas were a huge hit at with their friends and family. In 2006 Meredith and Rick decided to try and start selling their pizzas.
Before you saw Dogtown in your grocery aisles, Meredith was bartending and waitressing to support Rick's pizza dream. Without Meredith's love and support Dogtown Pizza might not have come to fruition. They started off slow-selling a couple hundred pizzas a week and giving some away here and there. Fast forward to today, Dogtown Pizza cranks out about 65.000 pizzas a month! You can see this type of support and drive has been embedded into their sons who all currently work for Dogtown Pizza. One of the Schaper kids who particularly took to the pizza life is Shane Schaper.
A Little About the Shane Schaper
Shane grew up watching his parents make Dogtown Pizza what it is today. Shane and his brothers have been by Rick's side watching him make pizzas since he was 11 years old. Now as an adult, Shane is heavily involved in the family business and wholeheartedly supports and encourages the rest of the Dogtown Pizza family (blood or not) to bring great food to tables across St. Louis.
Local Love
At Dogtown Pizza, we try to source as many of our ingredients as possible from local farmers and businesses. It is very important to us to support our community and everyone in it. We want to offer St. Louis a fresher local choice when they head into the grocery store to grab a frozen pizza. All of our pizzas are handmade. The only machines we have at Dogtown Pizza are used to freeze and wrap the pizza up before delivery. In fact, each of the 37 pepperonis on our pepperoni pizza are placed by hand. We believe that using fresher ingredients and not mass producing our product sets us apart from the other guys in the frozen food aisle.
The backbone of Dogtown pizza is family. Rick and Meredith continue to bring delicious treats that their own family loved to the tables of others all over the St. Louis area.