Summer Pizza and Beer Pairings St. Louis Style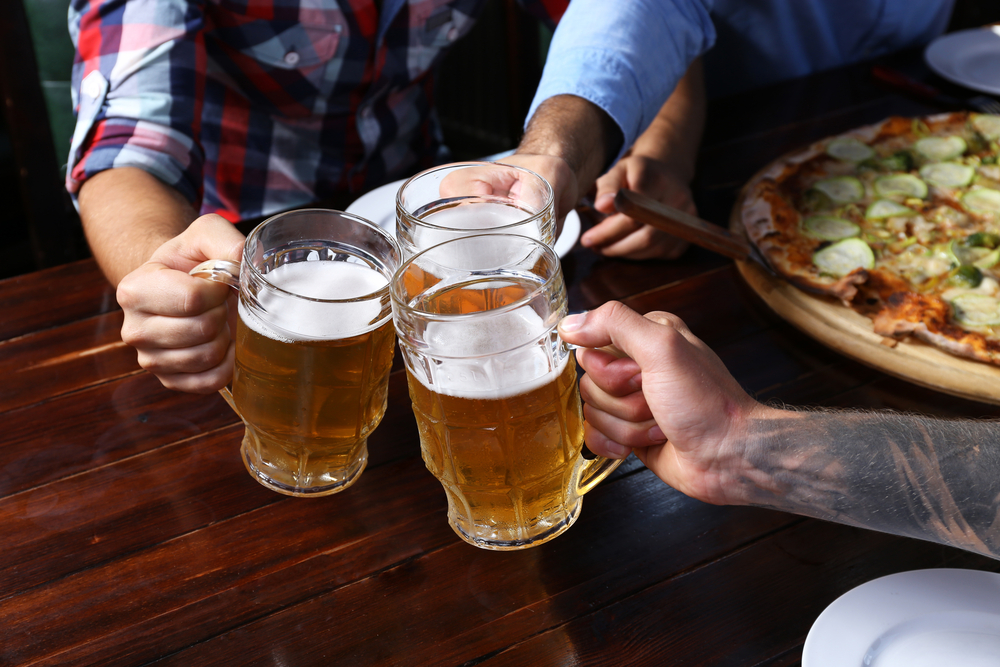 If you've been paying attention around here, you know one of our favorite things to do is pair our Dogtown pizzas with local beers! We believe nobody does beer and pizza, two of the tastiest things in the world, like St. Louis. (If you're concerned with turning on your oven during the heat of summer, remember that Dogtown pizzas are just as good on the grill).
Summer Pizza and Beer Pairings
Tomato Basil Garlic Pizza
Our Tomato Basil Garlic Pizza is a fan favorite and the best beer to pair with this pizza is something light, bright and refreshing. This time we're recommending the Abricot du Fermier from Side Project Brewing. This delicate Saison was aged with apricots in French Oak wine barrels, and it's even more delicious in between yummy bites of tomato, basil, and garlic. Take a look at these creative ways to serve up our Tomato Basil Garlic Pizza.
Hot Wing Pizza
What helps cut the heat from our Hot Wing Pizza? Something hoppy and citrusy. We're recommending Contact High from 4 Hands Brewing. This spring and summer seasonal is made with a combination of pacific northwest hops, a dry hopping with fresh orange zest. Its bright orange pour makes it a fun beer to serve alongside our Hot Wing Pizza. Add some celery, carrot sticks and ranch dip to create a delicious meal.
Traditional Pepperoni Pizza
Pepperoni has a rich flavor that needs to be balanced with a deeper, more flavorful brew. We have two recommendations for this one. The first is Fantasyland, a West Coast IPA from Urban Chestnut Brewing, made with a blend of five hops and caramelly malts. Our other recommendation is Cat Spit Stout from 2nd Shift Brewing. The name is admittedly vile, but this oatmeal milk stout with a roasted coffee flavor is not, and some say their second favorite pairing after beer and pizza is pizza and coffee, so this makes for a delicious compromise!
Cheese Pizza
Our Cheese Pizza is the most versatile pizza that can pair well with almost any beer. With a tangy 3-cheese blend and our distinct sauce, it's delicious but won't clash with whatever else you decide to serve—our classic Cheese Pizza plays equally nice with lagers, IPAs, ales, stouts, pretty much anything. We recommend Guava King from 4 Hands Brewing. This ale is slightly tart and acidic with tropical fruit aromas to make it crisp and refreshing. If you want something that isn't so light, we are going to recommend 2nd Shift Brewing's again El Gato Grande. Yes, it's another beer name relating to cats, but this one is a hoppy IPA that's not too bitter. If you like IPA's, definitely give this one a try!
These are our favorite summer beer and pizza pairings, but you can bet we'll come up with new combinations soon—there's really nothing better than tasting new beer and pizza combos. What's your favorite beer and pizza pairing?