Dogtown Pizza's Guide to Pizza and Beer Pairings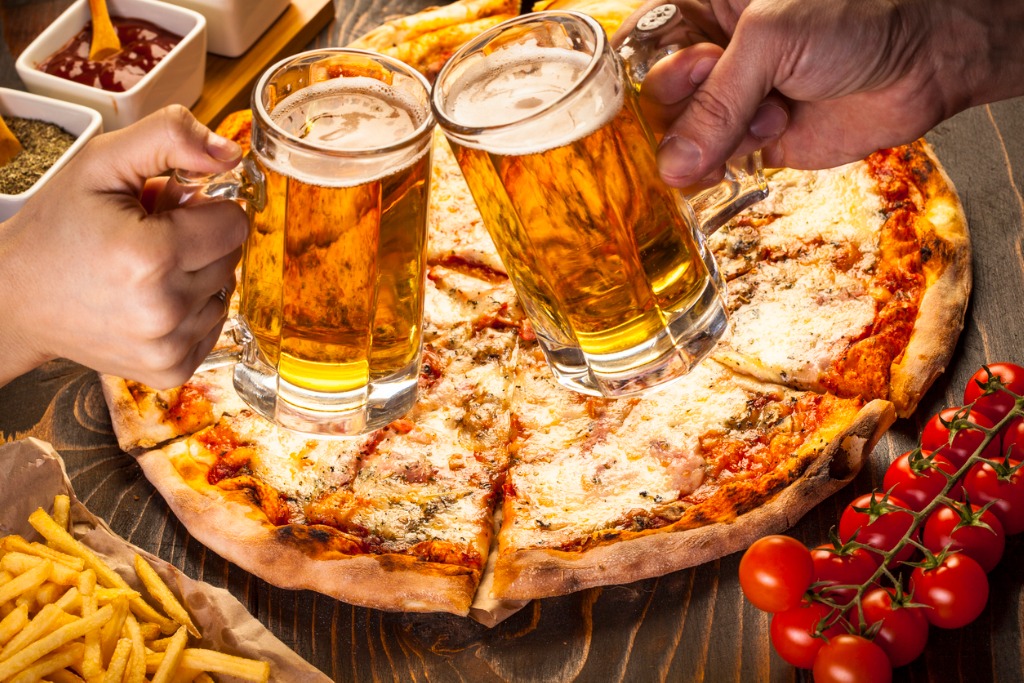 Pizza and beer is one of life's perfect pairings—just like pizza and breadsticks, pizza and hot wings, pizza and cookies, pizza and… well, most things, now that we're thinking about it! The ability to pair pizza with literally any other menu item aside, the classic combination of pizza and beer is a duo that's hard to out-do.
…but can we make that combination better?
As you can guess from the title of this article, that was all the prompting we needed to call a Dogtown Pizza family meeting and get everyone together around a buffet of Dogtown Pizzas and various beers!
We tested, tasted, and took copious notes.
What did we learn?
Well, not to brag, but this might be the most comprehensive guide to pizza and beer pairings ever written!
Pepperoni Pizza
+ Any Cheap Beer
If you had your first beer at a pizza party, this might be the quickest and most accessible path to nostalgia you're going to find on short notice. Simply get a pizza from the freezer aisle and a six-pack of any cheap beer and bake the pizza according to the instructions on the box. Don't forget to put on a movie or TV show from the 90s while you wait for dinner to be ready!
Pepperoni Pepperoncini Pizza + Pilsner
Let's upgrade that pepperoni pizza by adding some pepperoncini, and let's upgrade that cheap beer to something a little more specific! If you want something a little bitter to contrast with the richness of the pepperoni and cheese, try a Czech pilsner. If you want something crisp to set off the spices of the pepperoni and the sweet, tangy pepperoncini spicy peppers, opt for a German pilsner.
Sausage &
Pepperoni Pizza
+ Stout
For even more meat, you'll want a more bitter brew. Our Sausage & Pepperoni pizza is made with a combination of pepperoni (I believe you've met?) and Italian salsiccia sausage, plus our special sauce and secret cheese blend on a cracker-thin crispy crust. To cut through those rich, savory flavors, choose a dark, sweet stout from Ireland or England, which are generally less bitter than a German stout, for example.
Deluxe Pizza + India Pale Ale
How do you find a match for the perfection that is our Deluxe Pizza? Plump mushrooms, sweet yellow onion, Italian salsiccia sausage, and crispy cooked bacon on our thin, cracker-like crust with tangy sauce and gooey cheese can't be served with just any beer. We think our Deluxe Pizza pairs very well with a hoppy IPA.
4-Meat Pizza + Porter
When it comes to our 4-Meat Pizza—featuring salsiccia sausage, pepperoni, hickory-smoked bacon, and ham—we'll admit up front that there are a lot of beer pairing options, depending on which flavors you want to accentuate. For us, you won't find a better ale for the job than a porter. The roasted malt aroma and dark, hoppy flavor do some kind of magic that makes the meat taste meatier and the thin crust taste… crustier? Try it, love it, and thank us later!
Bacon Bacon Pizza + Witbier
Often considered a summer beer—and definitely a good decision on a lazy, sunny Sunday!—wheat beer is brewed with extra wheat and less malted barley. This gives wheat beers a tangy, citrus flavor that pairs well with rich, savory meat dishes. It's an obvious match for our Bacon Bacon Pizza (that's twice the bacon!) made with huge, juicy chunks of our home-cooked, hand-torn bacon piled high with gooey cheese on a thin St. Louis-style crust.
Hot Wing Pizza + Milk Stout
Our Hot Wing Pizza is two crowd-pleasing classics in one: pizza and hot wings. Need we say more? Actually, we should say more. We should say that this pizza pairs amazingly with a milk stout!
A quirky favorite of many local small breweries, milk stouts are brewed with milk sugar, which gives the final ale subtle flavor notes of coffee, chocolate, and sweet cream. The sweetness can range from subtle to milkshake-like, depending on how much lactose is used, and when you're pairing creamy with spicy, you won't go wrong seeking out a sweeter milk stout.
Hamburger Pizza + Lager
Next time you're trying to decide whether to have hamburgers or pizza for dinner, don't—we put hamburger on pizza! Think high-quality ground beef generously layered atop our tangy signature tomato sauce, gooey 3-cheese blend, and crispy crust. Now pair all that with a delicious lager. Sounds like hamburger heaven to us!
Tomato Basil Garlic Pizza + Hard Cider
First thing's first: we know hard cider isn't beer. Second, we're only playing the wild card because this pairing is just so good!
Our TBG is such a fan favorite it borders on being our unofficial mascot, and once you taste it, you'll understand why. To really set off the interplay between our red-ripened tomatoes, fragrant basil, and freshly minced garlic, you'll want something bright, tart, and refreshing.
That's a vibe you can get from most pale ales, especially a Saison, but the best pairing we found was a hard pear cider, which ended up being a fun way to include non-beer-drinkers in this beer and pizza party!
Veggie Pizza
+ Pale Ale
Our Veggie Pizza is topped with earthy mushrooms, sweet red onion, and crunchy bell peppers, creating a perfect balance of bright, crisp veggies and savory, umami veggies. To accentuate this balance, you'll want an equally well-balanced beer. Pale ales are brewed with pale malt and ale yeast to create a golden-amber beer that's able to accentuate the flavors of a veggie pizza without taking over.
Next time you're in the freezer aisle picking out your favorite Dogtown Pizza for a quick weeknight dinner or to power your weekend stream-a-thon, remember to stop by the beer aisle and find the perfect match for your perfect pizza!