A Love Letter to St. Louis-Style Pizza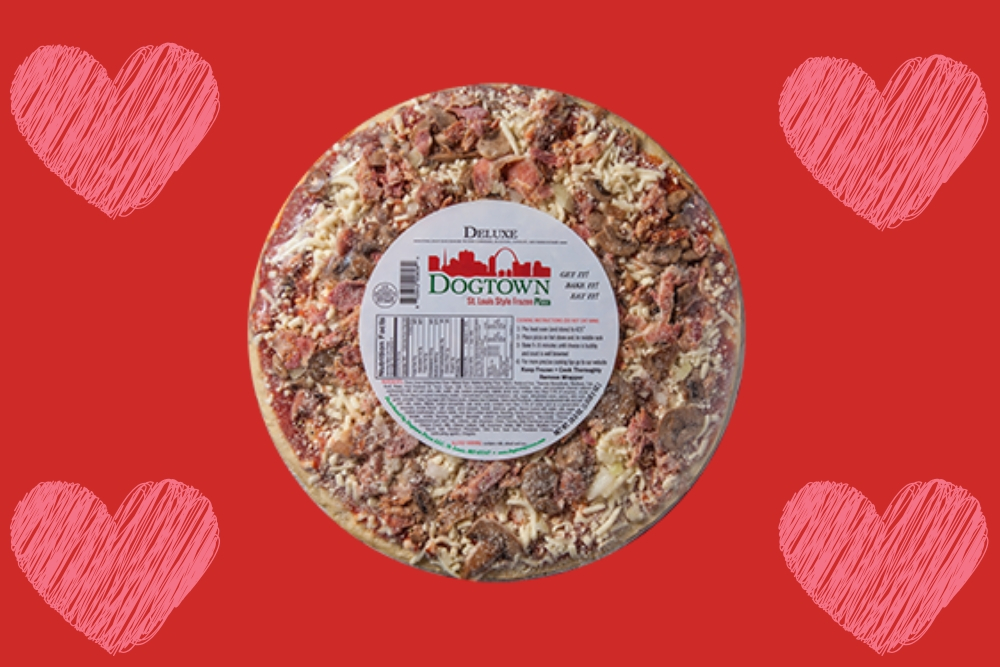 Valentine's Day is a good time to show how much you care, and in that spirit, we got to thinking… about St. Louis-style pizza! O, St. Louis-style Pizza, how do we love thee? Let us count the ways!
Our Love St. Louis-style Pizza,
Your Crust
Distinctly St. Louis-style, your light, crispy cracker-thin crust has that crunch we crave. Your crust is sturdy enough to pile the toppings high and thin enough to let the flavor of those toppings shine through: this isn't bread, this is crust! Like all of the best parts of Dogtown Pizza, your crust is locally made and delivered fresh. Dogtown Pizza fresh-baked crust—as St. Louis-style as it can get!
Your Cheese
Creamy and tangy, never stringy, your delicious cheese blend compliments your crust and toppings perfectly. St. Louis-style pizza, your cheese is a creamy blend of cheddar, swiss, provolone that beautifully enhances whatever toppings it's paired with, we'll always love you and your cheese!
Your Toppings
From the more traditional sausage pizza to newer offerings like Dogtown's twice-yearly limited edition pizzas, your mouth-watering toppings might be our favorite thing about you, St. Louis-style pizza!
You've come a long way from the simple life of tomatoes and anchovies, moving to the big city and forging a new identity that embraces novelties like Hot Wing pizza and Sweet BBQ Chicken pizza, but still honoring your roots while staying contemporary with our 4 Meat pizza, featuring salsiccia, pepperoni, hickory-smoked bacon and ham.
A classy option for a Valentine's Day date night at home is Tomato Basil Garlic pizza—skip the crowded restaurant and just cuddle up on the sofa instead. St. Louis-style pizza, a bottle of sparkling wine and a movie with your special person – no reservations needed with you STL pizza. That's our idea of a perfect Valentine's Day, and you're welcome anytime St. Louis-style pizza!
Your Party Cut
While other types of pizza are content to be cut into boring triangles, you insist on being the life of the party with your square-shaped party cut. Your smaller, more irregularly shaped slices add to the structural integrity of the crust and keep the pieces of pizza from becoming too cumbersome to hold. And who are we kidding? Your squares also just more fun to eat—we like the edge pieces, especially the longer oblong shapes because they're so perfect for dipping (in marinara or ranch dressing, you decide!). St. Louis-style pizza, you will party all night long with your party cut, and we love that about you!
Love always,
Dogtown Pizza
What do you love the most about St. Louis-style pizza? Who are you writing a love letter to this Valentine's Day? Let us know in the comments!