Dogtown Hot Wing Pizza: A Game Changer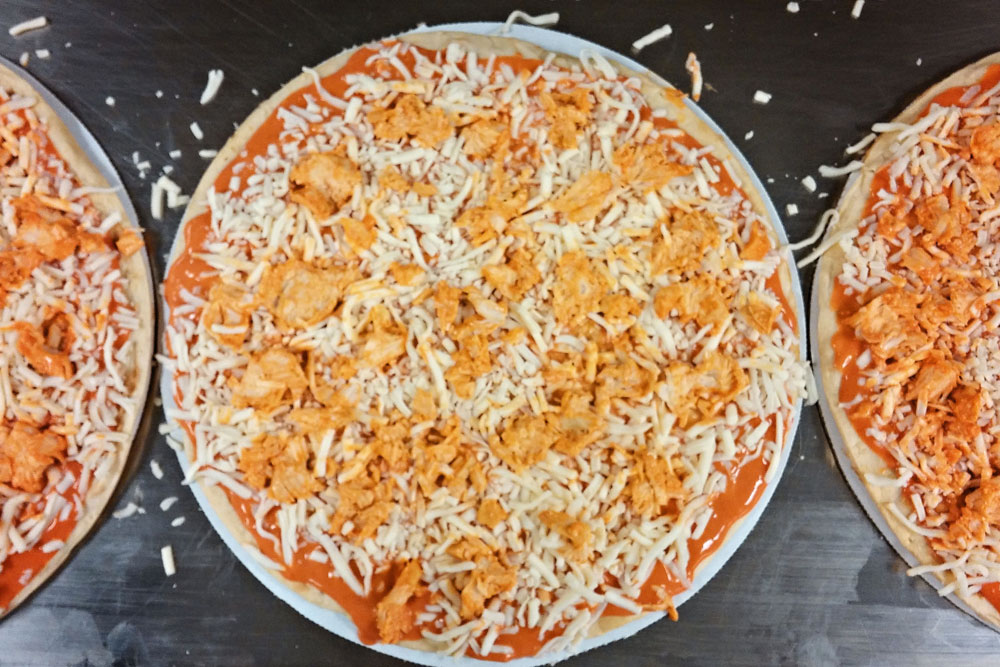 Hot wings or pizza? Pizza or hot wings? It is the eternal question, whether you're planning a party, getting ready to watch the game, or settling in for a weekend Netflix binge. Don't fret, Dogtown has you covered! With our Hot Wing Pizza, you get the best of both worlds in one convenient slice. All you need to complete this meal is blue cheese or ranch dressing for dipping and a few pieces of celery on the side!
A Brief History of the Hot Wing
Hot wings were first served in 1964 in the Anchor Bar in Buffalo. Their creator, Teressa Bellissimo, served them with a side of blue cheese dressing and cut celery because that's what she had in the fridge.
History of Dogtown's Hot Wing Pizza
Similar to the creation of hot wings, Rick Schaper (Dogtown Pizza Godfather) and his friend Michael Collins were resourceful during a pizza party at the Schapers. Upon running out of conventional pizza sauce, Rick started digging through his fridge to improvise. He came across some hot sauce and leftover chicken that Micheal excitedly suggested he thrown on the pizza. It was an instant hit. The rest is history!
If you really want to get into some crazy Hot Wing Pizza history, read about the time we partnered with  Steve's Hot Dogs on the Hill to create a Hot Wing Pizza Dog here. We will warn you that mouth-watering may occur after reading about this legendary concoction.
Our Ingredients
We start with our famed cracker-thin St Louis style crust—delivered to us fresh each morning from the Dogtown Pizza Bakery. We smother the crust in hot wing sauce—hot, but not too hot—then load it up with our secret cheese blend and shredded hot wing chicken.
 3 Things Dogtown Hot Wing Pizza Brings to the Table
Using pizza crust as a vehicle for authentic hot wing flavor helps to negate one of the main cons with hot wings: the sticky, saucy mess on your hands while you're eating them. Dogtown's Hot Wing Pizza is pretty much like eating your hot wings with an attached edible napkin—a delicious attached edible napkin!
That crispy crust and gooey 3-cheese blend also helps to diffuse some of the heat in the sauce and the chicken, making it hot enough to feel like a hot wing, but substantial enough to eat like a pizza.
While pizza is generally considered to be a meal, hot wings by themselves usually aren't. But putting hot wings on top of a pizza transforms those wings into a meal that won't get you a side-eye for snacking instead of eating "real food"—it's some kind of magic (or maybe just some kind of creative logic?), but we still say it counts.
If you've somehow missed out on trying our Hot Wing Pizza, take this post as an excuse to do exactly that next time you're picking up some Dogtown Pizza. As long as you like hot wings and pizza, we guarantee you won't be disappointed.
What's your favorite way to serve up our Hot Wing Pizza? Share in the comments below!