5 Easy Fall Dinners for Cold Nights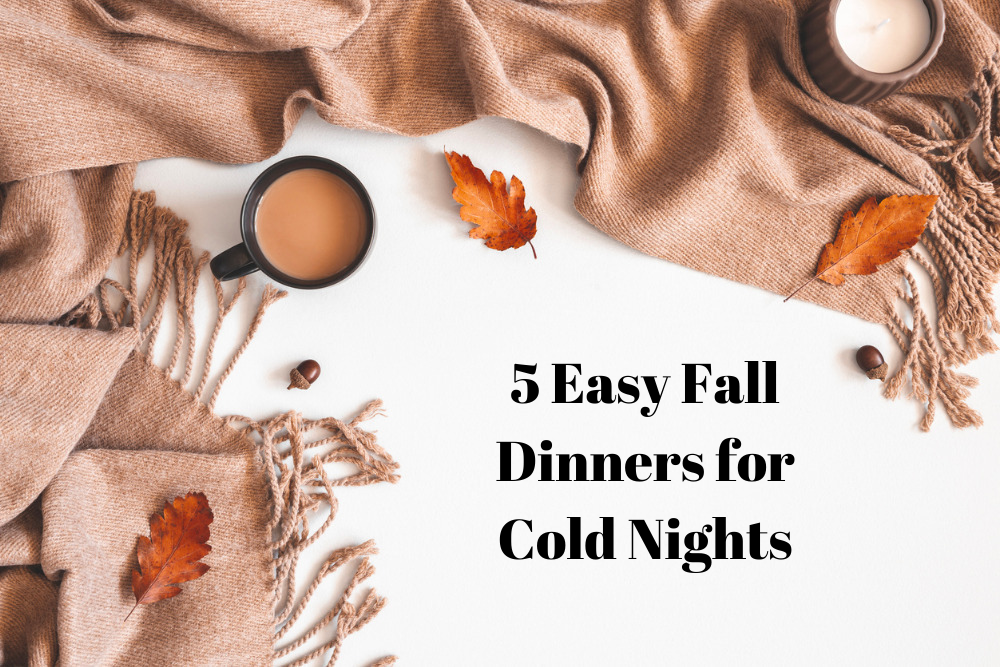 Fall is upon us, and that means colder nights and shorter evenings. Fall can also be a very busy time for a lot of people with football and volleyball practices, Halloween parties and starting to prepare for the winter holidays – Christmas is only 64 days away in case you weren't keeping track. Here are five easy fall dinners that will not only make your mouth water but also won't leave you stuck in the kitchen all evening.
1. Slow-Cooker Jambalaya Risotto
This is a delicious creamy rice dish that's packed full of flavor. The best thing is, you barely have to do anything to prepare this slow cooker stunner. Although easy, it does take some time in the slow cooker, so we suggest making the night before and reheating or cooking it during football games on Sunday. Recipe inspo: tasteofhome.com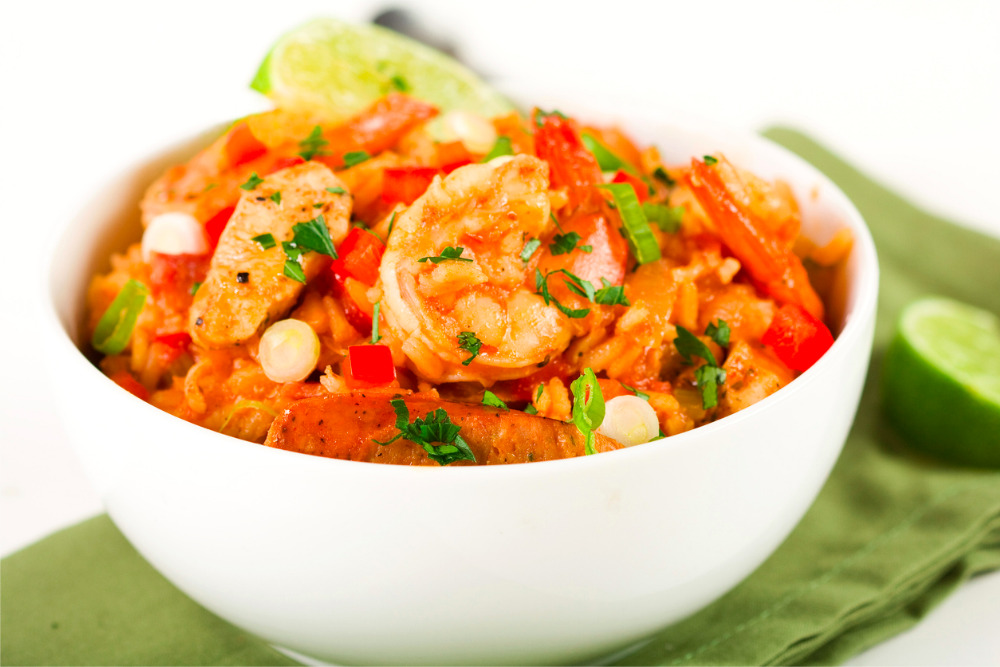 Ingredients:
2 ½ cups chicken broth
1 can of diced tomatoes
1 ½ cups tomato sauce
1 ¼ cups uncooked arborio rice
3 tbsp finely chopped onion
1 tbsp dried parsley
1 tbsp olive oil
½ tsp garlic powder
½ tsp dried thyme
½ tsp pepper
¼ tsp salt
½ tsp cayenne pepper (reduce to ¼ if you are sensitive to spicy foods)
½ pound fully cooked andouille sausages
½ pound uncooked and prepared shrimp
Fresh parsley to garnish
Instructions:
Add all of the ingredients (apart from shrimp, sausages, and cheese) into a 4 or 5-qt slow cooker. Let them cook on high heat for 1 hour 45 minutes – with the lid on. Put the rest of the ingredients in, cook for an extra 15 minutes, then serve up!
2. Rotisserie Chicken Pot Pie
You can't beat a nice homemade pot pie in fall. This chicken pot pie is so easy to make. It is stuffed full of juicy meat, seasonal veggies, and delightful thick and creamy sauce.
Recipe from: lemontreedwelling.com
Ingredients:
⅓ cup salted butter
½ cup chopped onion
⅓ cup all-purpose flour
1 tsp poultry seasoning
1 ¼ tsp salt & pepper
1 ½ cup chicken broth
⅔ cup milk
3 cups shredded rotisserie chicken
Frozen or fresh vegetables of your choice
Frozen or fresh pie crust
Instructions:
Add butter and onions to a skillet and fry until soft. Then, add all the dry ingredients and mix them together. Follow this by putting in the wet ingredients and cooking until the sauce thickens and starts to bubble. Stir in the veg and chicken, then transfer to a pie pan lined with the crust. Add the remaining crust on top and seal the pie, cutting slits in the top layer. Bake at 400 degrees for 30 minutes, then cover with foil and bake for an extra 15.
3. French Dip Brisket Deli Sandwiches
A beautifully juicy brisket that you can salivate for days after! This recipie is not only easy, but you can adjust the recipie and enjoy these yummy sandwiches throughout the week! Recipe originally found on GoodHouseKeeping.com.
Ingredients:
1 small beef brisket
2 sliced medium onions
4 crushed garlic cloves
1 can beef broth
3 tbsp soy sauce
6 rolls
Sauerkraut
Sliced swiss cheese
Instructions:
Put everything into a 6 to 8-quart slow cooker – minus the sauerkraut, cheese, and rolls. Cook on a low setting for 7-8 hours. Pull the brisket apart, then serve on rolls with the sauerkraut and cheese – place under a grill with the tops off to melt the cheese if you want.
4. Dogtown Frozen Entrees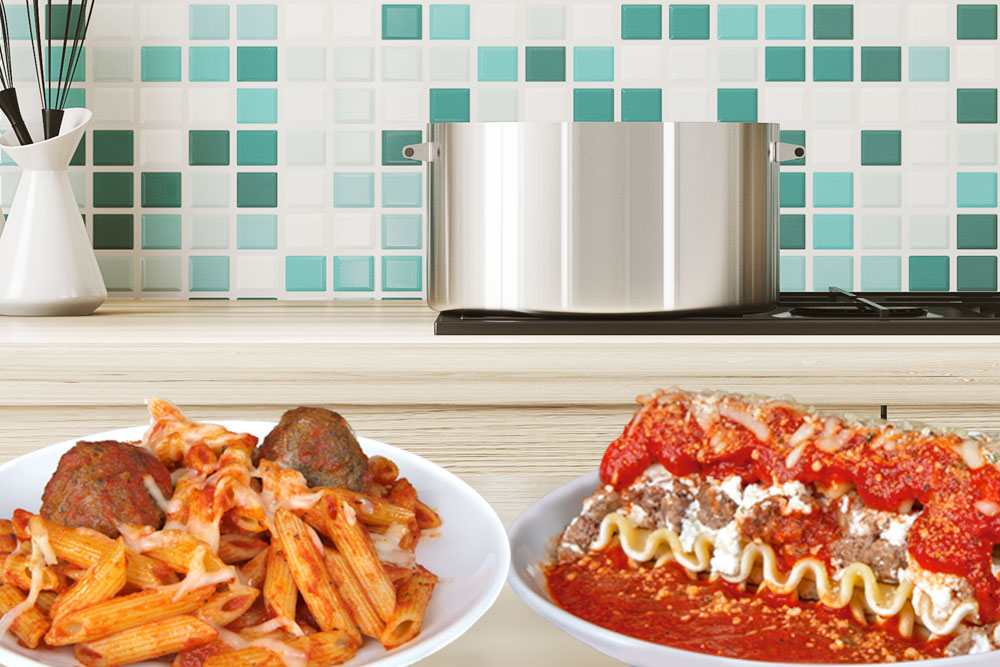 If your bones are cold and you barely have the energy to even chop an onion, try one of our frozen entrees! No ingredients required, and they couldn't be easier to make.
Mostaccioli with Meatballs and Lasagna Instructions:
From frozen to oven: Preheat oven to 425°. Remove the label, plastic wrap and lid. Cover with foil. Place on a metal baking sheet. Heat for 45 minutes. Let rest for 2 minutes before serving. Heat to an internal temperature of 160°F.
Click here to view microwave directions, full cooking instructions, and learn more about DTP's Gourmet Frozen Entrees.
5. Chicken Enchilada Casserole
We got this recipe inspo from delish.com and it is a life saver for those cold days when you just want an easy, homecooked delicious meal. The best part? It literally takes 40 minutes to make from start to finish.
Ingredients:
2 tbsp.

extra-virgin olive oil

1

medium onion, chopped

2

cloves garlic, minced

1

(15.5-oz.) can black beans, rinsed and drained

1

(15.25-oz.) can corn, drained

3 c.

cooked, shredded chicken (use a rotisserie chicken to save even more time)

1

(4.5-oz.) can diced green chilis

2

(10-oz.) cans enchilada sauce

18

corn tortillas

4 c.

shredded cheddar jack
Sour cream, for garnish
Freshly chopped cilantro, for garnish
Avocado for garnish
Instructions:
Preheat oven to 350°. Heat oil over medium heat and soften the onions. Add in garlic until fragrant. Add beans, corn, chicken, and green chilis into the pan and cook until warmed. Set aside ½ cup enchilada and pour the rest into the skillet.
Spread reserved ½ cup enchilada sauce into a 9"-x-13" then cover the entire pan with one layer of tortillas – there will be some overlap. Pour ⅓ of the mixture in your pan over tortillas and top with ⅓ of your cheese. Top with another layer of tortillas and repeat to make 2 more layers, finishing with a healthy sprinkling of cheese. Bake for 30 minutes or until sauce is bubbling. Garnish as desired.
There you have it; 5 delicious and easy fall dinners for those chilly Midwest nights!
What are your favorite things to make when the weather gets cold? Share with us in the comments below!