5 Reasons to Love St. Louis-Style Pizza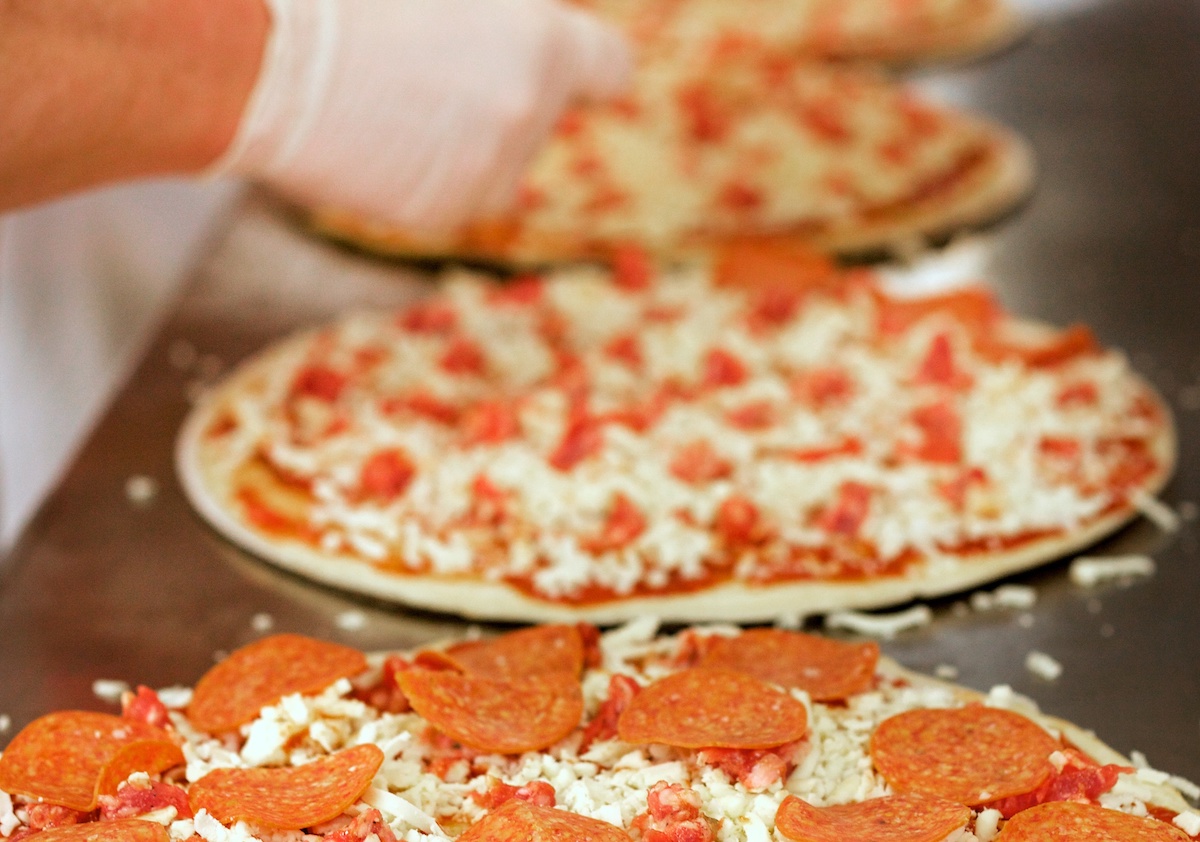 In case you didn't already know, St. Louis-style pizza is kind of a big deal around here. If you haven't tried St. Louis-style pizza, here are some reasons we think you will love our square cut, thin crust pizza!
Falling in Love with St. Louis-Style Pizza
Why is St. Louis-style pizza worth your love? We're so glad you asked!
1. Thin, Crispy Crust
When you want the ingredients to speak for themselves, you don't want a bland, mediocre crust to get in the way. Our cracker-thin St. Louis-style crust is the sturdy foundation that lets us spread the sauce and toppings from edge to edge. We know thicker crusts have a special place in some hearts, but we like to let the toppings, cheese, and delicious sauce be the stars of the show when it comes to pizza.
2. Ooey Gooey Cheese
Deciding on a cheese blend for a pizza is delicate work! Hard cheeses can be too flavorful and don't melt well, softer cheeses can be too mild, and some of the more popular pizza cheeses get stringy when melted. But not at Dogtown! Our proprietary 3-cheese blend starts with mozzarella—and that's all we're willing to say. The creamy, tangy, ooey, gooey, melty goodness in every bite should be all you need to be convinced that the secrets behind this blend are worth keeping in the Dogtown Secret Vault.
3. Local Ingredients and Specialty Sauce
Dogtown's sauce is a special secret recipe, with a blend of seasonings that includes a little extra of everything, and the perfect balance between thick and thin. We top this with fresh local ingredients whenever we can, including meats from local farmers and family-owned businesses (no exceptions), and our veggies are picked at the peak of freshness before we hand-chop them, add them to our pizzas, and flash-freeze to protect the flavor.
4. The Perfect Pizza, Anytime
No matter what you have planned, St Louis-style pizza is a great choice for your friends and family! Need an easy no-fuss meal to go with a family movie night? Dogtown Classic Pepperoni is an absolute crowd pleaser. Looking for something a little more substantial than appetizers, but still classy enough to serve at a bridal shower? Pair our Tomato Basil Garlic with sparkling wine or rosé—it'll fit right in with a crudité and spinach artichoke dip. Want to have a BBQ, but you're sick of hot dogs and potato salad? You can cook St. Louis-style Sweet BBQ Chicken Pizza on your grill.
5. A St. Louis Tradition
More than just an ultra-thin crust pizza, St. Louis style pizza was first popularized in the 1940s by Amedeo Fiore in response to GIs who returned from World War I with a taste for an exotic foreign dish they'd been introduced to in Italy. There's more to this story, which we thought deserved its own post — so we wrote one.
In 2006, the Schaper family decided to continue the tradition of St. Louis-style pizza by founding Dogtown Pizza. Much like Fiore's original St. Louis style pizza, Dogtown was built on humble beginnings, and we continue to be committed to friends, family, and keeping our pizza as local as possible.
Do you already love St. Louis-style pizza? Let us know what you love about it in the comments below!