What Makes Our Frozen Pizza Different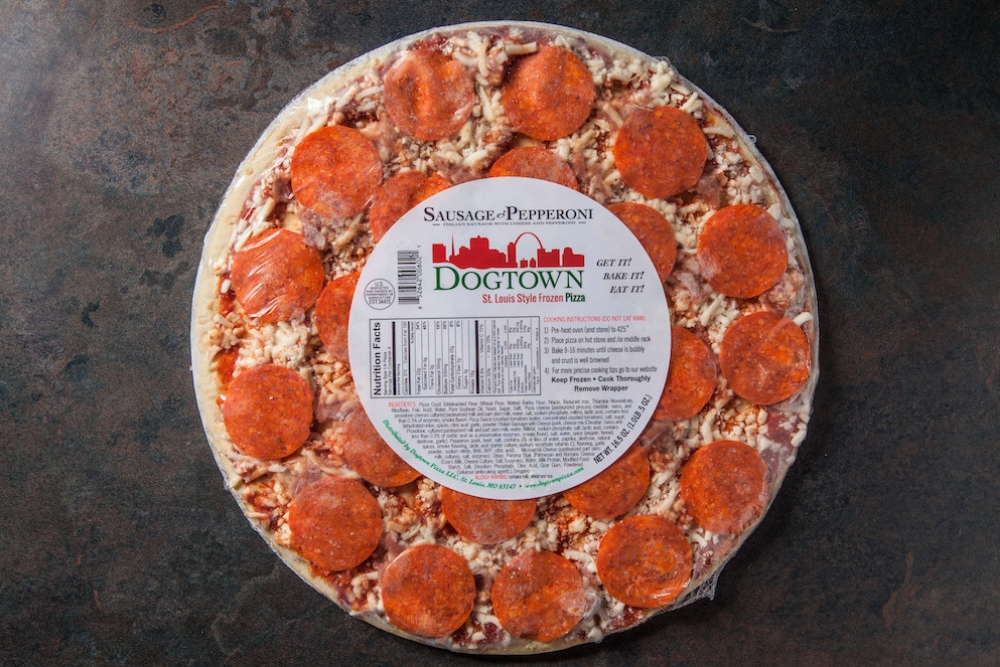 Frozen pizza is a huge, 4.4 billion dollar industry, but what makes Dogtown's St. Louis-style frozen pizza a better choice than the other frozen pizzas you can get at the grocery store? Not only are our standards for quality higher than the big guys, but we also care about where our ingredients come from.
The Dogtown Pizza Difference: Fresh Ingredients and Family
We've collected our favorite reasons why Dogtown frozen pizza is different than all of the other pizzas in the freezer section!
Fresh, Local Ingredients
We use fresh, local ingredients as often as possible. That means our delicious, cracker thin crust is delivered daily to us from the Dogtown Pizza Bakery; our distinctive Dogtown Pizza sauce is made with local-grown tomatoes and locally-sourced spices; and our ripe, tomatoes, mushrooms, peppers and onions are always picked at the peak of freshness and flash-frozen to lock in the freshness. We believe that our pizzas are only as good as the ingredients we use to make them, and we will always stand by that.
Our pizzas don't travel all the way across the country; they rarely travel for more than an hour. This is what sets us apart from those big names in the grocery store freezer section.
Ooey, Gooey Cheese
Our signature ooey gooey 3-cheese blend is creamy and tangy in all the right ways. Our proprietary blend full of string-free goodness delivers St Louis-style flavor in every bite. It's always melty and chewy, never rubbery or crumbly like some other frozen pizzas. This cheese is all Dogtown!
Family Owned and Operated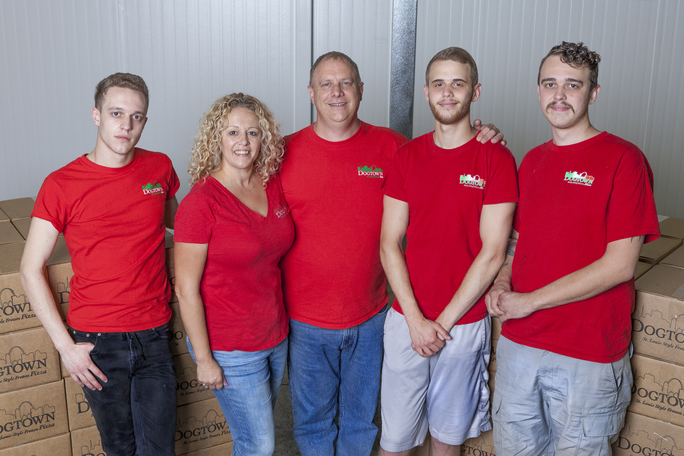 Whether you're throwing a party, or just want a comforting, hassle-free weeknight meal, Dogtown frozen pizza is all about family — and friends who might as well be family. We take pride in being a family owned and operated St. Louis business and are committed to making our community stronger, one pizza at a time.
Family is the mainstay of our company and has been that way since we began making pizza in 2006. Rick and Meredith Schaper launched the company out of their home kitchen. Starting with a couple hundred pizzas a week, Dogtown now makes nearly 65,000 pizzas a month – and our family continues to grow as we add new employees and expand our brand! Don't worry; we're still making them like we used to, with the same fresh ingredients and techniques.
Pizza is Our Passion
At first, it took countless trials to get our pizza just right, and we loved every moment of that process. We always take the time to carefully assemble the sauce, cheese, and toppings onto our delicious pizzas.
Our customers deserve to know where their food comes from. We wanted to offer a fresher, local alternative to those out-of-state, multi-million dollar corporations that compromise quality for quantity. Making great, St. Louis-style frozen pizza is our passion, and we trust you to keep that passion going the right way — with a party-style cut, always!
What do you love most about Dogtown frozen pizza? Which ingredient is your most favorite? Let us know in the comments below!