What I've Learned as a Dogtown Pizza Maker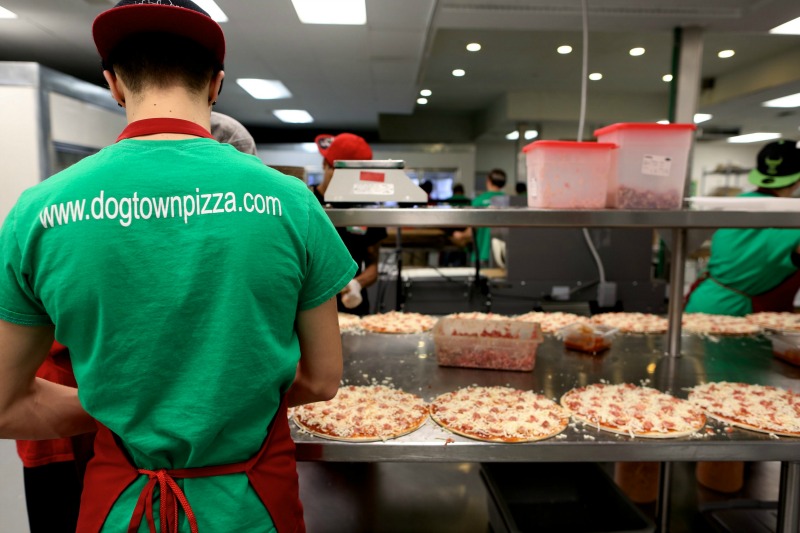 Being a Dogtown Pizza maker is definitely a rewarding experience. Day in and day out, Dogtown Pizza makers come in with energy and enthusiasm to create a delicious product that our customers love and come back for time and time again. If you've ever been curious about our pizza makers, we have a treat for you: one of them shared with us the special perspective of our pizza makers and what they've learned over the years. Here are a few bits of wisdom from our Dogtown Pizza makers. 
The Phrase 'Less is More' is a Lie
You'd be hard-pressed to find any pizza, much less a frozen pizza, that is as loaded from edge to edge with flavor as Dogtown Pizzas are. Seriously, who hand-places 30 slices of pepperoni on each and every pizza?? Or who ensures that their Veggie Pizzas aren't skimpy on peppers, onions and mushrooms?? Well, we do. Bossman Rick Schaper is insistent – no – OBSESSED with making sure that every single pizza, no matter the variety, is loaded up with as much flavor and as many toppings as possible. I definitely think that's an awesome thing because our customers get more. As a Dogtown Pizza maker, it's something that's engrained into you from the moment you start making pizzas—more is most definitely more. Anything less is just silly.
The Thinner the Crust the Better
Dogtown Pizza makers know from firsthand experience that the only way to eat pizza is St. Louis-style: thin, crispy, and cut into delightful, shareable squares. Without that inimitable cracker-like crust, how else could we support the sheer amount of cheese, sauce and toppings that we use? Crust should never be doughy or compete with your toppings, either. St. Louis-style pizza lends itself perfectly to this notion, and as Dogtown Pizza makers, we hold ourselves firmly to that standard.
Fresh Ingredients Make All the Difference
Fresh Salsiccia made by local Italian families. Crusts baked daily from a local bakery. Freshly chopped basil, tomatoes, mushrooms, peppers, and onions. Hand-cut bacon. Locally-sourced pork. There's a misconception that frozen pizza can't be fresh. And while that may be true with other frozen pizza brands, it most certainly isn't with Dogtown Pizza.
We Dogtown Pizza makers have our hands on fresh, locally-sourced ingredients every single day. Nothing ever comes from a can or a box. And after we've made each pizza ourselves, we flash freeze each pie to lock in the freshness. So by the time you get your pizza on the table, it's as if we handed it off to you the moment we made it. Who said frozen can't be fresh?
Pizza = Pride
There's special sort of pride I experience every time I'm the grocery store and I watch someone take a DTP Variety out of the freezer and put it in their cart. I probably made that pizza, and now that person and their family gets to enjoy it. It's the whole reason a Dogtown Pizza maker does what he or she does—so people like you can experience the deliciousness that I've worked hard to create. Knowing that you're enjoying something I've made is the ultimate reward and gives me a great sense of purpose every day I come in to work.
Family is the DTP Secret Ingredient
Working at Dogtown Pizza has put me in the company of dedicated, passionate, fun-loving pizza makers like myself who love what they do and love where they work. We really are a family where everyone has their unique, irreplaceable role. Family is ultimately Dogtown Pizza's greatest, unexpected ingredient. It's what puts the "awesome" in the phrase "awesome sauce"…for lack of a better term.