New Technology, Better Pizza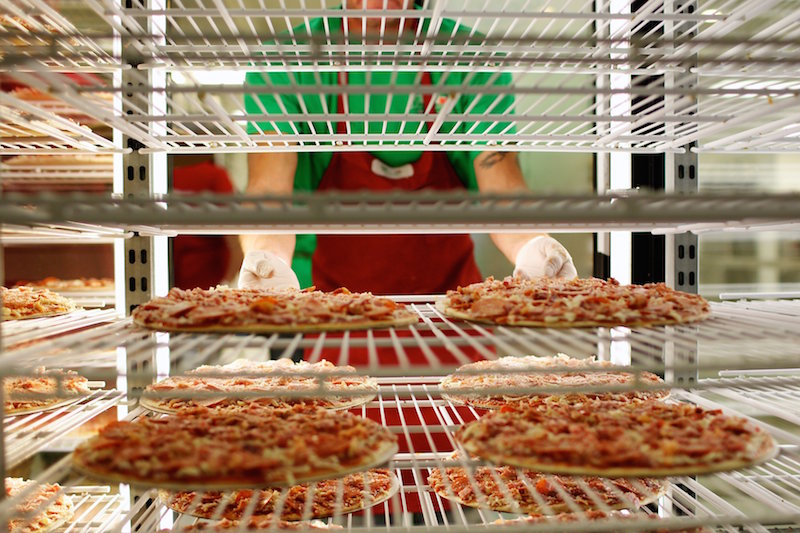 As you may know, freezing pizza is a science. As always, our overall goal is to effectively freeze our pizzas while locking in and preserving the all-natural freshness DTP is known for. One of the main things for a frozen pizza to maintain its freshness is the flash freezing process. The quicker we freeze the pizza, the fresher it will be. Using our blast freezer, we lock out moisture and keep the pizzas from getting mushy so that you get a crisp, flavorful pizza each and every time.The faster we freeze our pizzas also means the quicker it can be wrapped, stacked, boxed and sent to your local grocery store.
For the past eight years we've been using a homemade blast freezing method. While it has worked great, it is now not as efficient nor as quick as we need it to be. Simply put, we're upping our technology game to freeze our pizzas even quicker, to lock in that freshness more efficiently and to give you an even better pizza.
We're Getting a New Freezer!
Dogtown has ordered a state-of-the-art conveyor flash freezer that can freeze the pizza within two minutes of the pizza being made. Say whaaaaaaat? Let's put this into perspective: once a fresh pizza is put on the conveyor, it comes out the other end completely frozen in less time than it takes to warm up your day-old coffee in the microwave.
Using this new conveyor flash freezer actually improves the quality and freshness of our pizzas by sealing in the nutrients and freshness even quicker than ever before. It is the newest in the industry and developed to be extremely user-friendly and easy to clean per USDA standards, allowing us to be one of the cleanest, safest food manufacturing plants around.
Improving Efficiency
Dogtown Pizza is known for using very little equipment in our production process, striving to make our pizzas with the handmade quality that sets us apart from other frozen pizza companies. But we are also all about efficiency here at Dogtown Pizza. While we will never completely abandon our made-by-hand mantra, we can improve the process of freezing, wrapping, packaging and storing to get even fresher, higher quality pizzas in your hands even faster. With the high output of pizzas we do everyday, every bit of efficiency is welcome!
Because our freezer is made-to-order, we expect it to be up and running by mid-March. We can't wait to come into the age of high tech yet stay 100% true to our value of handmade products. It's a new era of technology and efficiency at Dogtown Pizza, folks—and we could not be more excited.