Meet Ron Kraus: the Face of Dogtown Pizza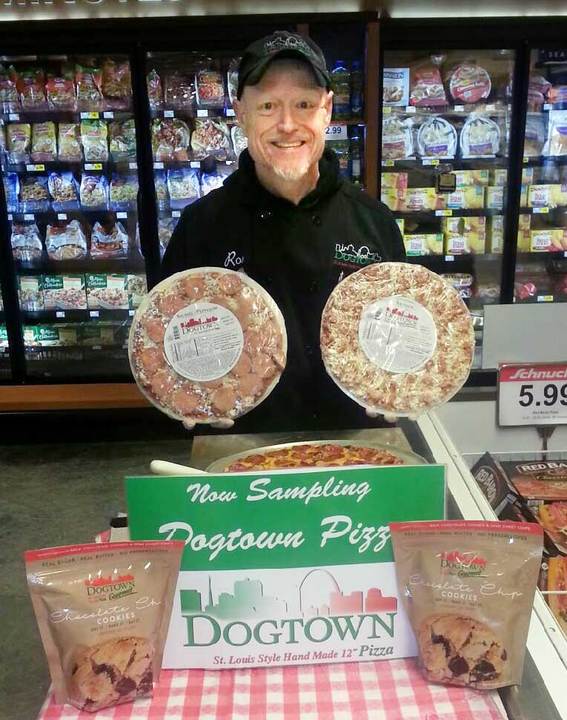 If Dogtown Pizza had a face, it would belong to Ron Kraus. If you've been to a St. Louis grocery store in the past six years, chances are you've seen Ron sampling Dogtown Pizza. But Ron is so much more than just a "demo guy". He's been with us since the early days; but, as our new full-time head of demos, his influence is just beginning. So who is this person, exactly? We thought we'd officially introduce you to someone who has been our biggest advocate since we first started out. St. Louis, meet Ron Kraus: the Face of Dogtown Pizza.
Ron Kraus: "The Best in the Industry"
Ron's journey with Dogtown Pizza began seven years ago, when he started out as a pizza maker. But the Schapers quickly discovered that his talents were best served sharing the pizza, not just making it. Six months in, he started demoing the pizzas in the grocery stores, and everything clicked. He became so good at sampling that he could sell 40-50 pizzas in an hour. In fact, you can't meet a person more enthusiastic or knowledgable about Dogtown Pizza than Ron. Even Rick will admit it's true.
"No matter what, on a daily basis he sells more pizzas per demo than anyone out there. His numbers are always double anyone else's," Rick says about Ron. "He is more passionate about his job and Dogtown Pizza than myself. He is the BEST in the industry."
It's this infectious passion for and knowledge about Dogtown Pizza that is hands down the most noticeable thing about Ron. He could talk about pizza all day long, which is why having him as our full-time head of demos and demo training is a dream come true.
The Expert on All Things DTP
Ron's initial stint as a pizza maker prepared him to be an expert on all things DTP. He's more than happy to tell you that the 38 pepperonis we put on our Pepperoni Pizza is more than any other frozen pizza out there. Or that the delicious difference you're tasting in the cheese is our ingenious use of mozzarella. He's also happy to share his tried-and-true tips for cooking up DTP, such as adding bleu cheese crumbles to the Hot Wing Pizza (his favorite) or diced chicken and kalamata olives to the Tomato Basil Garlic (yum!).
Ron's knowledge of the product and the love he has for his job makes it difficult for him to pick just one thing he loves the most about it. But perhaps the overarching theme is how Dogtown Pizza is a catalyst for connection. He thrives on hearing the stories of the people he serves and making a small yet positive difference in their lives.
"I'll see people walk in the door with their shoulders slumped, and at the first taste of a slice of Dogtown Pizza, they light up," he says. "It turns the frowns upside down. To see their faces and to know you can make somebody's day, something as small as giving them a piece of pizza, is really cool."
Sharing the Love of Dogtown Pizza
Ron has had people come up to him and reveal that they've never had a frozen pizza before…until, of course, he gets them to try (and eventually buy) Dogtown Pizza. He's also had people tell him that they don't even go out to eat for pizza anymore; Dogtown Pizza is the only pizza they care to eat. Some native St. Louisans have never even heard of the Dogtown neighborhood or don't care for the taste of Provel (gasp!). But being in a new grocery store every day provides Ron with ample opportunities to educate and share the DTP love with anyone who will simply give it a try.
"I'll ask myself, 'How many peoples' days have I made today?'," he explains. "I love inspiring that loyalty where someone will say 'This is the only pizza I'll buy.' I love being a part of a company where it's the only pizza someone will eat."
Looking to the Future
So what does the future hold for Ron Kraus? He starts with his daily goal of selling 10 pizzas in an hour. Generally he has no problem doing this: very recently he sold 164 pizzas in just four hours. But his short term goals coincide seamlessly with his long-term one: to make Dogtown Pizza as synonymous with St. Louis as the Gateway Arch.
"I want to see our pizza in every major venue in St. Louis—Busch Stadium, for the St. Louis Blues, etc.," Ron says. "There's no doubt that this can't be the official pizza of St. Louis."
There's no doubt in Rick Schaper's mind, either, that Ron is the right man for the job to help us do just that.
"He is more than an asset—his passion and work drive are second to none," Rick says. "We are proud to have someone like this representing our brand."
And at the end of the day, Ron Kraus is simply proud to have played the part that he has in making Dogtown Pizza what it is today—and what he hopes it will be in the future.
"Should I step away ever, I will be proud to have helped make Dogtown Pizza a household name," he says.
We'll always credit you for that, Ron.
---
We are SUPER excited to have Ron representing us as the Face of DTP! Next time you see him in your local grocery store, be sure to stop by and say hello!