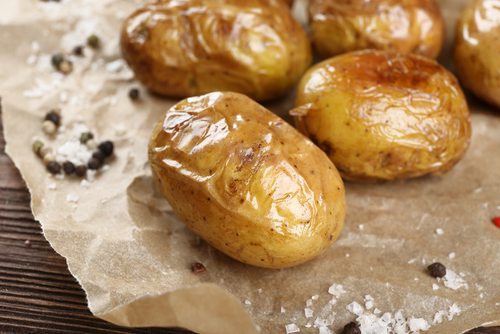 The lowly potato can be morphed into so many culinary creations and one of our favorites is the simple LBP – Loaded Baked Potato. The Spudly Do Right incorporates a generous helping of Bacon Bacon Pizza Bits, butter, sour cream, and chives. It's the ultra-loaded baked potato done right.
What You Need
Pizza Bits from 1 slice of Dogtown Bacon Bacon Pizza
Baked Potato
Optional: Sour Cream, Chives, Salt, Pepper
Never Optional: Butter
The Prep
This couldn't be more self-explanatory, and yet here I am being fully-explanatory. Slice and gently coax open your fluffy and hot baked potato. Allow the butter to get melty before sprinkling  your Bacon Bacon Pizza Bits onto the potato. Add any additional topping to taste. We highly recommend all the fixings. Stab the pointy end of a fork into the top of the potato and enjoy!
Tips
When serving two or more just serve enough bits (1 slice per potato) in a bowl with a spoon…making it part of a LBP bar.
Bacon Bacon is an obvious choice – but any Pizza Bits work – get creative.
Alternative
Washington Spudskins: Sprinkle Pizza Bits over your tater skins before baking off