How to Create a Killer Ice Cream and Cookie Bar!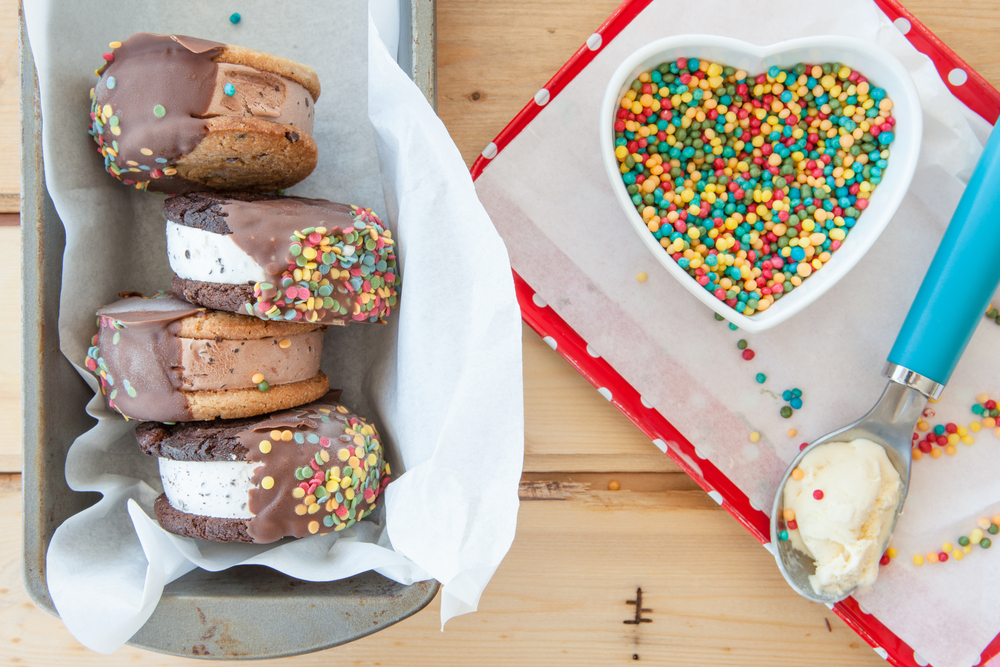 As we near the end of summer, let's make time for one last cookout complete with an ice cream and cookie bar. There are really no rules when it comes to creating a killer ice cream and cookie bar, but we have some tips below to get you started!
What You Need
Technically, you only need two ingredients for an ice cream cookie bar: ice cream and cookies. Choosing flavors that work well together is the name of the game, and you can't go wrong by adding some traditional and out of the ordinary toppings into the mix!
Ice Cream
Start with the classics, vanilla, and chocolate, and then add in a few more interesting flavors; options like banana split and cherry cordial are more unique varieties that go great with a plethora of toppings. If you really want to do something fun, substitute birthday cake and rocky road ice cream for traditional vanilla and chocolate! For the grown-ups, spring for a couple of pints of locally made gelato. To keep ice cream from melting, put the containers in an ice bath while they are out on the table. If it is extremely hot out, you will want to set up your ice cream and cookie bar inside to avoid melting.
Cookies
This is where we talk about Dogtown Pizza's delicious cookies, baked fresh in your oven! The question is whether to choose Chocolate Chip or Oatmeal Raisin…we suggest getting both. You can also pick up a few other yummy cookie classics like shortbread or peanut butter, but the best cookies will be the ones that you can bake fresh just in time for dessert.
Toppings
Chocolate fudge, strawberry, and caramel sauce are staples that you will definitely want to get for your ice cream and cookie bar. We also suggest grabbing:
Sprinkles
Mini chocolate chips
Coconut flakes
Broken bits of candy bars
Jelly beans
Gummy worms
Candied bacon
Brownies
Fruit
Whatever toppings you choose, you really can't go wrong! If it fits in a dish with the ice cream and cookies, it can go on the shopping list.
Bonus ideas:
Put out a side of melted chocolate for dipping ice cream sandwiches and pouring over sundaes.
Consider offering fresh-brewed espresso for the adults to pour over their cookies and ice cream to make an affogato!
Set It Up
The ideal place to set up your ice cream cookie bar is a long table, starting with the bowls, spoons, and cookies at one end, then ice cream, and then the toppings at the other end. This allows everyone to build their dessert in a somewhat orderly fashion. You can definitely decorate the table with confetti and fun little toys, but let's be honest everyone's going to be more focused on their sundaes and ice cream sandwiches!
Have a Contest!
If just tucking into a custom bowl of delicious Dogtown cookies covered in ice cream and the toppings of your choice isn't enough fun, try organizing a contest. See who can pile the most toppings on their sundae by weight (you will need a kitchen scale) or see who can build their ice cream sandwich the highest! What's the prize? A delicious dessert and bragging rights!
What are your end of summer plans? What toppings would you choose for your ice cream cookie bar? Let us know in the comments!