5 Scrumptious Ways to Serve Up the Tomato Basil Garlic Pizza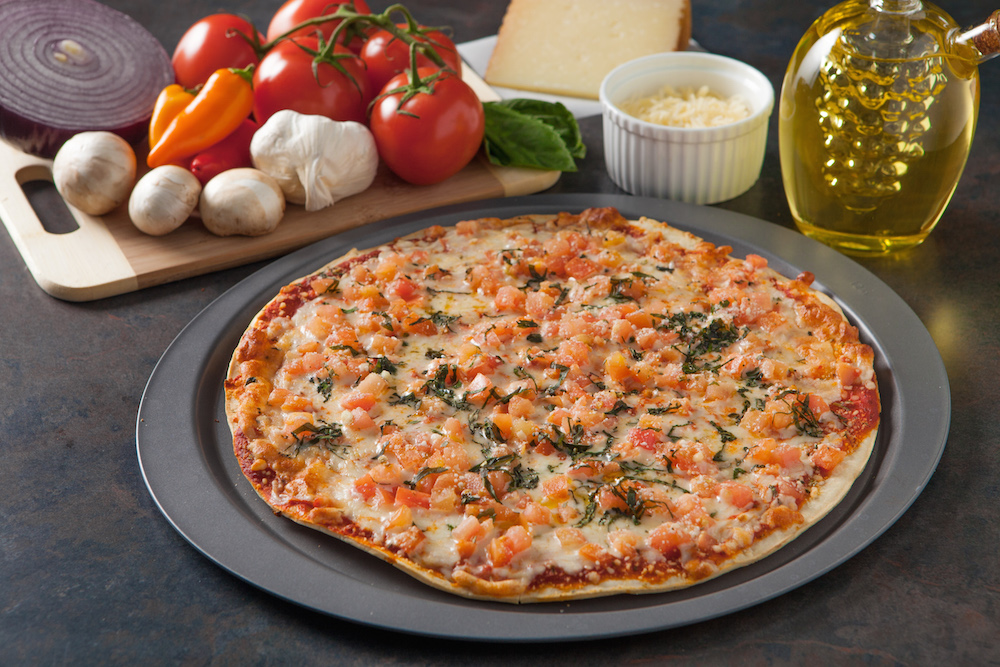 Out of all of our pizzas, the Tomato Basil Garlic Pizza holds a special place in our heart. A Dogtown Pizza original, the Tomato Basil Garlic (or TBG for short) is as light and refreshing as a pizza can get. Vine-ripened tomatoes picked at the peak of freshness, aromatic basil, and tongue-tingling garlic are all present in this versatile pie. Inspired by the classic Margherita pizza (with a decidedly St. Louis-style twist), the TBG is delicious all on its own. But we have few ideas for how you can up the tasty quotient of the TBG Pizza. Explore our suggestions and let us know in the comments how you like to serve your TBG!
#1. Pair with Rosé
We now have yet another reason to Rosé all day: the Tomato Basil Garlic Pizza pairs splendidly with a dry Rosé. When your guests ask, "Excuse me, what?", you can push your glasses back and say, "The aromatic basil is the perfect complement to how light the Rosé is." They'll be too busy eating to question you further. Not a Rosé fan? Try Pino Grigio, which will also pair well with the TBG.
#2. Serve as an Appetizer
One of Dogtown Pizza Founder Rick Schaper's ultimate ways to serve the TBG is as an appetizer. In the grand tradition of classic Italian appetizers like bruschetta, a Tomato Basil Garlic pizza is savory enough to stimulate an appetite and light enough not to stuff you full. We'd even go so far as to call it a palate cleanser! Take it to your next gathering or offer it before a holiday meal entree.
#3. Layer On Prosciutto
Want to get even fancier with the Tomato Basil Garlic Pizza? Slap some prosciutto on that handsome devil! You'll swoon over that extra dose of salty from the prosciutto. Check out our Il Papa recipe and find out how to make it yourself.
We've also heard through the grapevine that the TBG tastes delicious with a combination of mushrooms and black olives. We think shrimp would be an excellent addition as well!
#4. Make S'Lasagna
What's "s'lasagna" you ask? Why, St. Louis-style lasagna, of course! We concocted this fun play on traditional lasagna featuring the Tomato Basil Garlic Pizza. What makes it St. Louis-style exactly? Using a TBG instead of noodles. Check out our recipe for S'Lasagna.
#5. Drizzle on Hot Sauce
Hot sauce on pizza? What! Seriously: hot sauce of any variety adds a little pop of spiciness to any pizza…but especially the TBG. The acidic base of the tomatoes really allows the hot sauce to shine without overwhelming your palate. Any hot sauce will do, but we recommend either Frank's Red Hot or Cholula.
---
Next to Cheese Pizza, no other pizza is as versatile as the Tomato Basil Garlic Pizza. Whether you pair it with a fancy wine as an appetizer at your next party (how fancy), or add your favorite toppings (can't stress the proscuitto enough, guys), or eat it as is (classic), you truly can't go wrong.
What's your favorite way to eat the TBG? Let us know in the comments below!