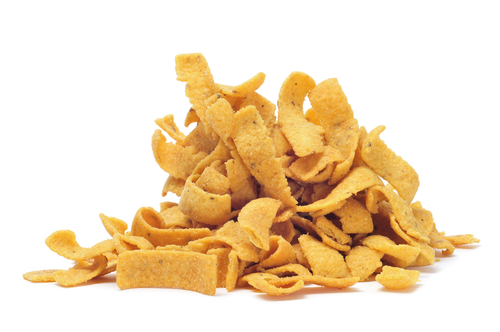 Reading about making this concoction will make you think, "Why didn't I think of that?" The Free Dough Pie is simple, delicious and a game day changer.
The pizza in the recipe simply acts as the base of a "7 Layer Dip"-type appetizer. The chili becomes a topper adding its own layers to complete the dish.
What You Need
Dogtown Deluxe Pizza
1 cup or 1 can of Thick Meaty Chili
Bag of Corn Chips
Sour Cream and/or Guacamole
Diced Jalapeños or Raw Onions (optional)
The Prep
A thick meaty chili works way better than a soupier chili…and we think thick chili is best anyway. I know there is a debate about beans in chili, but we are chili-with-beans people and it certainly contributes to a tighter, thicker chili. Going along with the 7-Layer Dip theme, re-fried beans are typically included, so having beans in the chili makes a lot of sense here.
Heat up your chili while you cook your Dogtown Pizza. Take your chili off the heat as you remove the pizza to cool. Allow the pizza to become warm and as the chili reduces its heat, it will thicken further. Spread a layer of chili right over the pizza and "pat it down" a little bit to set in place.
At this point, cut your the Pizza into 6 or 8 equal Wedges. This step is important and you will NOT want to slice the finished pie with corn chips on it.
Push the wedges snugly back into their circle before you top it with a layer of corn chips and finally, top with dollops of sour cream and guac.
Optionally, sprinkle onions and jalapeños across the top and enjoy your dinner – I mean enjoy the compliments from your guests!
Tips
You can serve this appetizer traditionally – "pizza-style" 0r better – divvy out each slice onto a small plate and serve each individually.
Stir chili powder into the sour cream as a flavoring agent or to add heat before using it.
Pipe the sour cream through a small hole in a sandwich baggie to create even rows of sour cream across the dish – it's a great presentation.
Consider serving the Guac on the side and letting your guest opt for it.
Redneck? No problem. Skip the sour cream and guac and substitute ranch dressing.