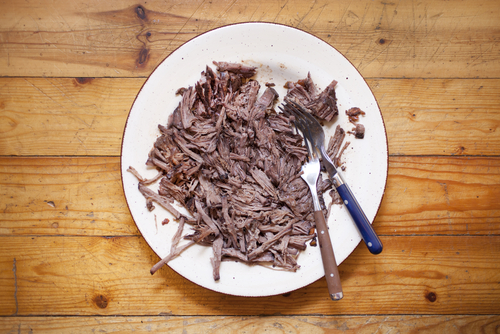 This BBQ pizza recipe provides a big dose of "duh" and a healthy mouthful of BBQ from across the state. Aside from the brisket, the Casey Mo' Betta is quick and easy to assemble and cook. Give it a try the night after a neighborhood barbecue – you won't believe you waited this long to try BBQ pizza.
What You Need
A Dogtown Bacon Bacon Pizza
Cooked Shredded Brisket
Night of the Living BBQ Sauce
Sliced Dill Pickles
The Prep
Arrange a generous, single layer of shredded brisket chunks over the top of the pizza. Squirt a few tablespoons of BBQ sauce across the top of everything. Bake your pizza as directed on the label. Allow to properly rest before cutting. Serve with a side of pickle slices.
Tips
If the brisket is already very juicy – it should sufficiently dry a little during the bake. If the brisket is already dry, you can carefully put the brisket on halfway through the bake. You are not really needing to re-cook the brisket – just warm it up as the pizza cooks.
Sauce – use your favorite if you don't have access to Night of the Living Sauce…but put it on your list to buy and try sometime.