The Best Parks in St. Louis for Picnics and Other Activities!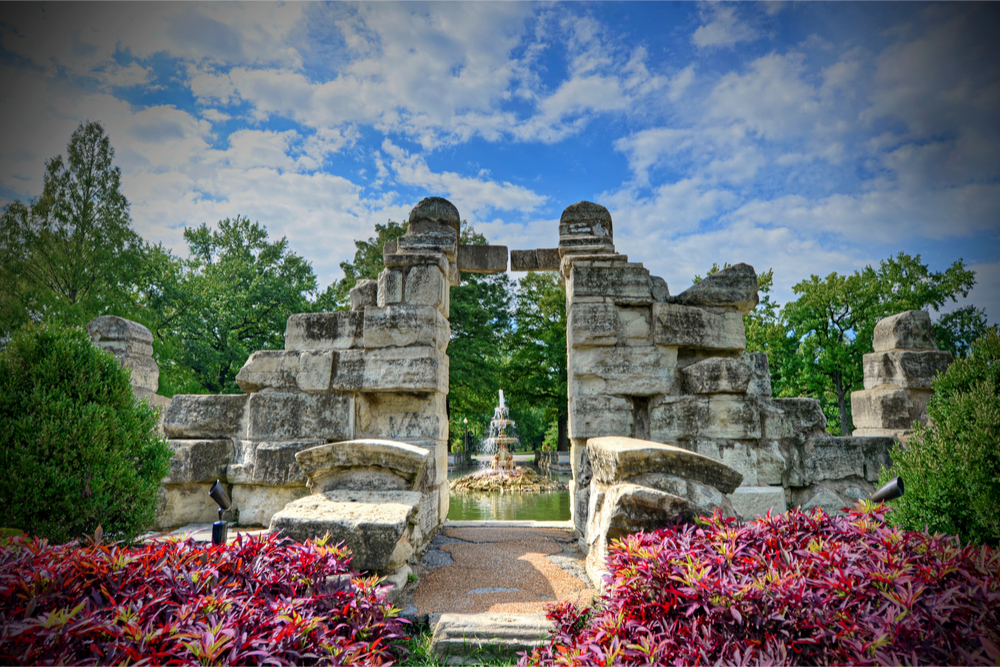 Whenever someone tells us to take a hike, we thank them for the reminder! St. Louis is more than blessed with wonderful public parks catering to every interest. Whether you're looking for a lazy stroll, a place for the kids to burn off some energy, the best place to join an impromptu sports game, an outdoor nature exhibit, or even somewhere that's perfect to take a hike, you'll find it here on our list of the best parks in St. Louis!
Best Park for a Walk
Tower Grove Park
Tower Grove Park is a Victorian woodland that's home to 340 different kinds of trees and 200 different species of birds, Tower Garden Park was made for a slow afternoon weekend stroll.
We recommend packing your picnic basket with a charcuterie board sampler of cheeses, nuts, meats, pickles, jams, and other fixings to serve with a loaf of fresh artisan bread—don't forget the fizzy drinks!
This is the kind of picnic the park's developer, Henry Shaw, would have definitely approved of, since he intended the park to be St. Louis' "grand pleasure ground," complete with lanes wide enough for horse-drawn carriages, gates guarded by zinc griffin sculptures, and gorgeous pavilions and gazebos. You could spend an entire day here and still not quite find all of its secrets.
Best Park for Nature
The Nature Institute
Olin Nature Preserve and the adjacent Mississippi Sanctuary provide stunning views of the Mississippi river stretching into the distance and the Great River Road curving along beside it.
In the sanctuary, get to a scenic overlook by following the western-most trail past Creek Trek Waterfall. In the preserve, walk the 1.4-mile Loop Trail. Enjoy a picnic in the park during your visit or wait and have your picnic at the Talahi Lodge on the way out. Talahi Lodge is the venue for many of the Nature Institute's educational programs, and it's worth going to one if you have the opportunity (check the schedule before your visit).
Best Park for Art
Citygarden
Every piece in Citygarden could be recognized as its own sort of landmark if not for the company they all keep. Citygarden is host to many iconic sculptures that are visually recognizable even if you have no idea who the artist is or what it's called.
Igor Mitoraj's sculpture Eros Bendato (affectionately known to most as "the giant head") sits watch with its hollow eyes—hollow eyes that become windows for the curious or adventurous to poke their heads out of.
You'll also see meditations on the classic story of Pinocchio: Jim Dine's "Big White Gloves, Big Four Wheels" shows the distance between the Disney version and the original story; Tom Otterness's "Kindly Geppetto" is a darkly funny depiction of the carpenter swinging at Pinocchio with a mallet.
You'll also see breathtaking abstract sculptures and a 14-foot-long video wall that screens films and photography; in the springtime it's used to display Cinema at Citygarden, a series of juried short films from local filmmakers. Be sure to download the Citygarden app to get the most out of your visit.
Best Parks for Sports
Queeny Park
The Greensfelder Recreation Complex located in Queeny Park hosts ice-skaters during the winter months from October through February. In the off-season, it transforms to host roller derby and hockey matches.
Kinetic Park
The largest outdoor skatepark of its kind in the whole state, Kinetic Park's 33,000 square-feet offer a ton of challenges and obstacles: everything from ramps and bowls of different difficulties to a street course. And if you get bored of skating, there's a rock climbing wall!
Best Parks for Kids
Zachary's Playground at Hawk Ridge Park
This castle-themed playset is nearly end to end with different climbing structures, including stairs, ropes, ramps, and rocky cliffs—there's even something called the "octa-net climber," a web of ropes tied between poles that offers a unique climbing challenge.
There's also a ship with a roller slide and a "sway fun" toy (think of something like a teeter-totter but big enough for a crowd and safer than the original model). If you have accessibility concerns, this is the place: there are several play structures designed to accommodate wheelchairs so that even more kids can join in the fun!
Millennium Park
Spiral tube slides can be something of a niche interest, but if your kid is interested in them, you'll want to visit Millennium Park. Their spiral tube slide is a long climb up a set of tall steps, then a crawl through a tube, followed by an orange tube up to the top platform.
The slide itself is dark enough to be exhilarating without crossing the line into too scary. There's also a teeter-totter with thick shocks to make landings softer. What do we recommend you take on your picnic to Millennium Park? PB&J sandwiches, of course!
Best Park to Take a Hike
Forest Park
While it doesn't have your traditional, forested hiking paths, Forest Park has more than enough space and variety of terrains to make you break a sweat. At 1,372 acres, it's larger than New York's Central Park and contains the St. Louis Zoo, St. Louis Art Museum, Missouri History Museum, St. Louis Science Center, and The Muny Opera.
You'll also find plenty of trails for running and biking, golf courses, tennis centers, and soccer fields. Make sure to visit the World's Fair Pavilion (hey, did we mention Forest Park was the original site of the 1904 World's Fair?).
Picnic + Park + Pizza!
When you're looking for a third to add to your perfect pairing of a picnic and a park, look no further than Dogtown Pizza! Leftover pizza makes a delicious and convenient meal or snack on the go. If you're looking for an even more portable way to eat pizza, fold that St. Louis thin crust in half for a sandwich-adjacent experience (trust us on this; you won't regret it!).
Pick up your favorite Dogtown Pizza in the freezer aisle of your local grocery store—we'll see you there!