4 Cool Things to Do in STL This Summer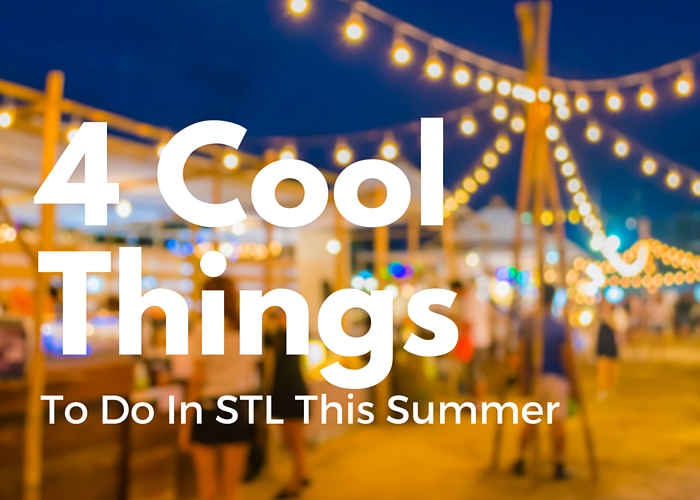 St. Louis is an exciting place to be in the summer. Festivals, concerts, plays, walking tours, parties, you name it—St. Louis has it and so much more. Summer 2016 is no exception! With summer upon us, here are four cool things to do in STL this summer that you simply can't do anywhere else!
1. See a Movie at the Moolah
With gorgeous architecture and STL's largest screen, the beautiful Moolah Theatre & Lounge is quite the place to see a movie. As things start to heat up outside, check out this theatre for your next outing to the movies. Not only can you watch your favorite cult movies and the latest Hollywood features on comfy leather couches, as well as partake in awesome drink specials, but you can also feast on Dogtown Pizza while you're there! The Moolah Theatre serves DTP, so you can munch on your favorite St. Louis-style pizza for the ultimate movie-going experience. Be sure to hit up the Moolah bowling lanes after the movie to keep the fun going all night long!
2. Stay in Tennessee Williams' Boyhood Home
Literature lovers now have the ultimate to-do for the summer: the apartment building of Tennessee Williams, STL native and one of America's most beloved playwrights, is up for temporary lease through Airbnb. This means that for only $159 a night you can live/play/sleep in the same Central West End building where one of the 20th century's greatest writers grew up. The building is also within walking distance of some of the CWE's coolest attractions.
3. Pig Out at Grant's Farm Food Truck Fridays
Starting May 27, Grant's Farm will host Food Truck Fridays on the last Friday of every month. For only $12, you can take the whole family and enjoy food from some of STL's best food trucks, take camel rides, and listen to live music. It's food and fun for the whole family!
4. Go to STL's Biggest Picnic Ever
On June 2nd, Join the rest of STL for the city's biggest community picnic ever! Picnic on the Riverfront will celebrate the official completion of the Riverfront renovations with a 2,016-foot-long community picnic table. You can tour the newly revamped Riverfront grounds, and enjoy a fireworks display over the Mississippi. Bring Dogtown Pizza to share!
---
Need more DTP action in your life this summer? Of course, hosting a backyard cookout with DTP on the grill is always a great choice. You can also come visit us at the Shnucks in Des Peres this Thursday, May 26, for a a Schlafy Beer and DTP sampling from 6-8 pm! Come meet us in St. Louis—your destination for the ultimate staycation.