The 15 Things Every Blues Fan Should Do Today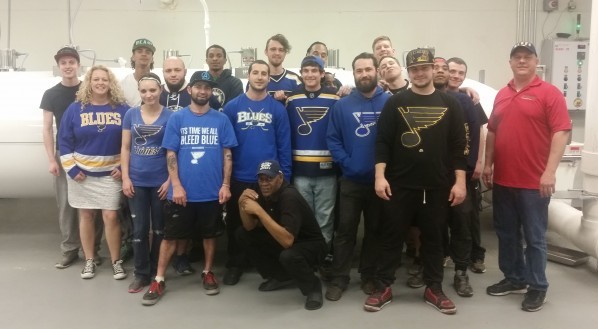 We here at DTP are the biggest St. Louis Blues fans. The picture above is all the proof you need to know that, collectively, Dogtown Pizza are the ultimate Blues fans. And now that the Blues are in the conference finals (for the first time in 15 years!), we are beyond pumped to see the our boys in blue get one step closer to the Stanley Cup! As we head into Game #2 of the Stanley Cup Playoffs, there are just a few things that every Blues fan needs to do before game time.
Your Game Day Blues Fan To-Do List
Wake up

Practice your game day face in the mirror

Wear your best Blues gear to work

Leave the vuvuzela, airhorn, foghorn at home.

Bring an extra shirt for someone (just in case).

Try to stay focused. The game's only seven hours away.

Send out a group text that the watch party's at your house tonight. You'll have DTP. Game starts at 8 pm!

Practice your game day face again. You know, so it's perfect.

Stop at the grocery store on the way home.

Exchange high-fives with anyone wearing Blues gear.

Pick up your favorite DTP and drinks.

Fire up the oven.

Cook DTP.

Put your game face on— IT'S BLUES TIME.

Eat DTP. Cheer on the Blues. Repeat.
This seven game series is sure to be a nail-biter—but with Dogtown Pizza by your side, you'll make it through just fine. Bring us along to your next watch party—we have five more games to go after this one and you'll definitely be in need of grub to keep up with all the excitement!
Playoff Schedule
Here's the upcoming playoffs schedule:

Thursday, May 19, 8:00 pm
Saturday, May 21, 6:15 pm
Monday, May 23, 7:00 pm
Wednesday, May 25, 9:00 pm
Friday, May 27, 7:00 pm
Go Blues!