How Frozen Pizza is Made at DTP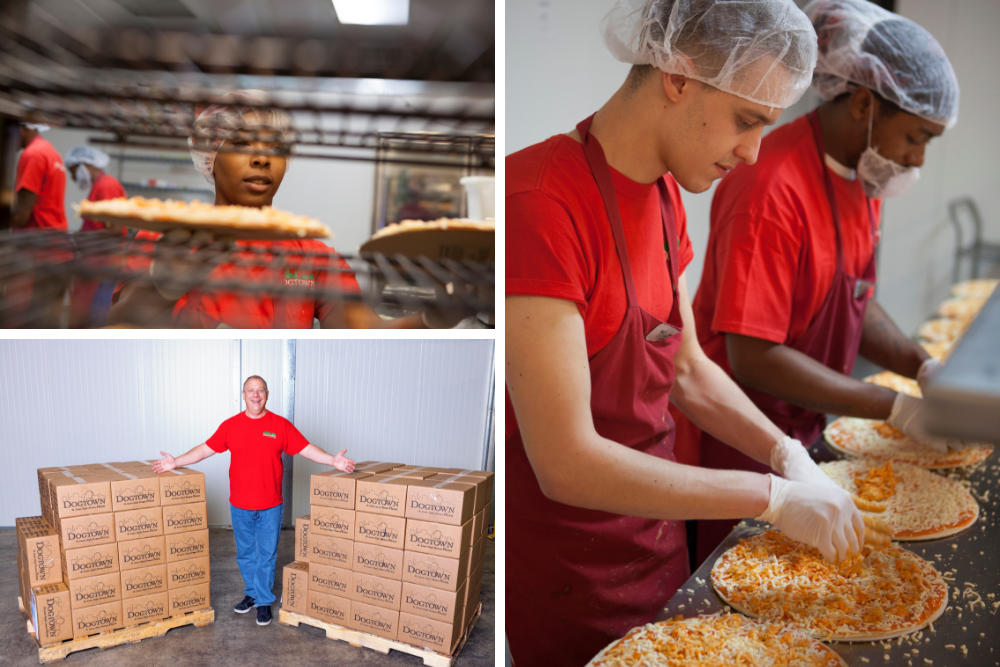 Have you ever wondered how we create such delicious frozen? Here at Dogtown Pizza, it all comes down to the ingredients and hands-on construction! From the crust to the sauce to the cheese to the toppings, care and consideration is taken at every step to make sure that your favorite Dogtown Pizza is just as delicious as the last— our goal is to make sure every bite is as good as the first, every time!
How Frozen Pizza is Made at Dogtown Pizza
The Crust: A Foundation for Fantastic Pizza
St. Louis-style pizza needs to be on the crispiest cracker-thin crust; we use our own in-house bakery to get just that. Delivered fresh each day to DTP HQ, this crust is sturdy enough to pile on sauce and toppings from edge to edge, it bakes up crisp enough to add some crunch and keeps the toppings right where they belong: on the pizza.
Special Sauce Concocted with Care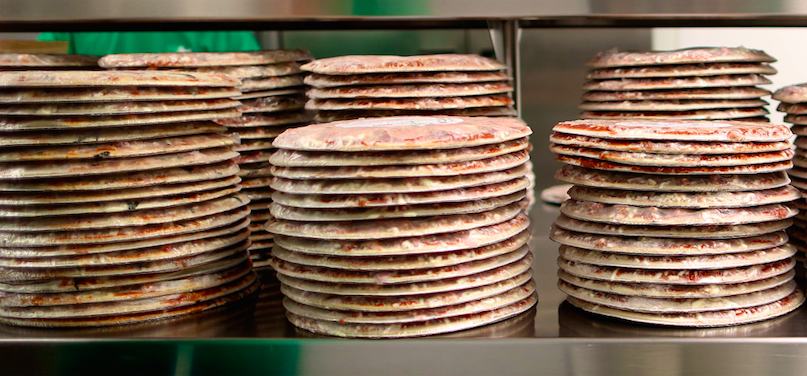 Some pizza sauce is too thick, some frozen pizza sauce is too thin—but Dogtown Pizza's frozen pizza sauce is just right! (Yes, that was a Goldilocks and the Three Bears reference. You're welcome) Our sauce is not too sweet and never watery, our special sauce is distinctly Dogtown and perfectly seasoned. The sauce goes onto our cracker-thin crusts and waits in anticipation to be covered in cheese.
Cheese Please!
While traditional St. Louis pizza a specific type of cheese, we've chosen to break with tradition—and we think this change is for the better! Our proprietary 3-cheese blend is creamy and tangy just the way you like it, with perfect string-free gooey goodness in every bite. We can't tell you exactly what's in it (or else it wouldn't be a secret anymore) but one of the big changes we made was adding mozzarella. It adds the perfect chewy texture and helps each pizza brown and crisp to perfection in your oven, taking this pizza from St. Louis-style good to Dogtown good!
No Machines for Our Toppings
Veggies & Spices
Our tomatoes, mushrooms, peppers, and onions are crisp, all-natural and full of flavor! They're picked at the peak of freshness, then we chop them by hand and add them to your favorite pizza. Fresh, never canned: that's our secret for delicious veggies. Spices from oregano to red pepper, with a little extra of everything. We could never choose a favorite but the best part might just be the fresh and local hand-cut basil!
Meats
Our meats are quality and match the high standards we have set for every other part of our pizza. You can have great crust, sauce, cheese, and veggies but low-quality meat can ruin the entire pie.
What's your favorite variety of Dogtown frozen pizza? Which occasion do you think frozen pizza is just made for? Let us know in the comments!