Four Fun and Delicious Homemade Pizza Ideas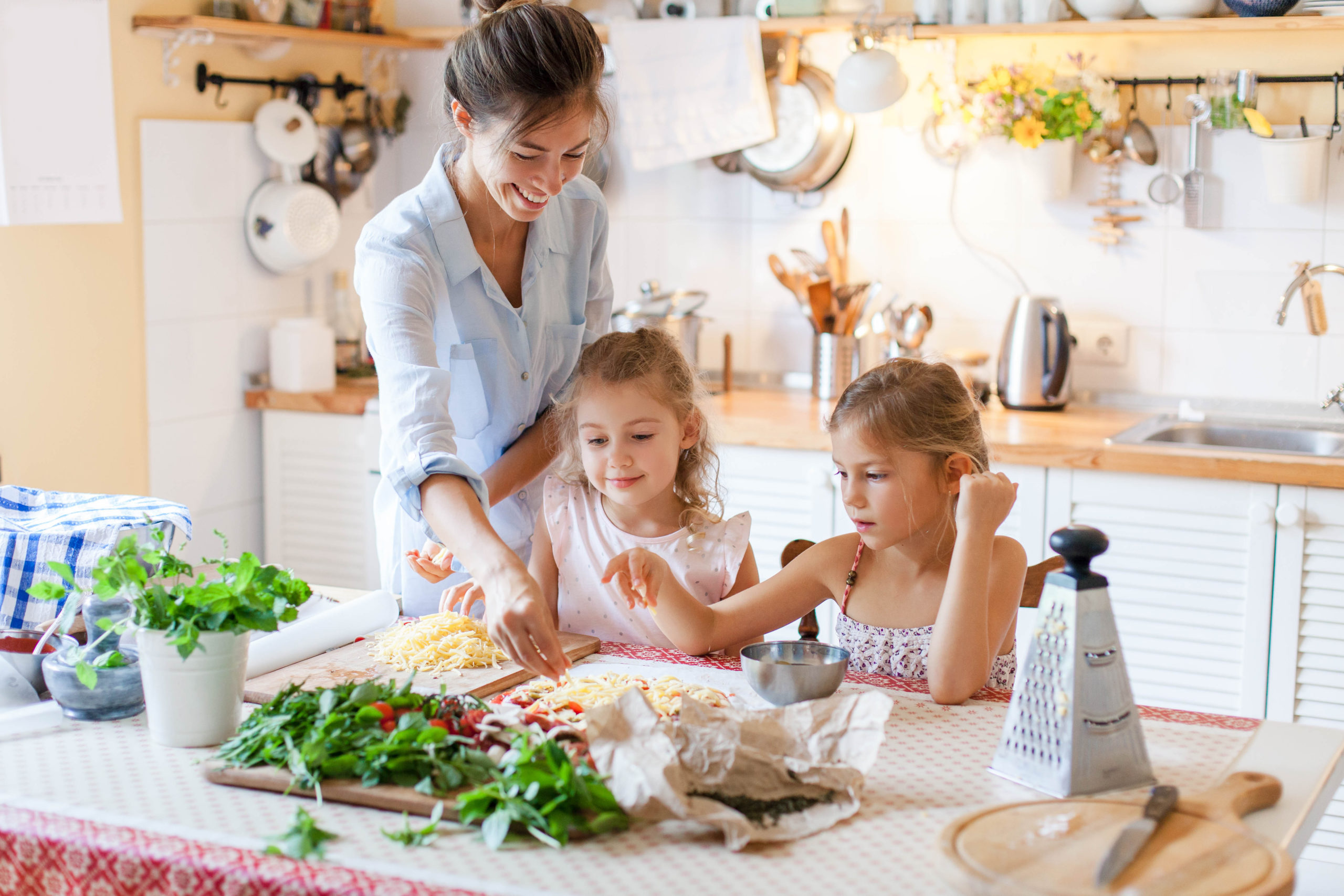 Everybody loves pizza. It's likely that you and your family have one or two favorite pizza places that you like to order from or a specific brand of take-and-bake pizza that you like to buy.
But, if you ask our team here at Dogtown Pizza, one of the best things about it is how easily it can be made at home. Plus, the variety of different ingredients you can use and combinations you can make is absolutely staggering.
Today we're going to recommend some homemade pizza ideas that are not only creative, but delicious too! Read on to learn how to bring these inspired pies to life from the comfort of your own kitchen.
Tex-Mex Pizza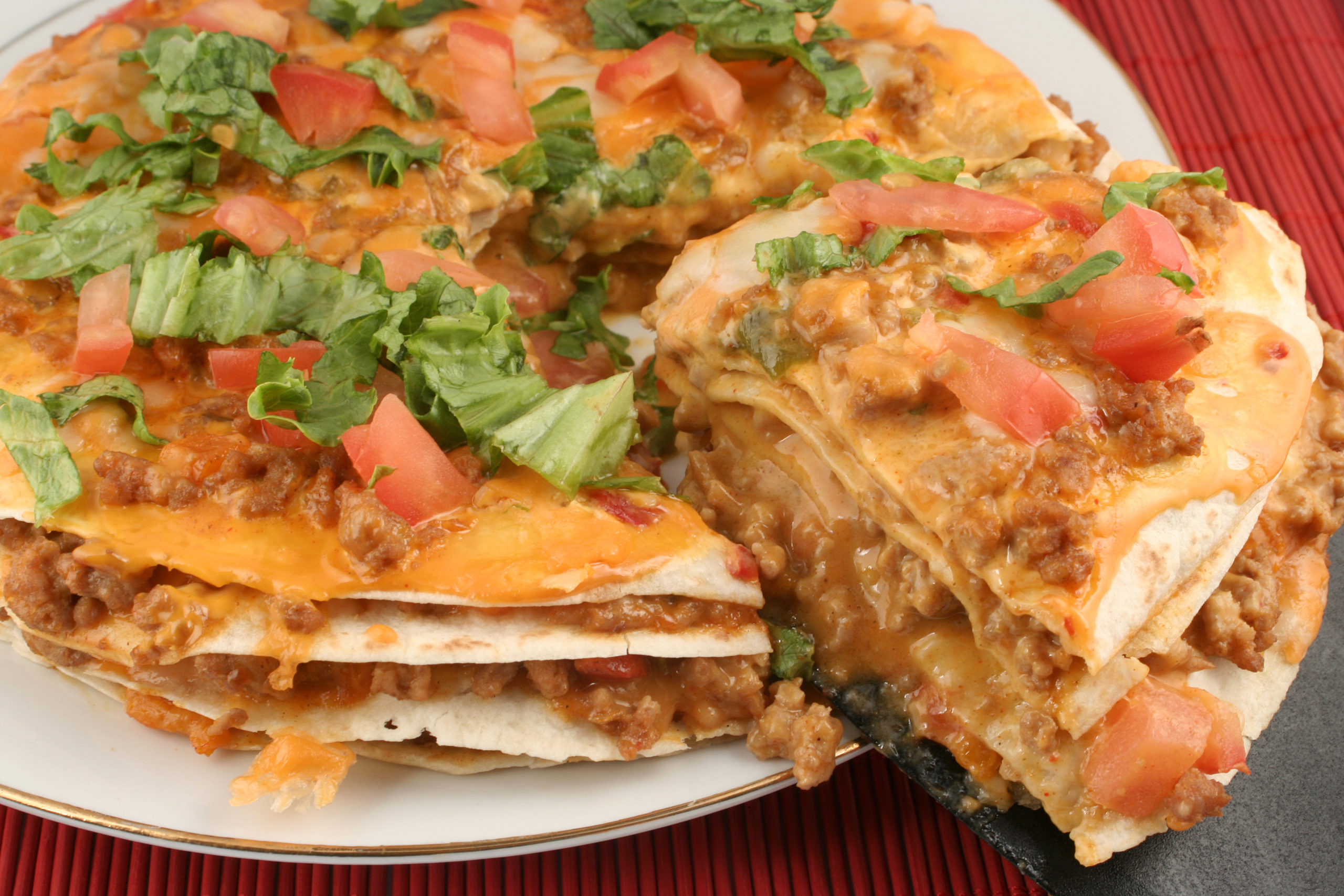 Our first homemade pizza idea not only combines two separate forms of cuisine, but only has a prep time of around fifteen minutes, which is excellent if you're pressed for time but still want a delicious, high-quality pie to eat. This recipe yields three servings.
Ingredients
½ lb. ground beef

2 Tbsp. taco seasoning

Kosher salt

Finely-ground black pepper

6 medium flour tortillas

1½ c. refried beans

1½ c. shredded Mexican-blend cheese

Sour cream, for serving

½ c. quartered cherry tomatoes

¼ c. sliced black olives, for serving

2 green onions, thinly sliced, for serving

Hot sauce, for serving (we recommend Cholula!)
Directions
Preheat your oven to 375 degrees and line a medium baking sheet with parchment paper or aluminum foil. Heat a large skillet over medium heat. Add ground beef and break it up with a wooden spoon. 
Cook beef for around 6 minutes or until no longer pink. Drain. Return to heat and add the taco seasoning, then season with salt and pepper. Cook for 1 more minute, then remove from heat.
Place 3 of the tortillas on the baking sheet and spread ¼ c. refried beans on each of them. Divide beef evenly between the tortillas and top with ¼ c. cheese each. 
Top with the remaining 3 tortillas. Spread another ¼ c. of refried beans on each tortilla and top each with ¼ c. cheese.
Bake for 10 to 12 minutes or until the cheese is melted and refried beans are warm. Garnish with sour cream, tomatoes, olives, and green onions. Serve with hot sauce.
Recipe credit: Delish.com
Buffalo Chicken Pizza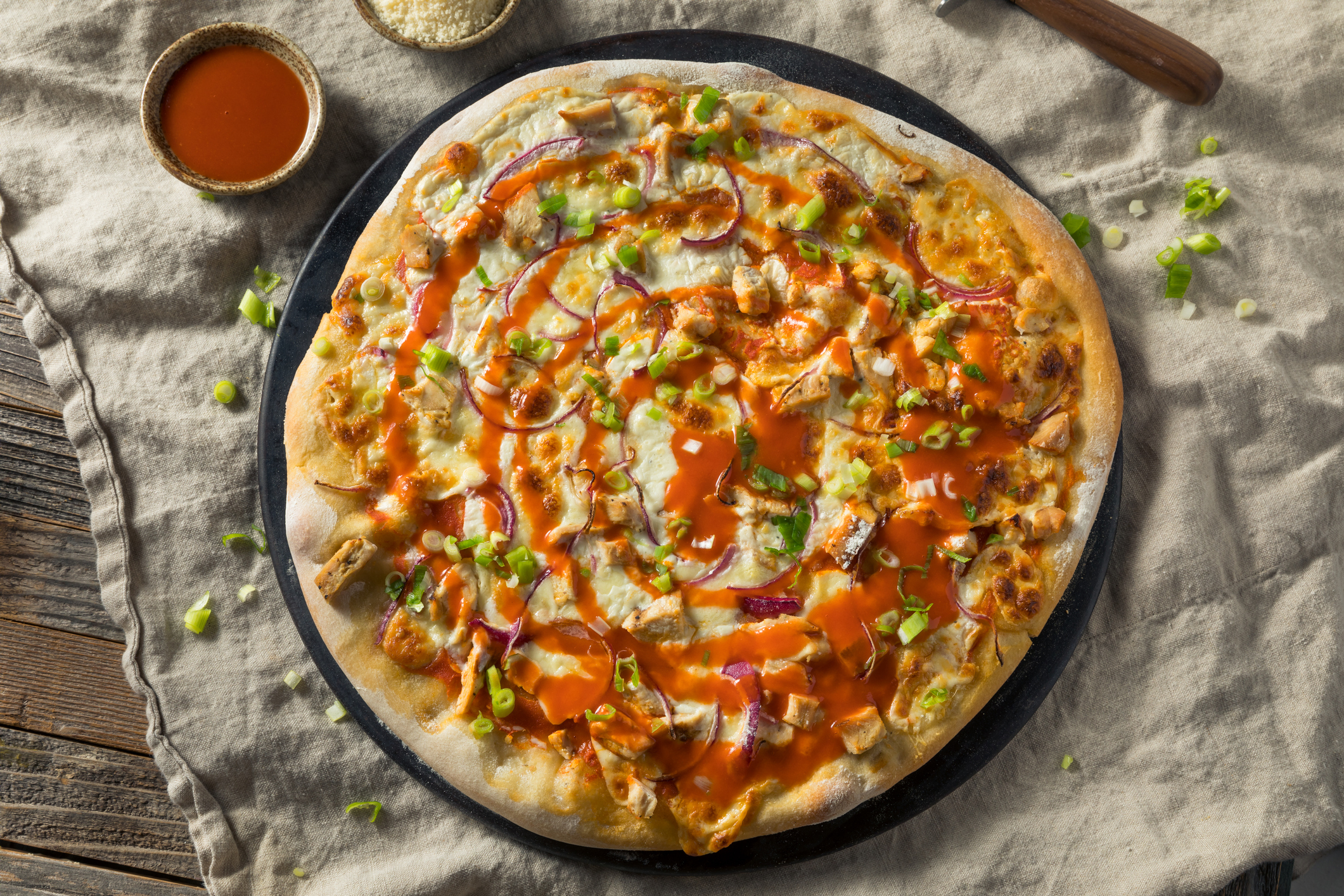 This buffalo chicken pizza recipe is perfect for you wing-lovers out there! A combination of buffalo wings and pizza? What's not to like?
However, out of all of these recipes, this is definitely the most complicated. If you just don't feel like making it at home, consider picking up some of our specialty hot-wing pizza from a grocery store in the St. Louis area.
Ingredients
1 lb. homemade or store-bought pizza dough

1 Tbsp. extra-virgin olive oil, plus more for drizzling

1 c. hot sauce (preferably Frank's, it's what we use!)

½ c. marinara sauce

¼ c. (½ stick) unsalted butter

2 tbsp. heavy cream

2 c. cooked chicken, torn into bite-size pieces

½ c. whole milk plain yogurt (not Greek)

½ tsp. fresh lemon juice

¼ tsp. celery salt

¼ tsp. garlic powder

½ c. bleu cheese crumbles

½ tsp. finely-ground black pepper, plus more

All-purpose flour, for dusting

2 c. shredded mozzarella cheese

2 celery stalks, thinly sliced
Directions
Preheat oven to 500 degrees (or as high as it will go) and place a large cast-iron skillet on the top rack. Place the pizza dough in a large bowl, pour a little oil over, and turn to coat. Cover bowl with plastic wrap and let proof at room temperature while the pan and oven heat up.
In the meantime, cook hot sauce, marinara sauce, and butter in a medium saucepan over medium heat, stirring occasionally, until butter is melted. Stir in cream, reduce heat to low, and simmer, stirring occasionally, for about 10 minutes, or until slightly thickened.
Heat 1 Tbsp. oil in a large skillet over medium-high heat. Add chicken, toss to coat, then add ¼ c. hot sauce mixture. Cook chicken, tossing occasionally, for about 2 minutes. Reduce heat and simmer, stirring often, for about 5 minutes.
Meanwhile, whisk yogurt, lemon juice, celery salt, garlic powder, ¼ c. bleu cheese, ½ tsp. pepper, and 2 Tbsp. water in a small bowl, adding more water if it is not pourable. Set aside.
Turn out dough onto a lightly-floured work surface. Shape into a round that is slightly larger than the cast-iron skillet you are using. Take the skillet out of the oven and place on a heat-proof surface. 
Add a little flour to the skillet and drizzle some oil along the sides. Lay the dough in the skillet (be careful!), working the edges of the dough up the sides of the skillet.
Spread about ⅓ c. hot sauce mixture over the dough. Arrange mozzarella over and top with the remaining ¼ c. bleu cheese. Arrange chicken mixture on top.
Bake pizza on top rack for 15 to 20 minutes or until crust and cheese are nicely browned. Transfer skillet to stovetop and let sit for a few minutes.
Using a spatula, slide pizza onto a cutting board or platter. Arrange celery over, then top with reserve bleu cheese dressing. Season with pepper and drizzle with oil.
Try not to enjoy it too much!
Recipe creds: Bonappetit.com
Breakfast Pizza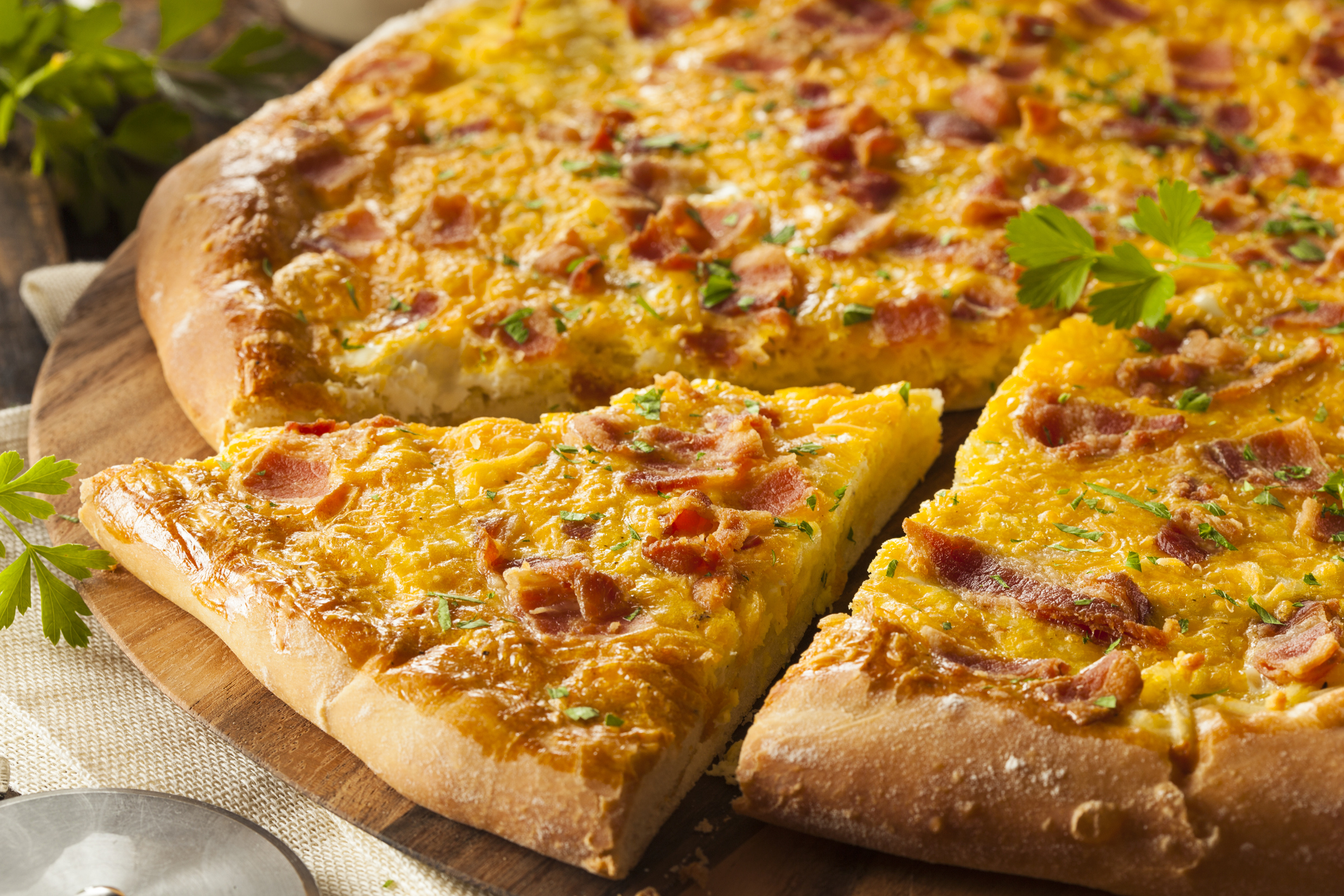 Are you tired of oatmeal, cereal, and bagels for breakfast? So are we. That's why we recommend an excellent breakfast pizza to start the day off right.
This recipe yields sixteen slices of pizza, only takes around 10 minutes of prep time, and tastes great served with fruit, coffee, orange juice, or whatever else you like to have in the mornings.
Ingredients
13.8 oz. tube Pillsbury pizza crust

8 oz. package of breakfast sausage

½ yellow onion, diced

½ green bell pepper, diced

½ red bell pepper, diced

4 cloves garlic, minced

Salt and pepper, to taste

¼ c. (½ stick) unsalted butter

¼ c. all-purpose flour

1 c. skim milk

5 large eggs, whisked

1 c. shredded cheddar cheese

1 c. shredded mozzarella cheese

Sliced green onions, for serving

Hot sauce, for serving (Cholula, once again)
Directions
Preheat oven to 400 degrees and line a rimmed baking sheet with parchment paper. Pre-bake pizza crust according to directions on the package and set aside. Keep the oven on, as you're going to need to cook the pizza again.
Heat a large nonstick pan over medium heat, then add in the sausage, onion, peppers, garlic, salt, and black pepper. Cook, breaking up the sausage as you go, until the meat is no longer pink and the veggies are tender. Remove from the pan and set aside in a bowl.
In the same pan, add in and melt the butter. Once melted, slowly sprinkle and whisk in flour. Cook for 2 minutes, whisking constantly. Slowly whisk in the milk. Cook, stirring occasionally, until the mixture is the consistency of thick pudding.
Stir in the eggs and cook until they are soft, but not runny. Season with salt and pepper. Spread the egg mixture evenly over the pre-baked dough, top with the sausage/veggie mixture, then top the pizza with the shredded cheese.
Bake for about 15 minutes or until the cheese has melted. Sprinkle with sliced green onions.
Recipe creds: Showmetheyummy.com
Dessert Pizza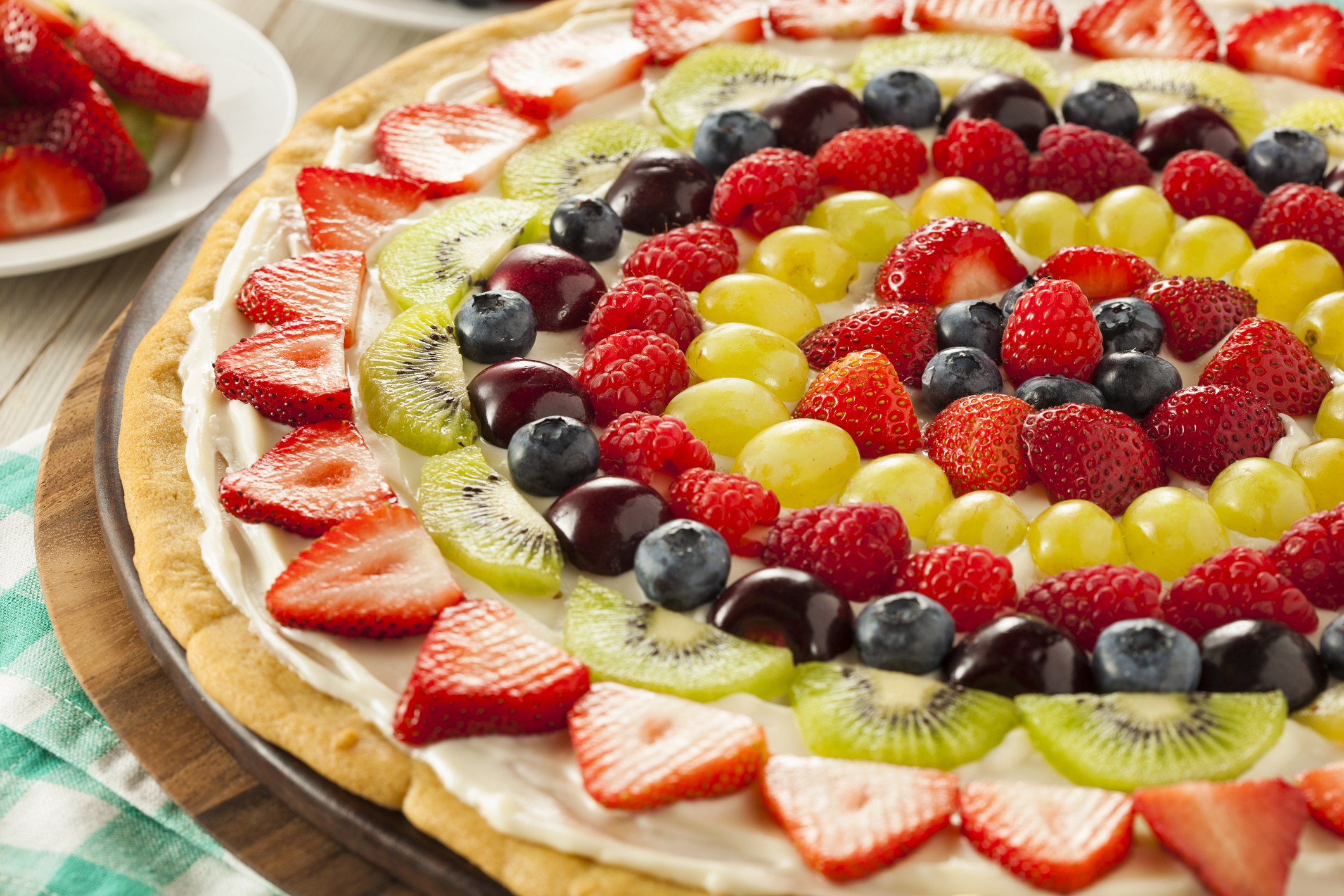 Alright, now we're jumping from the very start of the day to the very end. End your day on a high note with this yummy dessert pizza recipe. You really don't get much better than this one. Prep time is only 5 to 10 minutes, and the yield is sixteen servings.
Ingredients
1 lb. package refrigerated sugar cookie dough

8 oz. package cream cheese, softened

⅓ c. sugar

4 c. assorted fresh fruit (we recommend blueberries, raspberries, and strawberries!)
Directions
Preheat the oven to 350 degrees. For the crust, shape the cookie dough into a ball. Place the dough in the center of a large round stone and flatten slightly with the palms of your hands. Using a lightly-floured roller, roll the dough out into a 12-inch circle.
Bake the cookie dough for about 18-20 minutes or until it is light golden-brown. Move the pan from the oven to a cooling rack and let cool completely.
For the topping, combine the cream cheese and sugar in a small bowl. Spread the mixture evenly over the top of the cookie. Arrange fruit over the cream cheese mixture. Refrigerate before serving.
Recipe creds: Pamperedchef.com
Although homemade pizza is excellent, sometimes cooking is just out of the question. If you're having one of those kinds of nights, pick up one of Dogtown Pizza's specialty St. Louis-style pies at a grocery store near you!
Have you tried any of these recipes? Let us know in the comments what you thought of them!