Viva Las Vegas: Adventures at the International Pizza Expo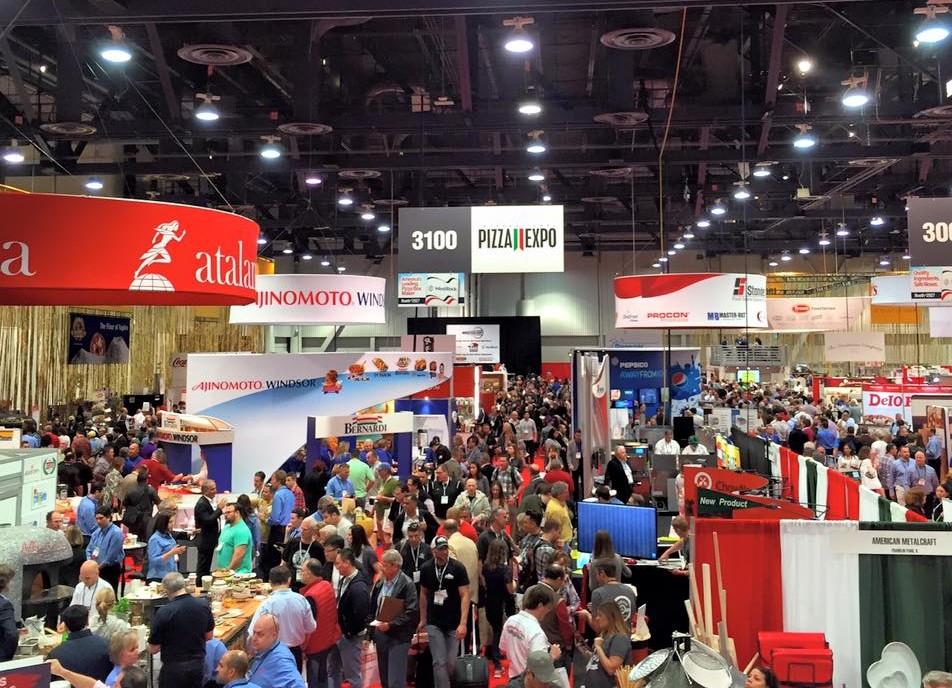 Last week we headed to Las Vegas for one of our favorite events of the year – the International Pizza Expo! The International Pizza Expo is not only the largest pizza show in the world–it's one of the largest food shows in the country. If it has anything to do with pizza, it's here and under one roof! We attend this trade show every year to find ways to make Dogtown Pizza a better company, keep costs low, keep production efficient, watch trends on pizza varieties, and just indulge in all things pizza while surrounded by pizza makers from all over the world. Let's just say, we were in HEAVEN. Here's a look into our experience at the International Pizza Expo.
Trends, Toppings and Gadgets – Oh My!
A good portion of the show was geared towards restaurants and pizzerias, but there are also many things to check out for pizza manufacturers like us. It's fascinating to see what's trending in the industry, things like toppings (alligator and fried okra, anyone?), creations, new products and the like. One of the growing segments it seems is the gluten-free segment.  There are many new lines of products, toppings and crust in the gluten-free market. Even though gluten-free isn't in the cards for DTP at this time, it's still beneficial that we stay on top of what's happening in that market in the event that we DO decide to venture into gluten-free products.
We spent a good deal of time looking at new equipment, the newest freezer technology, blast freezers and chillers, crust press machines and cheese shredders. For frozen pizza nerds like us, there are some really cool gadgets on the market that we can't wait to get our hands on. One of the coolest exhibits at the Expo was the Pizzeria 2020 which showcased innovative products that might someday show up in the pizzeria of the future.
There are hundreds and hundreds of exhibitors at the Expo, all showcasing different aspects of the pizza industry. There are booths for t-shirts/uniforms and apparel, apps, and website companies.The Expo also offers three days of training with over 150 different classes or programs to attend, from running a business to buying one, franchising, costs, production, management, etc. If you want to learn the pizza business it's all under one roof at the Expo.
 Pizza, Pizza & More Pizza
Of course, one of the best things about the International Pizza Expo is – well – all the pizza! Halfway through the trade show you get so full from trying all the best pizza ingredients from all over the world. Between tasting samples on the show floor, stopping by cooking demonstrations and watching the International Pizza Challenge, we tasted so much delicious pizza. It was amazing! The Expo is also our chance to spend time with our pizza sauce producer. We talk about our growth, how we can improve on packaging and the consistency of our proprietary pizza sauce.
Did we mention that there's such a thing as the World Pizza Games? Well, there is and they happen at the International Pizza Expo. The categories include things like fastest pizza maker, fastest box folder, freestyle acrobatic dough-tossing (which is truly a sight to behold!) and more. What a riot!
---
The International Pizza Expo is overall a great time and a great experience. We enjoy going, learning and meeting many talented, helpful and successful people in the pizza industry. It doesn't hurt that it is in Las Vegas! Gives us a break and some down time. We can't wait to go back in 2017!