5 Reasons to Have a Weekly Pizza Night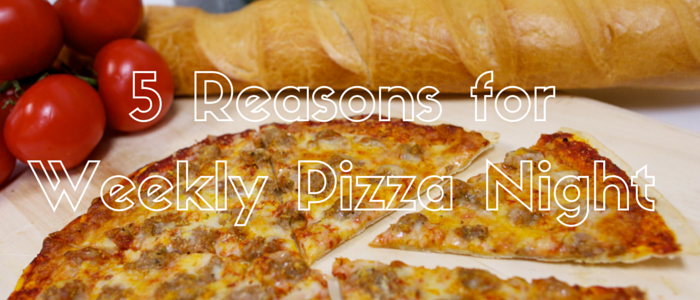 Traditions are a necessary way of taking time for the beautiful moments in life. They mark distinct periods in time and allow us to set them aside so we can take a break from what can sometimes become monotonous routine. Traditions allow us to create fond memories and give us something to look forward to, whether it's once a year, once a month or once a week.
We like to think that the best traditions are born out of sitting down for a delicious meal with loved ones. Why do you think that the best holiday traditions always revolve around food in some way? But traditions shouldn't be limited to just the holidays. Why not start a tradition of your own? We're here to make the case for weekly pizza night, with yours truly as the pizza of choice!
#1: It's an Excuse to Invite People Over
Why spend hundreds of dollars going out for dinner and drinks with friends on Saturday nights when you can just pop a couple of delicious, locally-sourced pizzas in the oven and call it good? Just tell your friends BYOB, and let the good times roll!
#2: Or a Reason to Stay In
Maybe you're over the whole "going out" thing. Or maybe Friday nights are the best time for you and the kids to get some quality time in. Whatever your reason, staying in with pizza, movies, boardgames or simply chilling out (whether alone or with a special someone) sounds like perfect low-key weekly tradition you need after a hectic week.
#3: It's a Chance to Try New Things
Are you a craft beer drinker? Did you know that beer and pizza make for a perfect pair? Institute a weekly beer and pizza night so you and your pals can try new craft beers with various Dogtown Pizza varieties for optimum flavor experimentation. How about our Veggie Pizza with a Schlafly IPA, or a Four Meat Pizza with an O'Dell 90 Shilling Ale? Get creative and explore just how far you can push your palate. Plus the square-able, shareable nature of DTP means that you'll have perfect bite-sized pieces to try with your beer!
#4: It's a Reason to Take It Easy
Life gets busy and trying to figure out what to make for dinner (and even for lunch the next day) is sometimes the last thing you want to worry about. When you plan a pizza night during the week, however, you'll relieve yourself of that burden instantly. All you have to do when you get home is heat up the oven and in less than 15 minutes you'll have a full meal ready to go! Save a couple of pieces and take them to lunch with you the next day and you'll save yourself even more hassle….and give yourself something to look forward to during your weekly meal planning process.
#5: It's the Best Way to Warm Your Belly…and Your Soul
…and your house! We're over this whole winter thing. Fire up that oven to cook your favorite Dogtown Pizzas and heat up the house in the process! And while the oven is still hot after pizza, you might as well throw in a batch of Dogtown Chocolate Chip Cookies for dessert! The food warms the soul, the oven warms the house…win-win. Winter is the best time to cook a weekly Dogtown Pizza.