Things You Should Never, Ever Do with Dogtown Pizza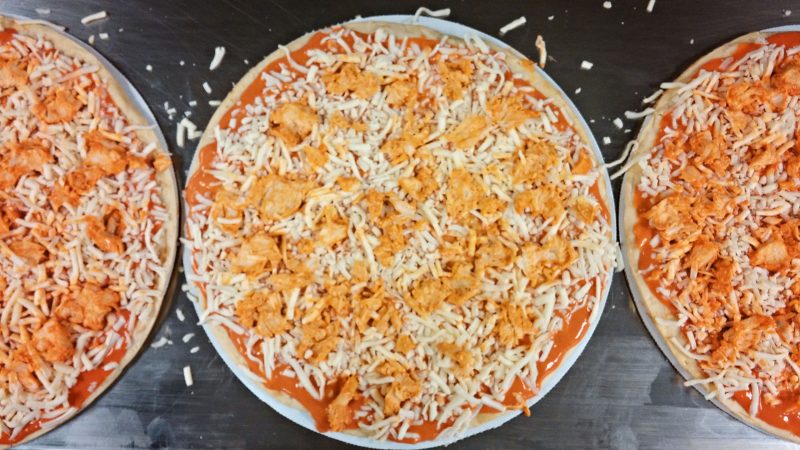 We've given you tips on how you can make Dogtown Pizza taste even more delicious than it already does. But it's equally as important that you know what NOT to do with your favorite variety of Dogtown Pizza. Eating it is a must, but there are a few crucial things that you should never, ever do with DTP. Check it out.
Not Bake It According to the Directions
There's a delicate balance to cooking a Dogtown Pizza. They cook up fast – but not that fast. On the other hand, most frozen pizzas require you to cook their pizzas forever– anywhere from 17 to 22 minutes. Ain't nobody got time for that! So what's the balance? Because, as we all know, floppy pizza is gross (and kinda risky). And burnt pizza is the worst.
Anywhere between 9-12 minutes is ideal baking time for a Dogtown Pizza, though we've found 10 minutes to be the crispy sweet spot. That way, you'll undoubtedly achieve that deliciously bubbly cheese and perfectly golden brown crust. Why would you settle for less?
Not Keep One in the Freezer at All Times
The convenience of frozen pizza cannot be understated. It's as easy as swinging through the frozen aisle of your neighborhood grocery store on your next shopping trip and picking out your favorite variety. That way, you'll do yourself a favor and keep a Dogtown Pizza on hand for all those occasions of life that require a quick, affordable, and delicious meal. Trust us – you'll never order delivery again.
Not Keep an Eye on It
Like a fine steak, DTP should stand 2-3 minutes once pulled from the oven. That way all that flavor can set for optimum deliciousness. But that doesn't mean you can just walk away. Oh no. Turn your back, my friend, and you'll be out a pizza. Keep a watchful eye on your pie while you wait for it to cool. Better yet, set up an alarm. Or a booby trap. Don't give anyone the opportunity.
Not Share with Future Generations
Once you've finally learned all the ways in which to perfect the DTP baking process, it would be a crime not to impart your cooking wisdom to your children. Every child longs for the day when he or she learns how to cook Dogtown Pizza on the grill. How will they get through life not knowing when DTP goes on sale? How else will they learn the nuances of letting the crust get perfectly crispy? Don't let that knowledge die with you–share it with the future generations to come. Humanity will thank you.
Eat Anything Other Than DTP
You wouldn't eat the cardboard or the plastic on a Dogtown Pizza. So why would you settle for any other brand of frozen pizza? Because that's essentially the same thing. You know in your heart that fresh, locally-made Dogtown Pizza is in a league of frozen pizza all its own. Just don't do it.
Not Get It on Sale Next Time
We love to offer our customers regular sales on DTP. Get it on sale this week at Dierbergs now through October 3. Otherwise, keep an eye on Facebook and Twitter for weekly sales updates!