In Honor of St. Louis Craft Beer Week…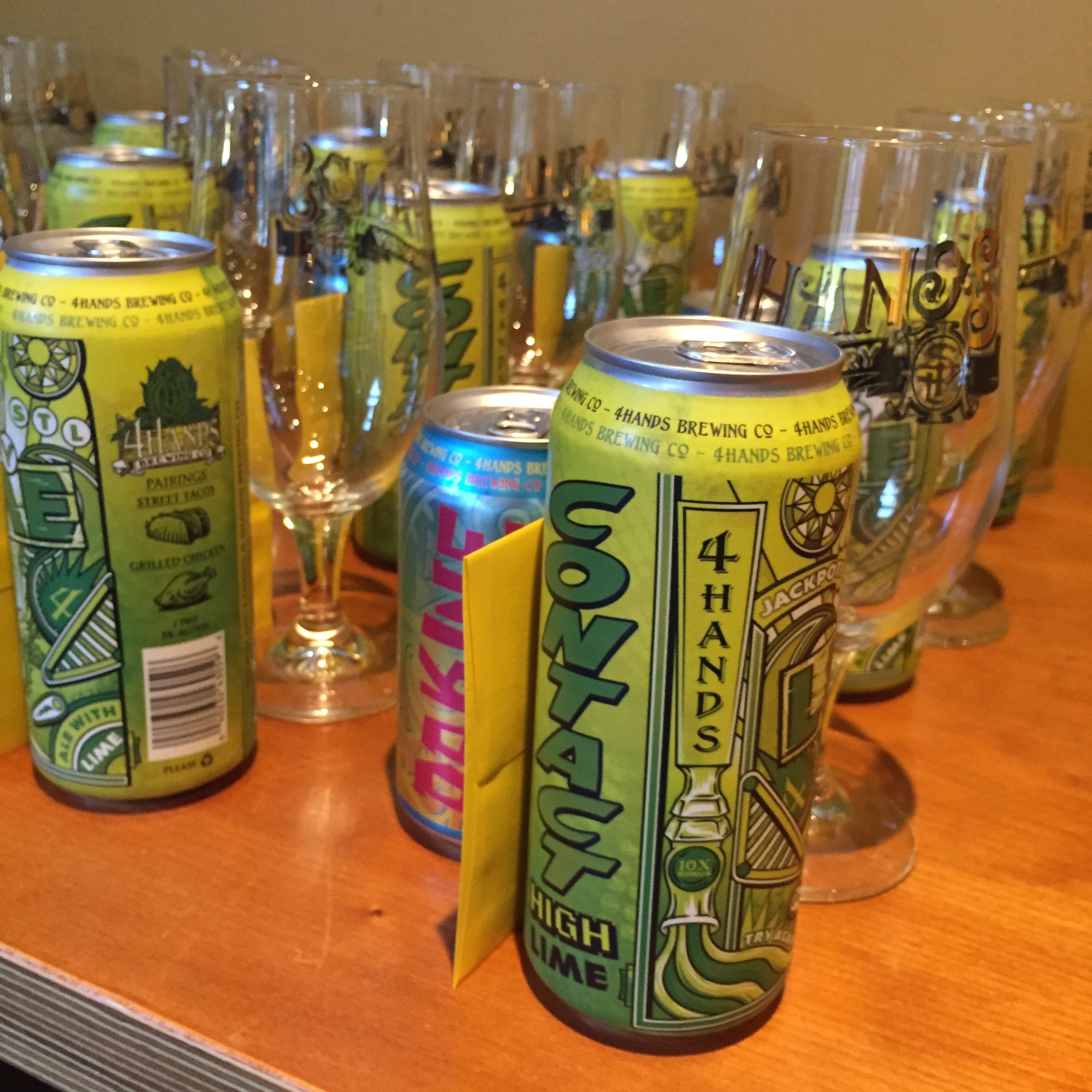 St. Louis Craft Beer Week (July 30 – August 7) is a week-long celebration of craft beer and the people who drink them. We had the good fortune of being able to attend one of the week's many exciting events—Carbonated Culinary School—on Aug. 1, where we feasted on gourmet food and—what else?—delicious craft beer from 4 Hands Brewing Co. It was truly a delectable experience where we dazzled our tastebuds with different craft beer and delicious food. We had such a fun time that it got us thinking—everyone should learn how to pair their favorite craft beer with their favorite pizza!
We tried three excellent beers from 4 Hands Brewing Company that night: the Dakine Tropical IPA, Contact High – Key Lime, and Cast Iron Oatmeal Brown. In honor of St. Louis Craft Beer Week, we've picked a selection of Dogtown Pizza varieties that go best with the different craft beers that we tried so you can get inspired for a tasting experience of your own. Ready to get your taste on?
Dakine Tropical IPA + Sweet BBQ Chicken
Crisp, light, and bursting with citrus notes like pineapple, orange, and lemon zest, the Dakine Tropical IPA is a summer-lovin', chill-out-on-the-back-porch, watch-the-sunset kind of beer. The Sweet BBQ Chicken, with its tangy-sweet BBQ sauce, perfectly complements the fruity fun of this beer. Both the lightness of the tender chicken breast and the slight kick of the red onion make the Sweet BBQ Chicken Pizza and the Dakine Tropical IPA an unforgettable summer fling.
Contact High – Key Lime + Hot Wing Pizza
Cool and refreshing on a sweltering day, the Contact High – Key Lime is an American pale wheat beer and is another great summertime brew. We recommend pairing this with the Hot Wing Pizza. The mild hop flavor combined with the citrusy lime notes counteract the spiciness of the hot wing sauce without detracting from either.
Cast Iron Oatmeal Brown + Anything with Meat!
There are a lot of ways to describe the Cast Iron Oatmeal Brown—all of them delicious. Cocoa, brown sugar, caramel, and sweet malt with a nutty, toasted finish make the Oatmeal Brown a delightful American brown ale. Smooth and robust, the Oatmeal Brown is best served with a meaty pizza, like Pepperoni, Sausage & Pepperoni, or—especially—the Bacon Bacon. The saltiness of the bacon will pair nicely with the nutty-caramel flavor of this beer. Plus, the robustness of the ale will balance out with the heaviness of the meat and cheese. This beer and pizza combo really brings out the best in one another!
---
We're huge fans of pairing food and beer, so we had a ton of fun at the Carbonated Culinary School event during St. Louis Craft Beer Week. We can't wait to go back next year! Tell us—what pizza varieties do you love to pair with different beers?