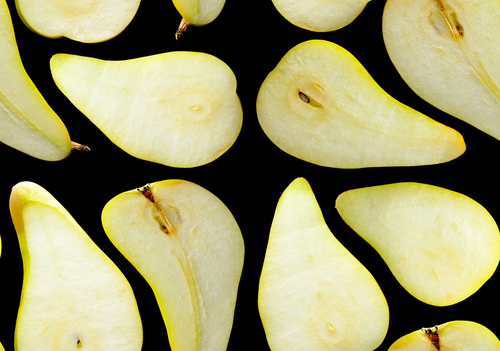 This is one that most may read and think – no way…but the To Pear Us with Nuts pizza is simple to make, delicate in its flavor and elegant to look at. The salty bacon and slightly sweet pears pair so well together. The earthy crunch of the walnuts and balsamic will bring it all together.
What You Need
1 Dogtown Bacon Bacon Pizza
2 Firm Green Pears – thinly sliced length-wise
1/2 cup of Walnuts
Balsamic Vinegar
The Prep
This is a simple recipe that takes about five minutes to put together and 10-12 minutes in the oven. Follow the cooking directions on the pizza, and pre-heat the oven as directed. Arrange your pears as artfully as you'd like, but we recommend having a single layer of pear slices – no need to pack them on over-lapping. Roughly hand-crush the walnuts as you sprinkle them evenly over the pears. Pop into the oven and let cook about 10 minutes.
Two minutes before the pizza is done, open the door, carefully pull out the oven rack to expose the pizza and drizzle a tablespoon or two of balsamic vinegar across the top. Close the door and finishing baking. Let rest 2-3 minutes before cutting.
Tips
Great recipe for the grill
Sub Olive Oil for Balsamic
Envision how you will cut the pizza as you place the pears on – making sure there are two slices of pear on each wedge makes it easier to cut and serve later. It's a better presentation in the end.