Shop & Win With Rams Rewards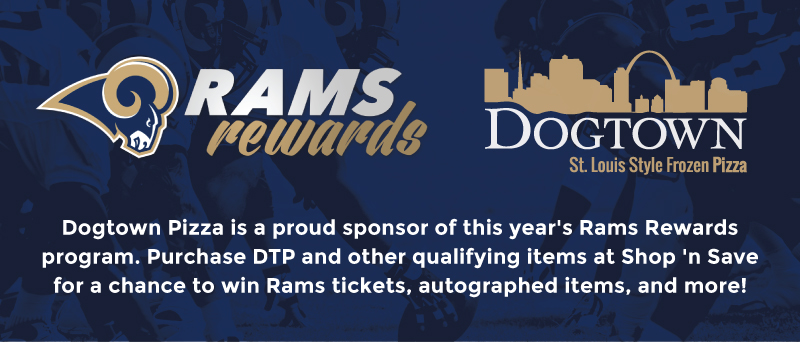 Listen up, Rams fans! You can win MAJOR Rams prizes just for going grocery shopping!
Dogtown Pizza is a proud sponsor of this year's Rams Rewards program at Shop 'n Save. By purchasing Dogtown Pizza and other qualifying items, you have a chance to win Rams tickets, autographed items, and more! You can win amazing Rams prizes just by buying Dogtown Pizza! How cool is that?
How Rams Rewards Works
All you have to do is spend $15 on qualifying products during any shopping trip between now and January 3, 2016. After every shopping trip, submit the code on the print-out you get at the register. Every time you submit your code, you'll rack up points that will make you eligible to win Rams merchandise, autographed items, even game tickets! You even have a chance to win a grand prize VIP Road Trip to watch the Rams take on the San Francisco 49ers in Santa Clara, CA!
Qualifying Items
So, what, exactly, will rack up those points and send you off to San Francisco for the trip of a lifetime? Here's a list:
ConAgra Foods

Dr. Pepper

Hershey

Snapple

Wonder Bread

Nestle products

Prairie Farms products

…and of course, Dogtown Pizza!
We can't think of a better way to make your grocery shopping work for you than by purchasing these products each and every time you shop at Shop 'n Save through January 3!  Any Rams fan worth their mettle needs to start filling up that grocery cart ASAP!
Football and Pizza: Perfect Pairings
You know we're all about teaming up with others—whether it's hot dogs, beer or, yes, ranch dressing. As die-hard Rams fans, though, we're so pumped to help other Rams fans score exclusive merchandise just by purchasing their favorite Dogtown Pizza varieties. So get your football-loving keesters over to the nearest Shop 'n Save and start earning Rams Rewards points today!