Our Predictions for a Dogtown Groundhog Day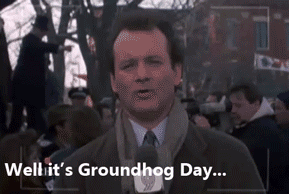 Happy Groundhog Day! Punxsutawny Phil was at it again, using his groundhog powers to predict that winter is on its way out and springtime is nearly here! This uniquely American tradition is hard to fathom without the classic 1993 film Groundhog Day starring Bill Murray. In the titular film, Bill Murray's character Phil is a curmudgeonly weatherman who has little regard for the people around him, save for when he travels to cover Groundhog Day in Punxsutawney, PA, and is forced to relive the same day over and over again until he learns a valuable lesson.
This got us thinking: wouldn't it be amazing to relive the same day in St. Louis over and over again with Dogtown Pizza at your side? Here's what we predict (see what we did there?) life would be like if we could repeat the same day multiple times with Dogtown Pizza.
#1. You'd get to eat pizza everyday!
This is obvious, but do you realize how awesome it would be to eat Dogtown Pizza everyday without worrying about an expanding waistline? Sure, our pizza is healthier, more natural and more nutritious than most pizzas, but you'd never have to worry about exercise or eating things like quinoa or kale every again. Which leads us to our next point…
#2. You'd get your daily intake of vitamins and nutrients
If you ate a Tomato Basil Pizza every day, you'd get your daily Vitamin C and biotin from the tomatoes. Plus certain components of the basil protect cellular structures and chromosomes from radiation and oxygen-based damage. Any of our meat varieties would give you a healthy dose of B12 and the amino acids necessary for muscle mass development. Either way, you'd wake up the next day and start all over again—so do vitamins really matter, anymore? Just enjoy your pizza!
#3. You could share DTP with a new person everyday.
If you're an introvert, this might be a challenge, but that's the point of the Dogtown Groundhog Day time loop! You have an unlimited amount of days to introduce yourself to someone new and share a pizza with them. Besides, it's hard to turn free pizza down—imagine how easy it will be to make friends!
#4. You could get fearlessly creative
Let's face it: you'd get sick of repeating the same varieties over and over again. This would be your chance to experiment with DTP and try it in ways you've only dreamed of! Cost would be no option, either. This means you could buy the most expensive, delicious toppings you can imagine without ever breaking the bank.
#5. You could take DTP to a cool place every day
Speaking of being fearless…Dogtown Groundhog Day would allow you to explore places you've never been and eat delicious pizza while you're there. How about on top of your favorite building? In a cool park you've always wanted to visit? How about at the top of the Arch? You could even go skydiving with a DTP and take the coolest selfie ever. We can't think of anyone who's ever gone skydiving with a pizza before. You'd make history!