Let Dogtown Pizza Be Your Wing-Man This Valentine's Day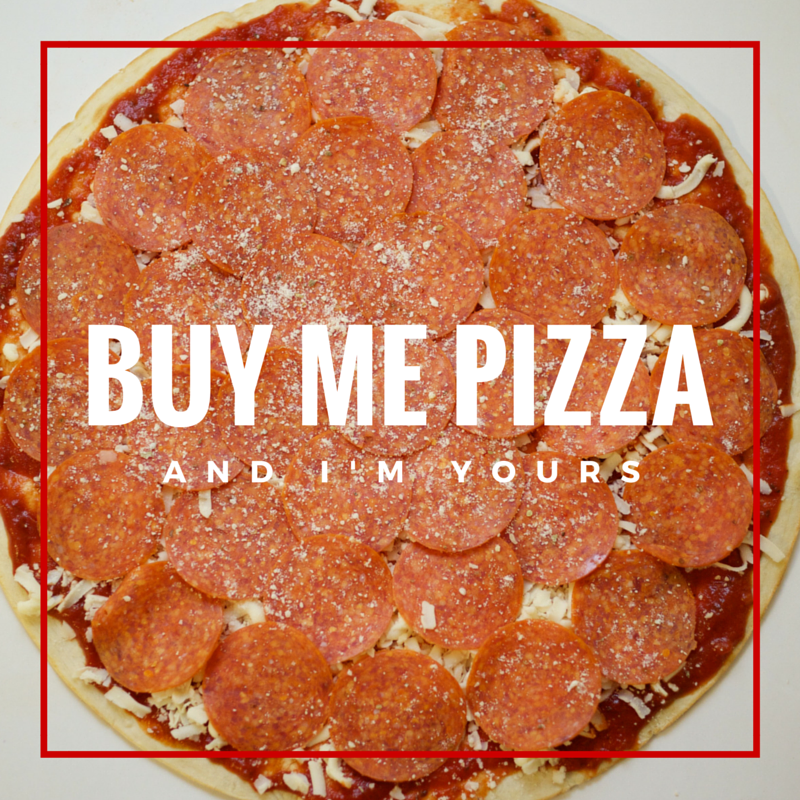 Ah, l'amour…the fancy French way of saying, "Oh jeez, it's Valentine's Day soon and I have no clue what to get my Valentine."
…or something like that, right?
Love can be a complicated thing. But celebrating your loved one on everyone's favorite day of love doesn't have to be! Not with Dogtown Pizza as your wing-man, it doesn't. We've concocted possibly the most romantic Valentine's Day involving frozen pizza ever, and we're ready to spill our Valentine's Day secrets.
Pizza = Romantic
Pizza is Italian, you know. And next to the French, Italians are known for their fiery passion and their romantic approach to food. Choosing pizza as your Valentine's Day entree isn't lame. It's cultured. Wow your Valentine with your extensive knowledge on the history of pizza and let the swooning over your intelligence (as well as your good looks) commence.
Pizza + Wine = Even More Romantic
Take the sophistication a step further by pairing your pizza with the palette-tingling delight of a complementary wine. Here's a helpful guide for pairing wine with Dogtown Pizza varieties.
Tomato Basil Garlic + Chardonnay or Zinfandel
A sweet Chardonnay is a lovely complement to the sweetness of the tomato while a dry Chardonnay brings out the best in the earthiness of the basil and garlic. A Zinfandel will also go nicely with the TBG because it brings out the basil in a particularly delectable way!
Veggie + Rosato
A dry Italian rosé perfectly complements the lightness of veggies and the savoriness of our special cheese blend.
Cheese + Cabernet Sauvignon
Rich and smooth with hints of black cherry, currant, and caramel, a Cabernet Sauvignon enhances the flavors of tomato sauce without compromising the rich taste of the cheese.
Pepperoni + Sangiovese
Pepperoni and cheese together imbues a bold flavor that demands an equally bold wine pairing. A rustic and traditional Sangiovese, which is an Italian red grape, delivers that with aplomb. A great alternative would be a Cabernet Franc, which is easier to find.
Sausage + Chianti
Chianti is spicy and savory, much like the cured meat deliciousness of sausage.
Want to get even fancier? Buy more than one pizza and the corresponding wine for each and have a Valentine's Day wine/food tasting. Let additional swooning commence.
Pizza + The Right Setting = Unexpectedly, Ridiculously Romantic
Success is all in the details. Therefore, the success of your DTP Valentine's Day hinges upon your ability to create the right atmosphere. String up some lights. Light a few candles. Put Dean Martin or Frank Sinatra on in the background. Ditch the paper plates and serve your pizza on something more refined. Or eat your pizza picnic-style on the ground, blanket and all. Whisper Italian love sonnets in your loved one's ear. Here's one from the great Italian poet Petrarca, for starters:
Benedetto sia 'l giorno, et 'l mese, et l'anno,
et la stagione, e 'l tempo, et l'ora, e 'l punto,
e 'l bel paese, e 'l loco ov'io fui giunto
da'duo begli occhi che legato m'anno;
Oh blessed be the day, the month, the year,
the season and the time, the hour, the instant,
the gracious countryside, the place where I was
struck by those two lovely eyes that bound me;
The DIY, homemade nature to all of this will be the most surprising and unexpected part of your DTP Valentine's Day. Plus, all that money you'll save buying locally-made, frozen pizza means you can splurge on something particularly lovely for your Valentine. And don't forget to add some DTP Chocolate Chip Cookies for dessert!
Happy Valentine's Day and good luck!