It's Kräftig Coupon Time!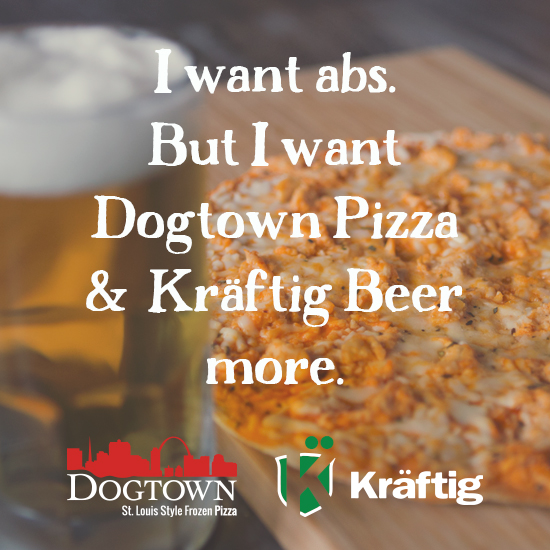 The combination of hot pizza and cold beer is as remarkably complementary as it is delicious. But did you know that your taste buds reacting to this classic pairing is not just a matter of preference?
Pizza and beer together are scientifically proven to be scrumptious because, believe it or not, beer is one of the best matches for cheese. Any beer sommelier will tell you that the carbonation in beer brings out the delectable fattiness of cheese, lifting it right off the palate for a taste that's bursting with flavor. This is why beer and St. Louis-style pizza, with its special blend of pizza cheese, makes for one helluva combo.
Kräftig + DTP? Yes Please!
The good folks at Kräftig Beer understand this, which is why we're teaming up (again!) for a special promotion. During the month of March, you can pick up any 12, 24, or 30 packs of Kräftig and Kräftig Light Beer and get a coupon for $1.00 off your next Dogtown Pizza! These coupons are good for one year, so you have all of 2016 to enjoy a little extra savings on your favorite DTP Varieties.
Kraft and DTP are also teaming up for grocery store demos this month, so you can sample the deliciousness of DTP and Kräftig Beer at the same time. Stay tuned to our Facebook page for sales updates and demo locations, so you can make the most out of your pizza pairing experience!
Thanks to this awesome collaboration with Kräftig, now's the time to get all fancy and have a beer and pizza-tasting party (we call it dinner) and toast to the deliciousness that is this epic St. Louis pairing.