Drool-Worthy Dogtown Pizza Gourmet Entrees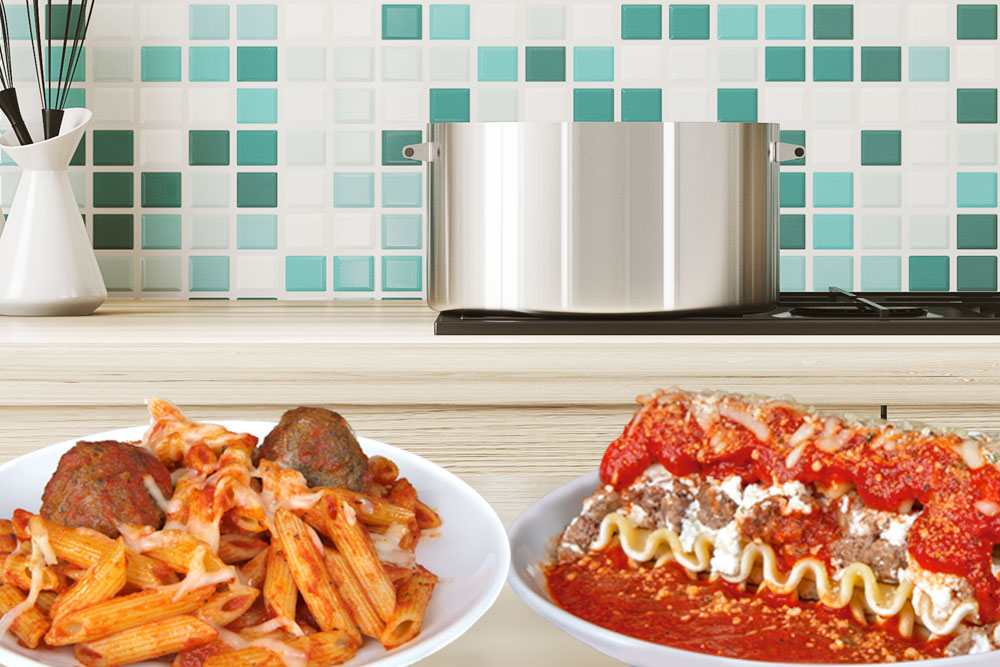 Imagine this: You have just finished up work and are on your way home to your family; it's your night to figure out dinner and you just don't have the energy to prepare anything after a hard day. So what do you do? Sandwiches? Cereal? Fast food? Let the kids eat ravioli straight out of the can again?
Better idea: Dogtown Pizza Gourmet Frozen Entrees. We bet you thought we were going to say pizza—and you'd be right, except we're guessing you have had Dogtown pizza one night this week already and even here we believe in a little variety!
Our Gourmet Frozen Entrees
We offer two options family sized options that will bring the authentic taste of The Hill into your home.
Lasagna with Meat
Our Lasagna is a true "heat and eat" meal. Fully cooked and totally delicious, this Lasagna only needs some time in the microwave or oven to be enjoyed. Our Lasagna with Meat features lasagna noodles layered with ricotta cheese and Italian sausage meat sauce. This hearty meal will definitely become a quick family favorite. Make sure to click below for full cooking instructions.
Mostaccioli with Meatballs
This delicious entree is heavy, which is great after a busy day of running around. Our Mostaccioli with Meatballs is made with penne noodles in marinara sauce and topped with meatballs made from beef and pork. This comforting entree is preservative free and great for a fast family dinner. Please click below for full cooking instructions.
Fast and Convenient
Our Dogtown gourmet entrees are easy to prepare; just move them from the freezer to the fridge to defrost (see full cooking instructions of defrost times), then heat in the microwave or the oven. If you forgot to take one out of the freezer ahead of time, that's no problem; you can go straight from the freezer to the microwave. It's so easy; even a surly teenager can get dinner started while you're on the way home from work! Click here for full cooking instructions.
Quality Ingredients
We've partnered with DeGregorio's Foods to bring you these two delicious gourmet entrees. We take pride in using delicious ingredients to create these filling family-sized meals. Did we mention that both of these yummy meals are covered with our gooey Dogtown 3-cheese blend? Well, they are!
Comfort Food At Its Best
After a long day at work or school, a warm, delicious, gourmet entree from Dogtown Pizza is just what you and your family need. Add some green beans or a salad to the menu, gather around the kitchen table, have a nice relaxing meal and spend time together as a family instead of scarfing fast food in front of the TV.
Next time you're short on time and need something delicious to fill up your family (and you don't want pizza for whatever crazy reason), pick up a Dogtown Pizza Gourmet Entree!
Have you tried our Gourmet Entrees? What's your favorite short on time meal? Let us know in the comments!