Dogtown Pizza's St. Patrick's Day Beer Pairings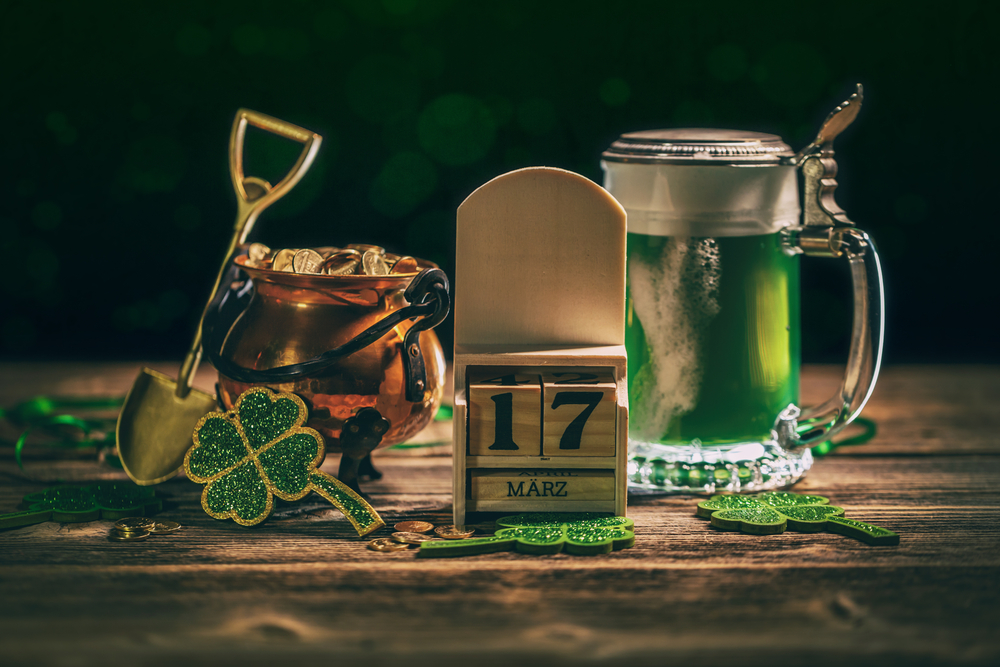 Top of the morning, lads and lassies! It's time for another Dogtown pizza and beer pairing list, and this one's dropping just in time for St. Paddy's Day—because corned beef, potatoes, and cabbage is delicious, but pizza, although not a tradtional St. Patrick's day food, is a great party food. Now, we know that green beer (pictured above) is extremely popular, but the beer mentioned in this post is delicious – even though it isn't green.
Dogtown Deluxe Pizza & Urban Chestnut's Kinsale
We're starting out with one of our favorite pizzas (who are we kidding—they're all our favorite pizzas!) and the perfect stout to raise in your glass to St Patrick's Day!
Urban Chestnut's Kinsale, named for a town in southern Ireland, is an Irish-perfected style of beer with a generous portion of hops and roasted malt flavors. This creamy, sweet stout pairs perfectly with the plump mushrooms, sweet yellow onion, Italian salsiccia and crispy cooked bacon in our Deluxe Pizza.
Dogtown 4 Meat Pizza & Schlafly's Oatmeal Stout
Is there anything better than a savory, salty pizza paired with a rich and creamy stout? We think not, and this is one of our favorite pairings yet!
Dogtown's 4 Meat Pizza is a carnivorous wonderland of salsiccia, pepperoni, hickory-smoked bacon, and ham (yum) that goes well with everything from sparkling water to fancy blended coffee drinks, but it really pairs well with Schlafly's Oatmeal Stout. Dark, smooth and slightly sweet, you'll taste hints of freshly roasted coffee beans, cocoa, raisins, dried fruit and the creaminess of oatmeal flakes.
Honestly, this sounds like a good breakfast, and we wouldn't object to anyone starting their St Patrick's Day festivities with a Schlafly's Oatmeal Stout and a slice or two of breakfast pizza! So, how do you make breakfast pizza? Easy, just crack a few eggs on top of any Dogtown pizza and bake it up like usual—this works best with any of our meat-centric pizzas like the 4 Meat or the Bacon Bacon.
Dogtown Tomato Basil Garlic Pizza & 4 Hands Brewery's City Wide Pils
It's no secret how much we love our Tomato Basil Garlic Pizza—TBG for short—and we love it even more when it's paired with a crispy, citrusy beer! We recently tried a slice along with 4 Hands' City Wide Pils and this is one of our favorite pairings to date: the cold fermented lager made from American-grown malt and hops (Citra hops, in case you were wondering) is smooth and easy to drink, and it plays nice with the herbs and veggies on the TBG all the flavors enhancing each other instead of overpowering.
Dogtown Lasagna & Schlafly's Imperial Coffee Stout
Sometimes you just want something a little more substantial than pizza. We get it, and we've got you covered with our Gourmet Frozen Entrees! Our lasagna with meat is the perfect comfort food to come home to after a day of pizza, beer and partying! Keep the party vibes going by pairing our saucy, cheesy lasagna with a bottle of Schlafly's Imperial Coffee Stout. This malty, full-bodied stout with rich, roasty chocolate characteristics pairs perfectly with the savory meat and rich ricotta cheese in our lasagna.
What's your favorite beer and pizza pairing? How are you celebrating this St Patrick's Day? Let us know in the comments!