Dogtown Pizza Employee Appreciation BBQ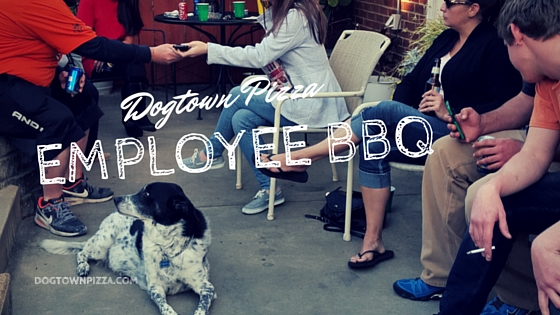 Folks, you know how much our employees mean to us. There is no such thing as a faceless worker at Dogtown Pizza. In fact, we consider each and every person at Dogtown Pizza as part of our family, which to us is more than blood. So how do you accurately thank the people you care about for everything they bring into your life? Well, we happen to think that some partying in their honor is in order…which is exactly what we did this past weekend.
Work Hard, Play Hard
Every year, we host an Employee Appreciation BBQ at Rick and Meredith's house in the Dogtown neighborhood. It's fitting that we celebrate everyone's hard work at the same place where all the fun began nine years ago. True to form, the whole DTP crew came out to the Schaper's house this past weekend and we all had a blast.
Celebrate Good Times
The whole night was a time to celebrate with plenty of fun had by all. Rick Schaper's son Ricky put on a bit of a show in the basement with his squealing guitar and fantastic-crazy guitar solos. And, best part of all, our General Manager Kyle McNeil had proposed to his girlfriend Kristen the night before, so we all got celebrate their engagement together!
[vc_images_carousel images="8779,8778,8793,8781,8780,8784,8777,8792,8788,8789,8787,8785,8797,8799,8804,8798,8783,8805,8801,8802″ onclick="link_image" custom_links_target="_self" mode="horizontal" speed="5000″ slides_per_view="1″ autoplay="" hide_pagination_control="" hide_prev_next_buttons="" partial_view="" wrap="" img_size="550 x 550″]
Usually Rick does ALL the cooking. But not this year! This year we decided to call on the best in the biz—Sugarfire Smokehouse— and had them cater it for us. The team feasted on a bevy of BBQ staples: ribs, smoked brisket, smoked pulled pork, mac & cheese, beans, and potato salad. Goodness—we're still dreaming about how delicious it all was.
But Rick couldn't quite stay out of the kitchen. It's where he's happiest, after all. He fired up the grill and cooked some of his famous hot wings, which have been a staple in the Schaper household for years. You've had them—the sauce is the same sauce we use on our Hot Wing Pizza. Delicious.
We all had a great time, and had lots to eat (and maybe a few shots here and there). It is always  time well spent to give back to the crew that makes Dogtown Pizza so damn awesome. Until next year, crew!