Best Dogtown Pizza and Beer Pairings for this St. Patrick's Day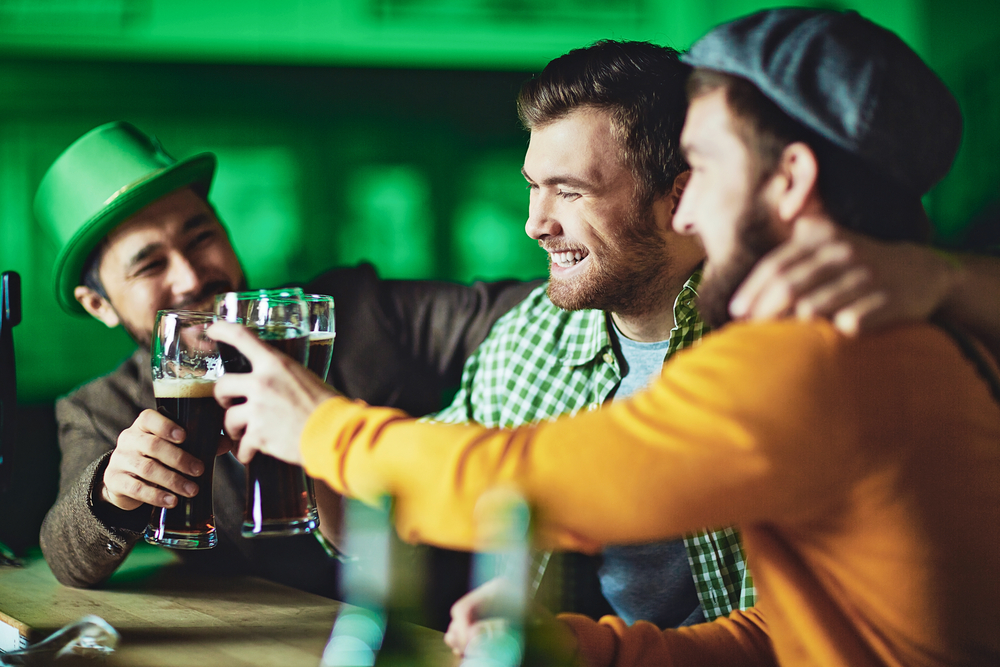 Right after green leprechaun hats and "Kiss Me I'm Irish" t-shirts, beer is the most recognizable symbol of St Patrick's Day. If you're planning to indulge in some of St Louis's best local brews this St. Paddy's Day, we have the pizza paring suggestions to go with them—no Irish luck needed, these are all good!
Veggie Pizzas
The flavors of veggie pizzas tend to be more subtle than meat-based or specialty-sauced pizzas, and the lighter flavors benefit from a lighter flavored beer. Go for lighter ales and ciders to pair with veggie pizzas and you can't go wrong.
Best Pairings
Dogtown Veggie Pizza & Hard Cider – Here at Dogtown, we love pizza and hard cider almost as much as we love pizza and beer. We wanted to recommend a specific cider, but there are just so many we couldn't narrow it down! The fruity sweetness of cider contrasts well with the earthy mushrooms on this pizza.
Dogtown Tomato Basil Garlic & 4 Hands Incarnation – We know what we just said about matching the light flavors of veggie pizza with a lighter flavored beer… but Dogtown's TBG isn't your typical veggie pizza, which is why it matches so well with Incarnation! The bright tomato and basil flavors are intensified by the sweet flavors of passion fruit, pineapple and candied fruit in this IPA. Try it, you won't regret it.
Meaty Pizzas
Pizzas with a lot of meat are salty and savory, and they need a strong beer that can stand up to the intense flavors. We recommend heavier IPAs and nutty stouts to compliment the strong meaty flavors without being too overpowering.
Best Pairings
Dogtown Four Meat Pizza & 4 Hands Cast Iron Oatmeal Brown – The chocolate malt and roasted barley of this mahogany brown ale easily stands up to the salty meaty flavors of salsiccia, pepperoni, hickory-smoked bacon and ham on Dogtown's Four Meat.
Dogtown Sausage and Pepperoni Pizza & Urban Chestnut Winged Nut Chestnut Ale – The nutty flavor of the copper ale matches well with the salty, savory flavors of Dogtown's Sausage and Pepperoni Pizza.
Specialty-Sauced Pizzas
The trick with specialty-sauced pizzas is that they can be veggie-based or meaty, but the star of the crust is the sauce, so that's what you should focus on when choosing your perfect beer. Match spicy with citrus notes, sweet with lighter flavors, and heavier sauces with heavier flavored beers.
Best Pairings
Dogtown Hot Wing Pizza & Schlafly Grapefruit IPA – The spicy hot wing sauce on the hot wing pizza is balanced by the tart citrus notes in this beer.
Dogtown Sweet BBQ Chicken & 4 Hands Single Speed – The sweet BBQ and savory chicken on this signature pizza  goes well with this soft American blonde ale, it has a refreshing and floral flavor profile that won't clash with the stronger BBQ flavors of the pizza.
What's your favorite way to celebrate St Patrick's Day? What's your favorite beer and pizza pairing? Let us know in the comments below!